Federal law enforcement authorities seize Backpage.com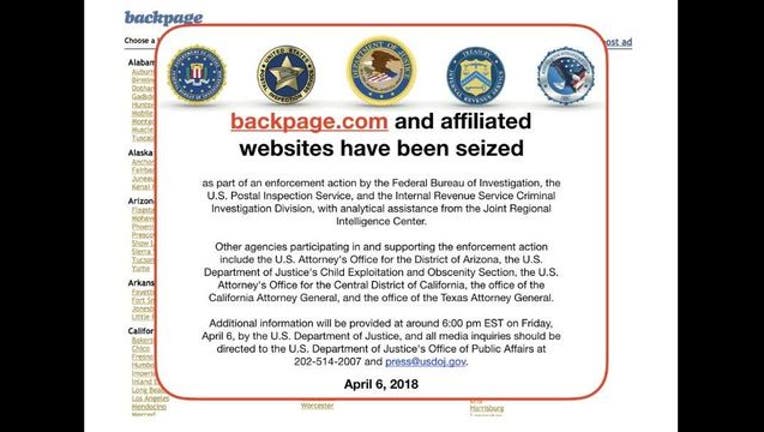 (KMSP) - Federal law enforcement authorities have seized Backpage.com, a major facilitator of sex trafficking in the United States. 
Friday, a notice was posted online that said that Backpage.com and its affiliates "have been seized as a part of an enforcement action" by the FBI and other federal agencies. 
The notice did not provide details on the nature of the enforcement action. 
In southern Minnesota, an operation that involved the website resulted in 48 arrests around New Ulm and Mankato.
U.S. Senator Amy Klobuchar released a statement addressing the announcement that Backpage.com Friday. 
"Websites like Backpage.com facilitate sex trafficking across Minnesota and our country," Klobuchar said in a press release. "The announcement by the FBI that they have seized this website and affiliated sites is long overdue, but another positive step forward in the fight against human trafficking. We must keep working to bring perpetrators to justice and get victims the support they deserve." 
Klobuchar is a national leader in the fight to combat human trafficking. She cosponsored the Stop Enabling Sex Traffickers Act, that ensures that websites that knowingly facilitate sex trafficking can be held liable and brought to justice. 
In October 2016, Backpage.com CEO Carl Ferrer was arrested after federal officials in Texas said that adult and child sex-trafficking victims had been forced into prostitution through escort ads posted on the website. 
The Associated Press contributed to this report.