Donald Trump posts on Facebook for 1st time since Jan. 6 riot
Donald Trump posted on Facebook Friday for the first time since Jan. 6, 2021.
"I'M BACK!" the former president exclaimed to his 34 million Facebook followers.
His post comes nearly two months after Meta, Facebook's parent company, said it would end a two-year suspension imposed on Trump in the wake of the Jan. 6 insurrection. Trump is running for president in 2024.
"The public should be able to hear what their politicians are saying — the good, the bad and the ugly — so that they can make informed choices at the ballot box," wrote Nick Clegg, Meta's vice president of global affairs.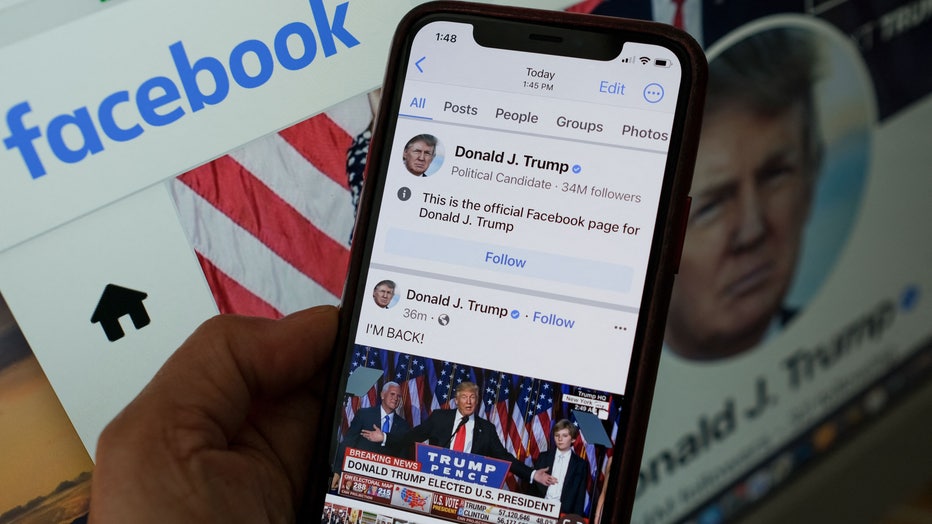 The Facebook page of former President Donald Trump on a smartphone screen in Los Angeles, March 17, 2023 (Photo by CHRIS DELMAS/AFP via Getty Images)
The company said in a January blog post that it's adding "new guardrails" to ensure there are no "repeat offenders" who violate its rules, even if they are political candidates or world leaders.
Clegg added that when there is a "clear risk" to real-world harm, Meta will intervene.
READ MORE: Manhattan DA's office 'asked for a meeting' with law enforcement ahead of possible Trump indictment
"In the event that Mr. Trump posts further violating content, the content will be removed and he will be suspended for between one month and two years, depending on the severity of the violation," he wrote. 
Facebook suspended Trump on Jan. 7, 2021, for praising people engaged in violent acts at the Capitol a day earlier. But the company had resisted earlier calls — including from its own employees — to remove Trump's account.
Facebook is not only the world's largest social media site, but has been a crucial source of fundraising revenue for Trump's campaigns, which spent millions of dollars on the company's ads in 2016 and 2020.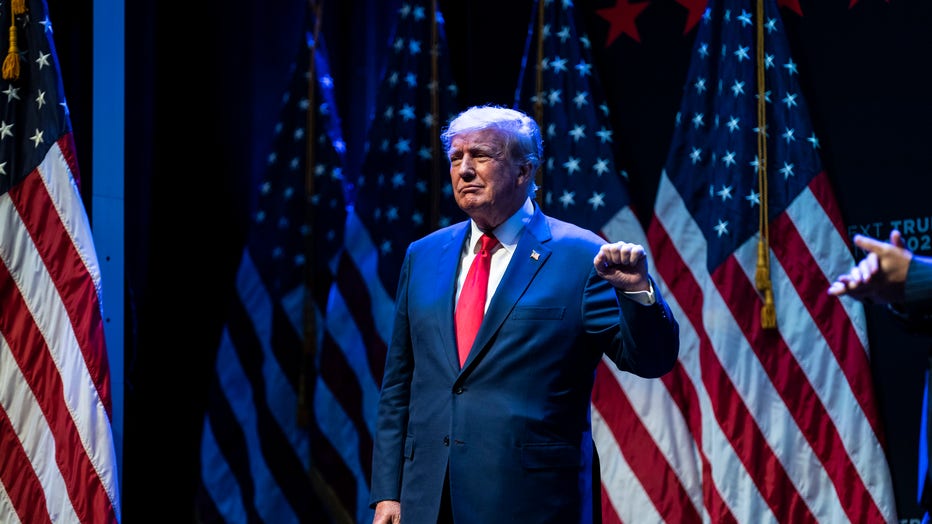 Former President Donald Trump speaks during an event at the Adler Theatre on Monday, March 13, 2023, in Davenport, Iowa. (Photo by Jabin Botsford/The Washington Post via Getty Images)
The move will not only allow Trump to communicate directly with his 34 million followers — dramatically more than the 4.8 million who currently follow him on Truth Social — but will also allow him to resume direct fundraising.
During the suspension, his supporters were able to raise money for him, but couldn't run ads directly from him or in his voice.
His Friday post also comes days before the Manhattan District Attorney's Office could announce criminal charges against the former president. The investigation is centered on whether any state laws were broken when Trump's former lawyer, Michael Cohen, paid $130,00 and $150,000 to silence two women who claimed they had affairs with Trump. Trump has long denied the affairs.
READ MORE: Lawyer: Indicting Donald Trump would 'embolden' former president, supporters
Cohen testified before a New York grand jury this week, and Stormy Daniels, one of the two women who were paid for their silence, said she met with prosecutors in Manhattan. 
Prosecutors appear to be looking at whether Trump committed crimes in arranging the payments, or in how they were accounted for internally at Trump's company, the Trump Organization. One possible charge would be falsifying business records, a misdemeanor unless prosecutors could prove it was done to conceal another crime.
No former U.S. president has ever been charged with a crime.
The Associated Press contributed to this report.