Donald Trump Jr.'s Twitter account hacked; X post claimed his father died
The X (formerly Twitter) account of Donald Trump Jr., son of former President Donald Trump, appeared to be hacked Wednesday morning.
A string of posts on the platform started with a message that the elder Trump had died and Trump Jr. would be running for president in 2024. Other posts included profane language about President Joe Biden and incendiary statements about North Korea getting "smoked."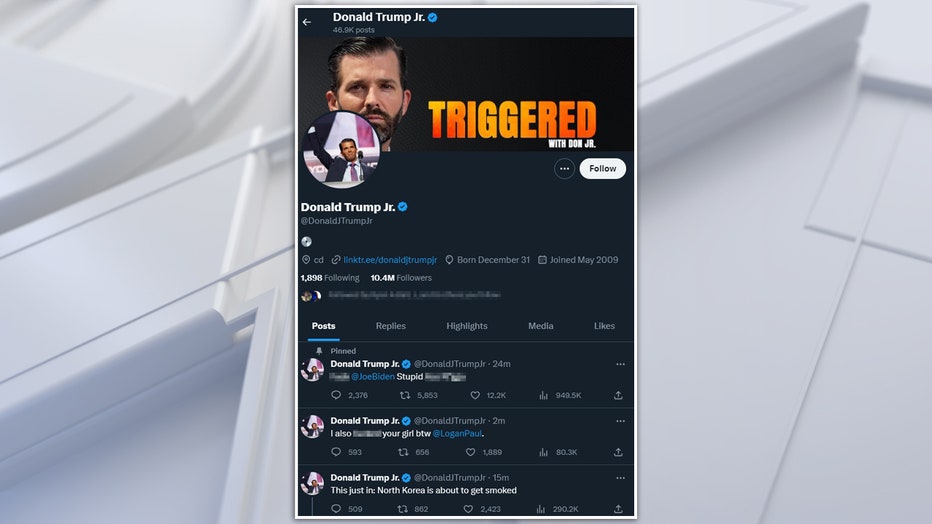 Screenshot from X (formerly Twitter) taken Sept. 20, 2023.
The posts have since been deleted, and Trump Jr. has not commented on his page about the incident.
The hack comes as X's billionaire owner Elon Musk says he's considering charging all users a small monthly fee to use X, making it a fully subscription-based social media platform. Currently, X users pay about $8 a month for the "verified" blue check mark. Musk broached the topic during a livestream conversation on AI with Israeli Prime Minister Benjamin Netanyahu on Monday.  
Musk has complained of plunging revenue since taking over X, with many advertisers leaving the platform.
READ MORE: Elon Musk threatens to sue Anti-Defamation League claiming group caused loss of X's ad revenue
Trump Jr.'s father's X post on Aug. 23 was Trump's first Twitter post in more than two and a half years. Trump, considered the Republican frontrunner for the 2024 presidential election, made the post shortly after he surrendered at an Atlanta jail on charges he conspired to overturn his election loss.
Trump posted a photo of his mug shot and the words "Election interference. Never surrender!" along with a link to his website, which directs to a fundraising page.
READ MORE: On 'Meet the Press,' Trump refuses to say whether he watched Jan. 6 attack unfold on television
It was Trump's first post since Jan. 8, 2021, when Twitter suspended his account indefinitely, citing fears he would incite additional violence following the deadly storming of the U.S. Capitol building. His account was reinstated last November shortly after Musk took over the company. But Trump had refrained from tweeting, insisting that he was happier on his own Truth Social site, which he launched during the ban.
The Associated Press contributed to this report.