Dire days ahead: January could be 'worst' month in COVID-19 pandemic, experts warn
As the United States begins its largest vaccination effort in history against the novel coronavirus, public health experts are warning that the impact of travel and gatherings over the holidays could lead to a dire situation in America in January.
Adding cause for concern, President-elect Joe Biden and his COVID-19 advisers have criticized the pace of the current vaccine rollout, saying the effort is "falling far behind."
"We are going to see one of the worst months in this nation's history in January," Dr. Celine Gounder, a member of Biden's coronavirus task force, said Monday on CNBC. "There is no doubt about that."
The U.S. has faced a surge of infections in recent weeks, due in large part to Thanksgiving travel and celebrations, with case counts, hospitalizations and deaths from COVID-19 regularly breaking records. And despite the approval of two new vaccines, experts estimate the general population won't start widely receiving the shots until spring — creating a dire situation in the interim.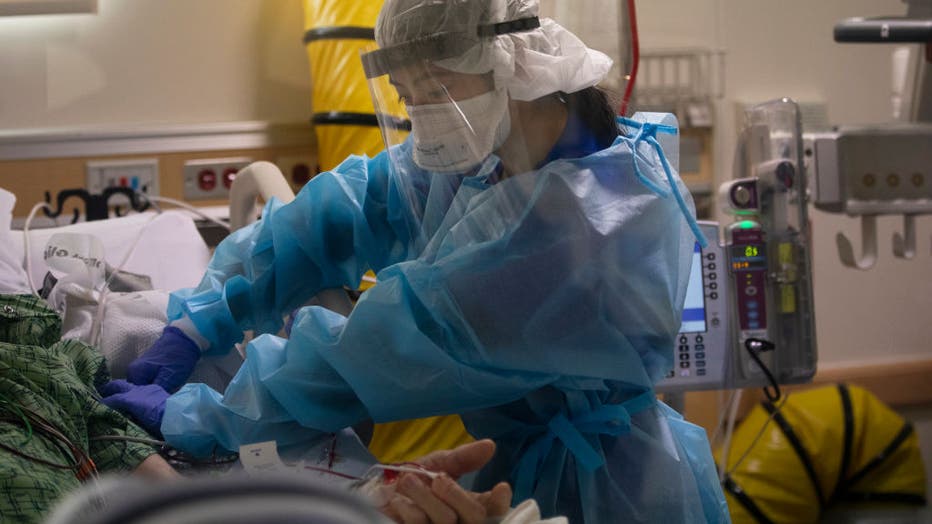 A nurse cares for a COVID-19 patient inside the ICU at Providence St. Jude Medical Center on Dec. 25, 2020 in Fullerton, California. (Francine Orr / Los Angeles Times via Getty Images)
Given the impact of Thanksgiving already overwhelming intensive care units in hospitals across the country, the U.S. Centers for Disease Control and Prevention had urged Americans to limit travel and indoor gatherings in December due to the worsening pandemic.
RELATED: December is deadliest month of COVID-19 pandemic in US so far
But a record number of travelers passed through U.S. airports over the holidays despite the warnings. On Dec. 27, the Transportation Security Administration screened 1,284,599 people at airport checkpoints nationwide — the highest number since the pandemic began.
"That cake is in the oven, so to speak, with the travel that has happened over the holidays," Gounder said. 
Gounder, a clinical assistant professor at the NYU Grossman School of Medicine who specializes in infectious diseases, clarified that the worry isn't just about flying on a plane — but the fact that people mixed household bubbles.
"There is no question, we are going to see another surge, just like we did after Thanksgiving. We're going to see another surge in January, and hospitals are going to be facing that when they're already full," she warned.
Meanwhile, Biden on Tuesday criticized the Trump administration's effort to distribute and administer approved vaccine shots, saying the effort, dubbed Operation Warp Speed, is not happening quick enough.
"As I long feared and warned, the effort to distribute and administer the vaccine is not progressing as it should," Biden said, adding that it will take "years, not months," to vaccinate most Americans at the current pace.
Earlier this month, Trump administration officials said they planned to have 20 million doses of the vaccine distributed by the end of 2020. But according to data provided by the CDC, just over 11.4 million doses have been distributed and only 2.1 million people have received their first dose.
Gounder echoed Biden's concern, telling CNBC that the U.S. has averaged about 1 million doses administered per week over the past two weeks. "We need to get to a million doses per day if we're going to reach the president-elect's target," she said. 
Biden, who takes office Jan. 20, has vowed to administer 100 million shots of the vaccine within his first 100 days in office. Even with that pace, the vaccines require two shots — and Biden acknowledged that it "will still take months to have the majority of Americans vaccinated."
He added that he has directed his team to prepare a "much more aggressive effort to get things back on track."
"I'm going to move heaven and earth to get us going in the right direction," Biden said.
This story was reported from Cincinnati. The Associated Press contributed.