Dianne Feinstein: Politicians, celebs react to long-serving senator's death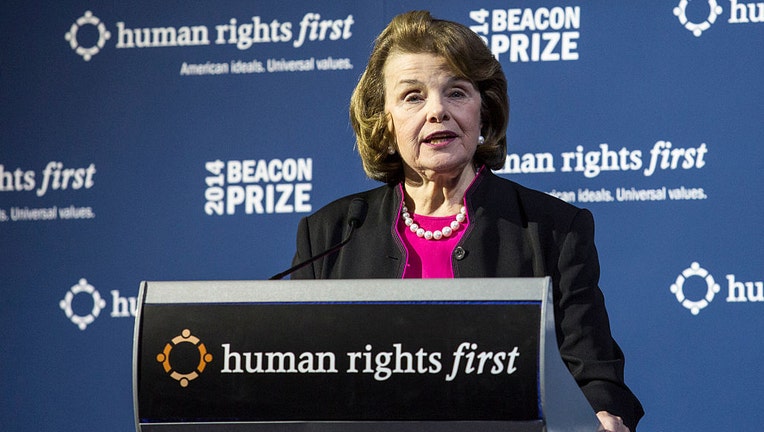 article
With the death of Sen. Dianne Feinstein on Friday, politicians and celebrities across the nation paused to reflect on a legacy that stretched back through five decades.
Feinstein was elected to the Senate in 1992 in the "Year of the Woman" and broke gender barriers throughout her long career in local and national politics, has died. She was 90.
RELATED: Senator Dianne Feinstein, a pioneer and woman of many firsts, has died
Reaction poured in from politicians and celebrities across the country. 
California Gov. Gavin Newsome shared an emotional message about Feinstein posting
"Dianne Feinstein was many things — a powerful, trailblazing U.S. Senator; an early voice for gun control; a leader in times of tragedy and chaos. But to me, she was a dear friend, a lifelong mentor, and a role model not only for me, but to my wife and daughters for what a powerful, effective leader looks like. She was a political giant, whose tenacity was matched by her grace. She broke down barriers and glass ceilings, but never lost her belief in the spirit of political cooperation." 
"And she was a fighter — for the city, the state and the country she loved. Every race she won, she made history, but her story wasn't just about being the first woman in a particular political office, it was what she did for California, and for America, with that power once she earned it." 
"That's what she should be remembered for. There is simply nobody who possessed the strength, gravitas, and fierceness of Dianne Feinstein. Jennifer and I are deeply saddened by her passing, and we will mourn with her family in this difficult time."
Massachusetts Senator Elizabeth Warren remembered the long-serving California senator writing "From leading an assault weapons ban to championing LGBTQ+ rights and becoming the first woman to lead the Senate Rules and Intelligence committees, Dianne Feinstein broke barriers and fought for the American people. My heart goes out to her family and loved ones."
Hillary Clinton took to X, formerly Twitter, to share her thoughts on Feinstein.
"I'm deeply saddened by the passing of Dianne Feinstein. She blazed trails for women in politics and found a life's calling in public service. I'll miss her greatly as a friend and colleague and send my condolences to all who loved her."
Actor George Takei wrote "The senior senator of my home state of California, Dianne Feinstein, has passed away at age 90. She was a trailblazer and a leading advocate for an assault weapons ban. May she rest in peace, and may her memory be a blessing."
New Jersey Senator Cory Booker remembered Feinstein posting "Heartbroken by the news that our country has lost Dianne Feinstein. She was a true trailblazer and advocate for Californians & Americans. I am grateful to have served with her as colleague and friend, during her incredible lifetime and legacy of service."
Georgia Senator Reverend Raphael Warnock wrote "With persistence, grit and grace, Senator Dianne Feinstein broke barriers, shattered glass ceilings and moved our nation closer to its ideals. As a new senator, I was blessed by her kindness and inspired by her example."
Alabama Senator Katie Boyd Britt wrote "Dianne Feinstein lived a life of service, blazing a path for women in the Senate and girls across our nation. In the face of tragedy and tribulations throughout her career, she was fearless. Our prayers are with her loved ones."
Virginia Senator Tim Kaine shared his thoughts on Feinstein posting "Dianne Feinstein was a trailblazer in every sense of the word, and her legacy on everything from women's rights to gun safety to national security is tremendous. My heart is with her loved ones today. May her memory be a blessing."
New York Senator Kirsten Gillibrand reflected on Feinstein's legacy writing "Dianne Feinstein was a force to be reckoned with. She was one of the most powerful voices in the Senate, and she blazed a trail for generations of women who followed her into elected office. I was so grateful to have her as my role model, my mentor, and a dear friend."
California Senator Alex Padilla reflected on Feinstein's legacy sharing "I've said it before: you can't tell the story of CA—or American politics—without the trailblazing career of Senator Dianne Feinstein. A champion, an icon, and most importantly, a friend––Dianne will be dearly missed. Angela and I are keeping the Feinstein family in our prayers."
Congressman Ted Lieu took to social media writing "Deeply saddened to hear the news of Senator Dianne Feinstein's passing. She had an incredible career guided by a love of our country and American values. I join her family, friends and our country in mourning her."
Texas Congresswoman Jasmine Crockett wrote "As first woman to serve in the U.S. Senate from California and becoming the first Chairwoman of Senate Judiciary, Intel, and Rules Committees, Dianne Feinstein has been a bold leader for our nation her entire life."
Journalist Maria Shriver remembered Feinstein writing "Dianne Feinstein served her country and the Golden State with strength, passion, and purpose. She made a tremendous difference, not just to those she represented, but to concerned citizens throughout this country and was a trailblazer for women. Her life was a life well lived."
Claire McCaskill, a political analyst and former senator from Missouri, posted "Take a few minutes. Watch Dianne Feinstein show courage and commitment to our ideals. She was an amazing Senator. Thank you my dear friend for your kindness, your leadership, and your dedication to the job, your constituents, and this country."
Missouri Senator Josh Hawley posted "Erin and I were saddened to hear of the death of Senator Dianne Feinstein. It has been an honor to serve with her in the Senate and on the Judiciary Committee. No one was more welcoming when I came to the Senate than she, and no one was a better example. She was tough, incredibly smart, and effective. Always willing to work across the aisle to get things done, she was a person of unquestioned integrity. I admired her and will miss her in the Senate. Erin and I send our deepest condolences to her family."
North Carolina Senator Thom Tillis wrote "Senator Dianne Feinstein was a trailblazer who lived an incredible life dedicated to public service. She was one of the most effective legislators in recent memory because of her willingness to work across the aisle in good faith in order to solve complex problems. It was a honor to serve with her. Susan and I extend our deepest condolences and prayers to Senator Feinstein's family and staff during this difficult time."
Senator Tammy Duckworth remembered Feinstein sharing "Dianne Feinstein was a trailblazing woman who devoted her life to public service. My heart goes out to her loved ones, the people of California and everyone whose life was improved by her work. Rest in peace, @SenFeinstein."
Feinstein, the oldest sitting U.S. senator, was a passionate advocate for liberal priorities important to her state -- including environmental protection, reproductive rights and gun control -- but was also known as a pragmatic lawmaker who reached out to Republicans and sought middle ground.
This story was reported from Washington, D.C.