Georgia Bulldogs football player, staff member killed in car crash; two more injured
ATHENS, Ga. - Athens-Clarke County police said two people killed in a car crash early Sunday morning. The University of Georgia athletics department confirmed the victims are a Georgia Bulldogs football player and staffer.
Police said 20-year-old Devin Willock was a passenger in a Ford Expedition that crashed on Barnett Shoals Road. Police responded to the 900 block at around 2:45 a.m. Willock was dead at the scene. 
The driver of the car, 24-year-old Chandler LeCroy, died after an ambulance took her to a nearby hospital. LeCroy was a member of the Georgia football recruiting staff.
Police said two others, a 21-year-old man and 26-year-old woman were seriously injured. The University of Georgia Athletics confirmed that both injured people were also members of the football program. They're in stable condition.
DEVIN WILLOCK MADE YOUNG FAN SMILE BY SHOWING HIM A CHAMPIONSHIP RING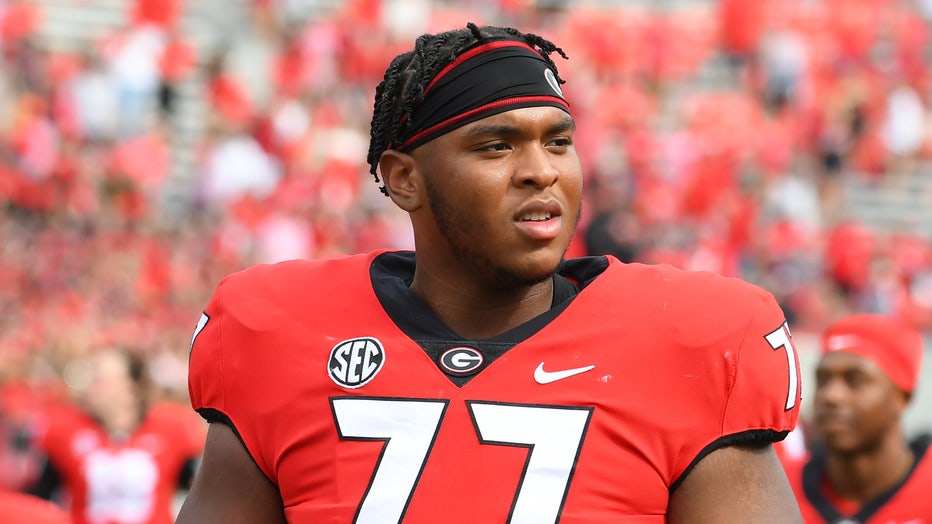 "The entire Georgia family is devastated by the tragic loss of football student-athlete Devin Willock and football staff member Chandler LeCroy. Two other members of the football program were injured in the accident. They are both in stable condition, and we will continue to monitor their status with medical personnel.
"Devin and Chandler were two special people who meant so much to the University of Georgia, our football program and our athletic department. We ask that everyone keep their families in your prayers during this very difficult time.
"The UGA Athletic Association will work with our medical team as well as our mental health and performance personnel to make sure we are providing the best support possible for our staff and student-athletes who are processing this grief. We can provide no further comment at this time but ask that everyone continue to keep those involved in your prayers."
REACTIONS TO DEATHS OF DEVIN WILLOCK, CHANDLER LECROY
The Athens-Banner Harold reports that offensive lineman Warren McClendon was one of the two people hospitalized in the crash. McClendon had declared for the NFL draft hours before the car crash. 
Tory Bowles, another football recruiting staff member, was also injured and hospitalized after the crash, according to at tweet from Prince Avenue Christian School. 
Head football coach Kirby Smart expressed the football program's grief in a statement.
He followed that with tweets about Willock and LeCroy/
Police didn't mention another car involved in the crash. Crash investigators determined the car was moving south in the outside lane on Barnett Shoals Road when the care left the road. It struck two poles and several trees. 
The football team celebrated its National Championship victory on Saturday with a parade and ceremony inside Sanford Stadium.
Willock was a redshirt sophomore offensive lineman from New Milford, N.J. He played in every regular season game and the Bulldogs' three postseason games, including the national championship.