Depression identified as 'contributing cause' of type 2 diabetes risk, study finds
People who struggle with depression could face a higher risk of diabetes, according to new research from Diabetes U.K., a British charity that aims to improve the care and treatment of people with diabetes.
The researchers discovered that people with a history of depression are more susceptible to developing type 2 diabetes, according to a press release from the organization.
Professor Inga Prokopenko of the University of Surrey led the study, which considered genetic data from "hundreds of thousands" of individuals in the U.K. and Finland.
CAN MAGNESIUM AND VITAMIN D3 CURB ANXIETY? MENTAL HEALTH EXPERTS WEIGH IN ON A VIRAL TIKTOK CLAIM
Previous research suggested that people with type 2 diabetes are twice as likely to struggle with depression compared to those without the condition, according to the organization.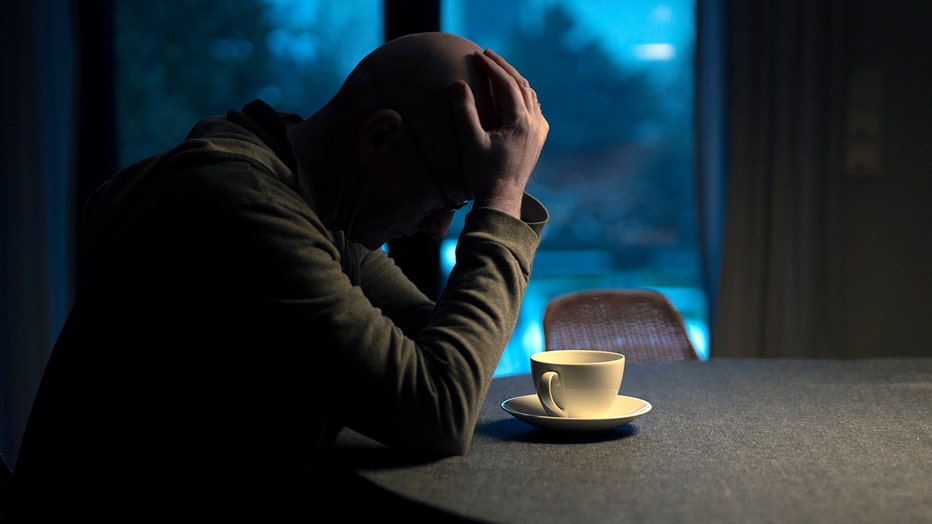 In this photo illustration a man is sitting alone at a kitchen table on January 17, 2021 in Bonn, Germany. (Credit: Ute Grabowsky/Photothek via Getty Images)
Researchers in this study took a deeper dive. They used a statistical method called Mendelian randomization to determine if type 2 diabetes and depression are linked.
For the first time, the study revealed that depression directly causes an increased risk of type 2 diabetes.
The findings also uncovered that higher body weight, in part, explained the impact of depression on type 2 diabetes.
'SILENT WALKING' TREND: PSYCHIATRIST SHARES STRESS-RELIEVING BENEFITS OF STROLLING IN SILENCE
In addition, the research identified seven genetic variants that contribute to both conditions, which impact insulin production and inflammation levels in the brain, pancreas or fat tissue, the release stated.
These changes could potentially explain how depression can increase type 2 diabetes risk, Diabetes U.K. reported.
Lead study author Prokopenko wrote in a statement that this discovery "illuminates depression as a contributing cause of type 2 diabetes and could help to improve prevention efforts."
She added, "The findings are important for both individuals living with the conditions and health care providers, who should consider implementing additional examinations to help prevent type 2 diabetes onset in people suffering from depression."
TOM BRADY'S MENTAL FITNESS COACH SHARES 6 TIPS ON HOW TO 'TRAIN YOUR MIND' LIKE THE GREATS
Despite these findings, researchers did not find any evidence of type 2 diabetes leading to the development of depression — even though both conditions share common risk factors like obesity.
Since people who have type 2 diabetes are involved in day-to-day upkeep and lifestyle changes, Diabetes U.K. noted that the "burden" of the condition could lead indirectly to feelings of depression.
RELATED: Diabetes likely to surge in US children and teens by 2060, study finds
Board-certified emergency medicine physician Dr. Joe Whittington, M.D., based in California, echoed the fact that there has been a proven correlation between type 2 diabetes and depression.
"For example, blood sugar fluctuations can affect brain function and mood, while the stress of managing diabetes amplifies this risk," Whittington told Fox News Digital. 
(He was not involved in the Diabetes U.K. study.)
"Shared factors like obesity and poor lifestyle add complexity," he went on. "Chronic inflammation in diabetes may also contribute to depression, and some diabetes medications can impact mood."
Whittington said that what "really sets this study apart" is the finding that depression develops into diabetes in terms of specific genes.
"Because the genes that put you at risk for diabetes are kind of like a natural experiment, this helps scientists feel more sure that diabetes itself is linked to depression, not some other random thing," he said.
"Knowing this cause-and-effect relationship can better help health care professionals be more proactive with patients who are already dealing with depression," he noted.
Doctors should implement "early screening measures" for diabetes risk factors in these patients, Whittington suggested, as well as offer preventive steps such as diet adjustment and medication to "reduce the likelihood" of the patients "developing diabetes."
He added, "This targeted approach could significantly improve preventive efforts and ensure that people at risk get the interventions they need much sooner."
Whittington added, "Understanding the causative link between diabetes and depression can be a game-changer for prevention and treatment plans."
Fox News Digital reached out to the study author for additional comment. 
If you or a loved one is feeling distressed, call or text the 988 Suicide & Crisis Lifeline for free and confidential emotional support 24 hours a day, 7 days a week. 
CLICK HERE https://afsp.org/risk-factors-and-warning-signs for the warning signs and risk factors of suicide and CLICK HERE https://988lifeline.org/ for more on the 988 Lifeline.