Large fire burns through school bus garage in Isanti County
BRAHAM, Minn. (FOX 9) - A large fire Tuesday morning ripped through a school bus garage in Isanti County, leaving at least three buses damaged.
The Braham Police Department posted photos of the scene just after 9 a.m., showing plumes of black smoke coming from a structure consumed by heavy fire. The nearby Braham Area School posted on Facebook saying operations will continue as normal in light of the fire and that all students and staff are safe. 
The Braham Bus Company building, which houses the buses, was determined to be a complete loss. Three buses were also destroyed in the fire. No injuries have been reported so far, according to the school.
The school district stated they contracted the Braham Bus Company for transportation services.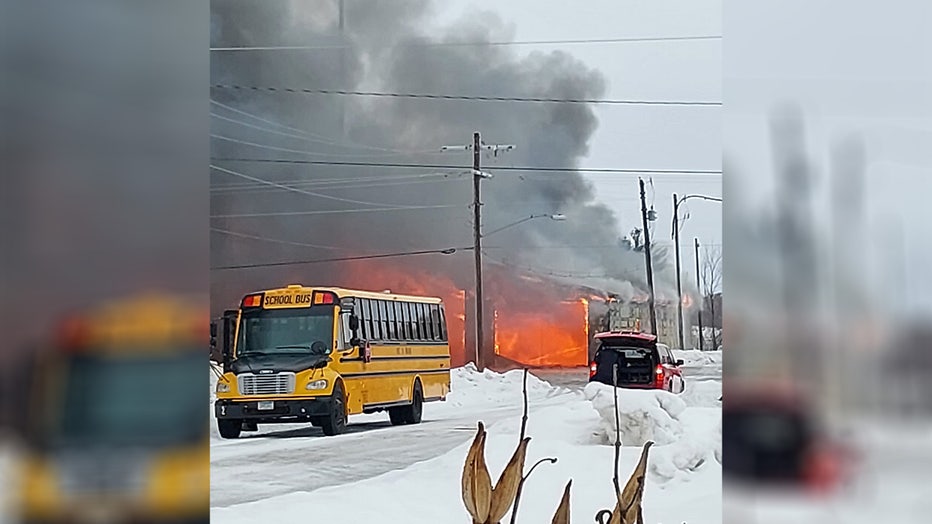 Crews are battling a fire in Braham at a bus garage Tuesday morning. (Credit Braham Police Department)
"Our hearts go out to our long-standing partners (the Olson family) as we work together to continue services for our students and community," superintendent Ken Gagner said in a statement. 
Transportation services for the district are expected to continue as normal. FOX 9 reached out to the Isanti Sheriff's Office for further information. 
This is a developing story, check back for updates.