Child Protection League stands by photo used in controversial anti-trans ad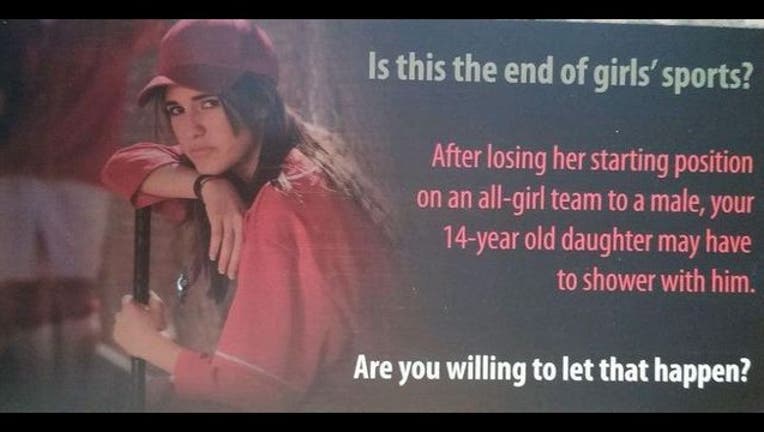 article
Ahead of a Minnesota State High School League meeting on Thursday during which a new policy that would allow transgender students to participate in athletics based on their gender identity will be considered, the Minnesota Child Protection League has used newspaper ads and mailers to lobby against the proposal.
"Is this the end of girls' sports?" the CPL's newspaper ad says, the text appearing alongside a photo of a pensive-looking softball player. "After losing her starting job on an all-girl team to a male, your 14-year-old daughter may have to shower with him. Are you willing to let that happen?"
Related: 'Transgender Policy' to be considered by Minnesota State High School League
The ad raised some eyebrows, as it turns out the softball player photo was previously on the cover of a book targeted for young lesbians -- "Going, Going, Gone -- Suzie's Story," written by Barbara Clanton.
The dichotomy between the way the photo was used in Clanton's book and how the CPL is using it led some to criticize the group for taking the image out of context, so we reached out and asked the CPL if they thought it mattered that the image was previously used in a "lesbian novel."
Michele Lentz, state coordinator for the CPL, didn't directly answer that question, but wrote that the CPA " is committed to protecting all children from exploitation, indoctrination, and violence."
"The girl featured in our ad represents all girls competing in Minnesota girls sports, whatever their background, race, color, creed or sexual orientation. They all deserve our protection," Lentz continued. "CPLAction opposes the MSHSL transgender policy because it is unsafe and unfair to children. Our ads have been extraordinarily successful in equipping and engaging the public."
We also reached out to the photographer credited with holding the photo's copyright, but she didn't respond to a message seeking comment on her thoughts about the controversy.