Charges: 21-year-old man sexually assaulted woman in booth at Mpls. bar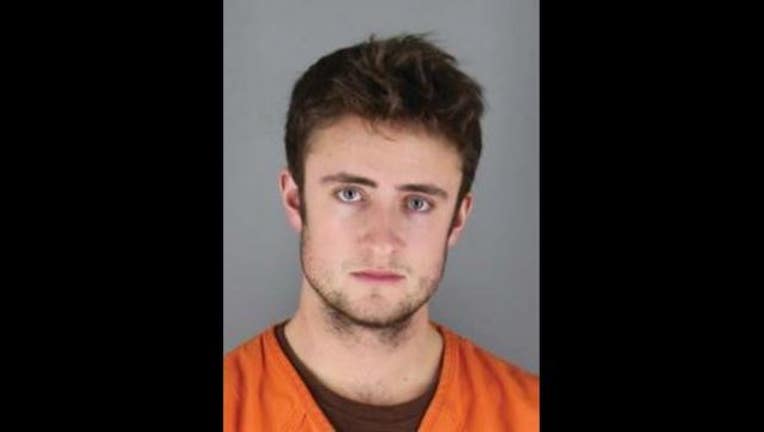 article
MINNEAPOLIS (KMSP) - A 21-year-old Prior Lake, Minnesota man is accused of molesting a woman in a booth at a restaurant near the University of Minnesota's West Bank last fall.
The alleged sexual assault took place on September 11, 2016 at a restaurant on Washington Avenue Southeast shortly before 1:00 a.m.
The victim told police she was out with a friend when two strangers sat down in the booth with them. According to the criminal complaint, the man who sat down next to her told her his name, where he was from and the school he attended. He also told her, "I want to marry and ---- you," a comment, which she told police made her feel uncomfortable.
The man, later identified as Benjamin Sloan, continued to talk to the victim and tried putting his arm around her multiple times. He grabbed her breast, even though she told him to stop and not to touch her like that.
Sloan continued to touch her breasts and at one point, forced his hand down her pants and digitally penetrated her, according to the complaint. The victim told police that while his hand was down her pants, he was holding her with his other arm so she could not move.
Sloan also tried kissing the victim and bit her on the shoulder before she was able to get out of the booth and leave the restaurant.
Several days later, Sloan sent a Facebook message to the victim's friend who attends the same school as him and said, "Please I really need to talk to this girl that is NOT me to do something like that. I'm so sick to my stomach thinking about this. Please just let me text her and sincerely apologize. Thank you."
In an interview with police, Sloan admitted to sitting in a booth with the victim, but claimed it was all a misunderstanding and that if anything happened, it was an accident. He said he may have touched her breasts, but it was an accident, and denied putting his hand down her pants.
Sloan is charged with one count of third degree criminal sexual conduct.