Cat adoptions in Minnesota: Places to find your furry friend
MINNEAPOLIS (FOX 9) - June is National Adopt a Cat Month and Minnesota has plenty of places to adopt a new furry friend.
The Animal Humane Society
Coon Rapids, Golden Valley, St. Paul, and Woodbury
Open Tuesday through Sunday
The Animal Humane Society provides direct care and services to help nearly 100,000 animals across Minnesota every year. There is a variable fee structure that assigns higher fees to certain high-demand animals in order to ensure that AHS has the funds to provide for other animals that have special needs or a more difficult time finding a new home.
The Bitty Kitty Brigade
Foster-based rescue
Contact for adoption here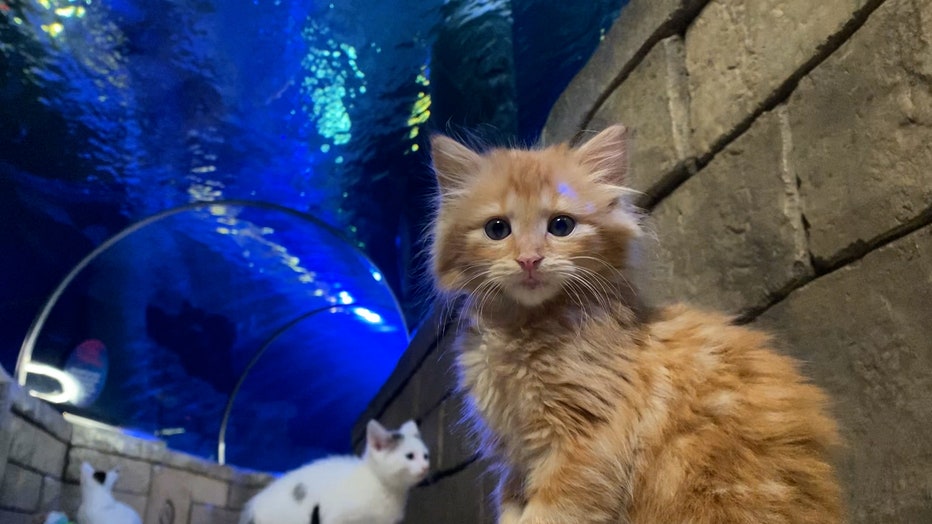 An orange kitten from the Bitty Kitty Brigade in SEA LIFE ocean tunnel. (Bitty Kitty Brigade / Supplied)
The Bitty Kitty Brigade exists to serve orphaned, neonatal kittens ages 0-5 weeks who are not yet eating on their own. They are a no-kill organization. All kittens are cared for in foster homes and receive high-quality nutrition and appropriate medical care until they are 12 weeks old and ready to be adopted. Kittens from this organization must be adopted in pairs or go to a home with a young, active cat.
The Cafe Meow
Minneapolis and New Hope
Open Tuesday through Sunday
The Cafe Meow cat cafe and lounge provides a laid-back way to meet cats, even if you are not looking to adopt. Visitors can order drinks and treats in the cafe area and pay to meet cats in the lounge. Regular admission is $10.50 on weekdays and $15.00 on weekends. Reservations for the Minneapolis location are available here and reservations for the New Hope location can be made here.
Caring for Cats
2550 7th Ave. E, North St. Paul
Open by appointment
Caring for Cats is a no-kill shelter and foster network for cats and kittens. The organization provides a home-like "catmosphere" for 35 to 40 cats within the shelter. They also have 20 to 30 cats and kittens living in foster homes throughout the year. Make a reservation to meet the cats here.
Feline Rescue
593 Fairview Ave. N, St. Paul
Open seven days a week. Hours are available here.
Cats in need are brought to this shelter on a weekly basis and other cats are located in foster homes. Adoption fees begin at $100 for senior cats and increase based on age. Visitors can meet cats by appointment only.
Kitty Revolution
Kitty Revolution is a volunteer-based, no-kill cat rescue that seeks to save and improve the lives of the overlooked and otherwise discarded cats in the Twin Cities community.
Twin Cities Pet Rescue
Foster based rescue
See adoptable cats here
Twin Cities Pet Rescue has focused on rescuing animals in critical need; specifically, special needs cases and those at risk of being euthanized. All of their animals stay in foster homes and basic training in preparation for adoption.
Wags and Whiskers
Foster based rescue
Apply for adoption here
Wags & Whiskers Animal Rescue of MN is a volunteer-run, nonprofit animal rescue organization dedicated to saving the lives of homeless animals, and educating the community on responsible pet ownership. This rescue serves Minneapolis, St. Paul, and the surrounding Metro within a 60-mile radius. They also serve potential pet parents within a 30-mile radius of Duluth, Rochester, and Mankato.