Buzz Aldrin, moonwalker and former astronaut, ties the knot on his 93rd birthday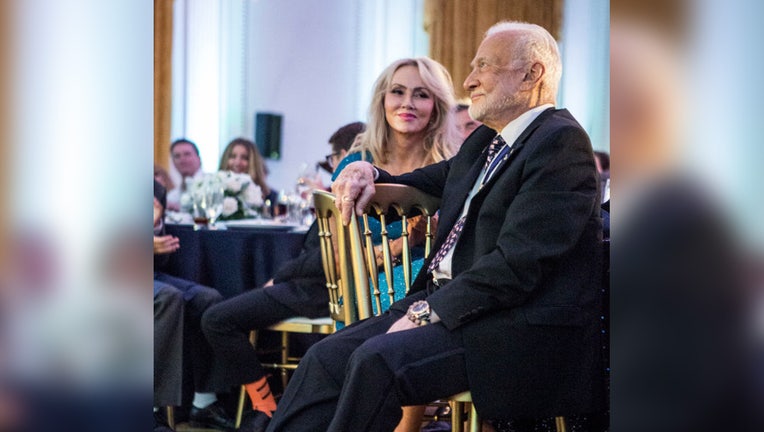 article
Buzz Aldrin, one of two astronauts to set foot on the moon in the 1969 Apollo 11 mission, tied the knot with his longtime love on his 93rd birthday, according to a tweet he posted on Friday. 
Aldrin posted on his Twitter account that he and Anca Faur got married in a small ceremony in Los Angeles, California. 
"On my 93rd birthday & the day I will also be honored by Living Legends of Aviation I am pleased to announce that my longtime love Dr. Anca Faur & I have tied the knot," Aldrin wrote. 
The former astronaut added he and his new wife were "as excited as eloping teenagers."  
Aldrin is the only one of the three astronauts on the Apollo 11 mission still alive today. 
The Apollo 11 mission was the first in human history to land men on earth's satellite, fulfilling a dream as old as humanity itself.  
Neil Armstrong was the first astronaut to step on the lunar surface at 9:56 p.m. ET on July 20, 1969. 
He was followed 19 minutes later by Aldrin. 
"A distinguished airman, scientist, astronaut and patriot, Dr. Buzz Aldrin has left an indelible mark, not only on the history of his country, but also on that of the world," writes the West Point Association of Graduates. 
RELATED: Buzz Aldrin's moon-flown Apollo 11 jacket sells for record $2.8M
The "scientific triumph" of the moon landing, the association notes, was "one of the most memorable events of the 20th century and … represented the epitome of the nation's scientific capabilities and established its preeminence in the exploration of space." 
"An estimated 600 million people — at that time, the world's largest television audience in history — witnessed this unprecedented heroic endeavor," writes BuzzAldrin.com, the astronaut's official website. 
FOX News contributed to this report. This story was reported from Los Angeles.