Businesses and families picking up pieces after storm in Dundas, Minn.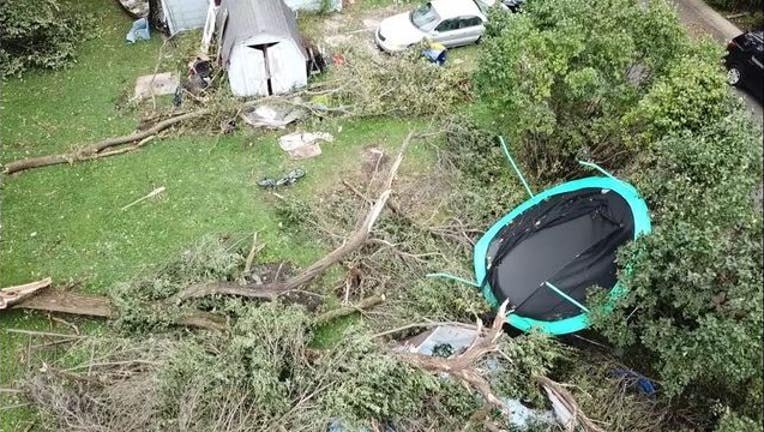 DUNDAS, Minn. (KMSP) - Dozens of small communities were rocked by severe weather Thursday night, including the town of Dundas.
The National Weather Service has reported at least four tornadoes touched down. Now, residents are working to rebuild after the destruction.
On a third generation piece of land just southwest of Dundas, there's not much left of a grove that's been around a long time.
Jason Aldorfer of Dundas said his land is 14 acres full of trees. He thinks maybe 25 percent of them are left.
Aldorfer and his family run a campground in the trees, and now it's all hands on deck for months of clean up.
Fortunately, a tornado hitting in mid-September means no one was camping, but the landscape is lost.
"It just basically leveled every tree we have here," Aldorfer said, pointing to a tree that hit a camper.
The only person here when it hit was an employee of their cabinetry business who is deaf and couldn't hear sirens.
"My guy Eric that works for me, he was in my shop working and he felt a pressure change. He can't hear anything so he all went by feel," Aldorfer said.
A couple miles further down, the storm carved a trail of downed trees through Dundas.
"It was just a little bit of rain, little bit of wind then all of a sudden we just see things flying. It was really scary," said Raquel Rocha of Dundas.
And the Rocha family got a direct hit, destroying their new trampoline.
"There's a swimming pool under there," she said, pointing to the damage.
The storm ripped apart every tree, sparing the only tree that would have hit their house.
"You could hear it just coming up from the ground and just being tossed," said Rocha.
As the storm barreled northeast toward Northfield, it left a clear trail of flattened corn in the countryside, hitting the east side of Northfield leaving trees down everywhere you turn. In so many cases, the storm spared homes.
Back at Aldorfer's business where hundreds of trees fell, only one hit a building and just barely.
"Other than that it was just amazing that it could have been a heck of a lot worse," Aldorfer said.