Bryan Kohberger case: Footprint found inside Idaho crime scene could help cops build case
MOSCOW, Idaho - The footprint found inside the Idaho home where a Ph.D. criminal justice student allegedly stabbed four University of Idaho undergrads to death could help police build their case beyond the initial probable cause affidavit, experts say.
However, its value may depend on what else detectives found with a series of search warrants served following the arrest of Bryan Kohberger, 28, more than 2,500 miles from the crime scene.
In a probable cause affidavit released Thursday morning, investigators revealed that a shoe print found at the crime scene had a sole pattern that resembled that of a Vans sneaker.
Kohberger, the Pennsylvania man accused in the quadruple murder, was seen wearing Vans-style shoes as authorities walked him into a Monroe County courthouse last week – but those cannot be the same shoes that left the footprint, experts tell Fox News Digital.
RELATED: Social media video sparks rumors that Idaho students slaying suspect attended victims' memorial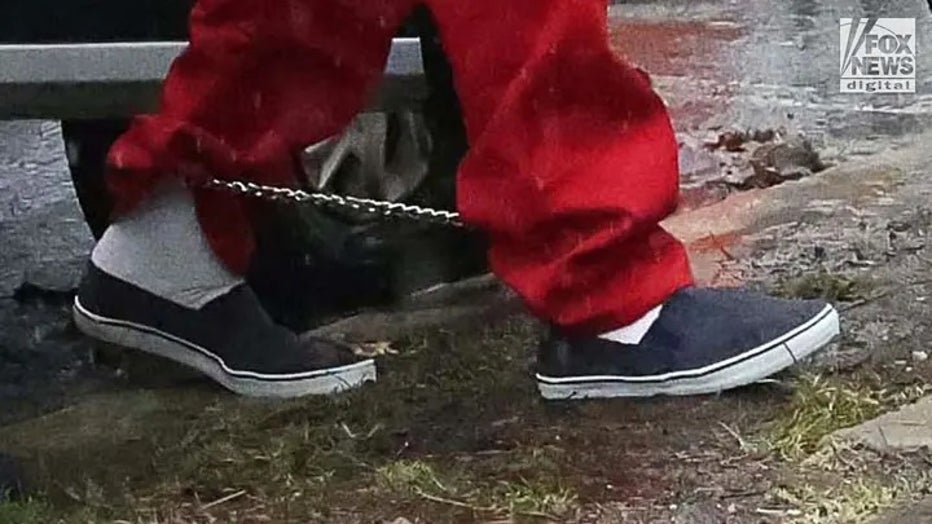 Close-up of the feet of Bryan Christopher Kohberger as he arrives to Monroe County Court House in Stroudsburg, Pennsylvania, on Tuesday, January 3, 2023. He is charged the murders of four University of Idaho students in November last year. (The Image
"They could be the prison shoes that they gave him, the slip-ons, because they don't want you taking off the laces and hanging yourself," said Joseph Giacalone, a retired NYPD sergeant and adjunct professor at John Jay College of Criminal Justice.
If police have recovered the shoes that left the print, they would be in evidence, he added. It was not immediately clear whether police had found a matching shoe, however.
RELATED: Roommate in 1992 Buffalo attack defends Idaho roommate for delayed call to police, tells media to 'back off'
Kohberger is accused of prowling around the home at least 12 times before Nov. 13, when police allege he went inside and ambushed Maddie Mogen, 21, Kaylee Goncalves, 21, Xana Kernodle, 20 and Ethan Chapin, 20. 
Judge Megan Marshall issued a gag order on the case last week, barring investigators and attorneys for both sides from making public comment on many aspects of the case.
Additionally, if police do not have the sneaker, the size of the shoe that left the print could also be important, Giacalone noted.
"It still doesn't answer the question of how he knew these girls," he said. "That's the big mystery still."
RELATED: 'Internet sleuths' in Idaho murder case 'becoming a problem,' former FBI agent says
According to Shanon Gray, the attorney for Goncalves' parents, "no one" knew about Kohberger before the slayings. Any links the families uncover will be forwarded to Moscow police, he said.
Paul Mauro, a former NYPD inspector and currently a lawyer, said the print is likely important because of how police found it – by using chemicals that detect the presence of blood.
"First of all, they got the footprint, but also it probably helped them develop his path through the house, because by using the technology that they did, it sounds like what they picked up was a blood footprint," he told Fox News Digital. "He stepped in blood of some sort and left that impression, and apparently it's very vague…very faint, so they had to use this technology – which means he might've wiped it up."
RELATED: 'True evil' was watching slain students, victim's sister says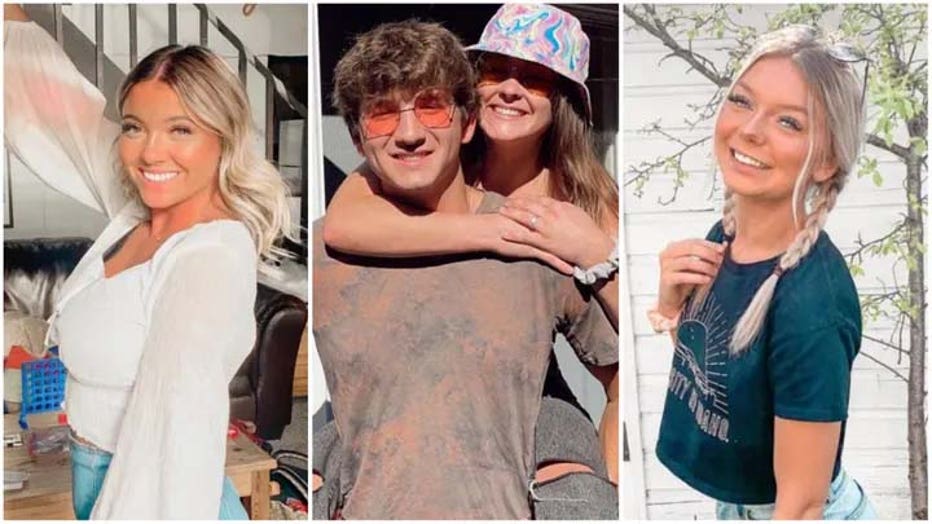 The victims of the Nov. 13 University of Idaho massacre. (Instagram @xanakernodle / @maddiemogen / @kayleegoncalves)
It will also help police track the suspect's movements throughout the house, he said.
A surviving housemate, identified in the affidavit of Moscow Police Cpl. Brett Payne as DM, told police she saw a masked man with "bushy eyebrows" walk by her on his way out the back door after hearing a series of alarming sounds.
She told detectives she thought she heard Goncalves "say something to the effect of 'there's someone here,'" according to Payne. She looked out her door, saw nothing, and then told police she thought she heard crying from Kernodle's room.
RELATED: Father of slain student Kaylee Goncalves comments on suspected Idaho murderer: 'Looked like a normal guy'
"DM then said she heard a male voice say something to the effect of 'it's ok, I'm going to help you,'" the affidavit continues.
She opened the door again and saw "a figure clad in black clothing and a mask that covered the person's mouth and nose walking towards her." 
She told investigators she saw a male, athletic but not muscular, about 5 feet, 10 inches tall, with "busy eyebrows," Payne wrote in the affidavit.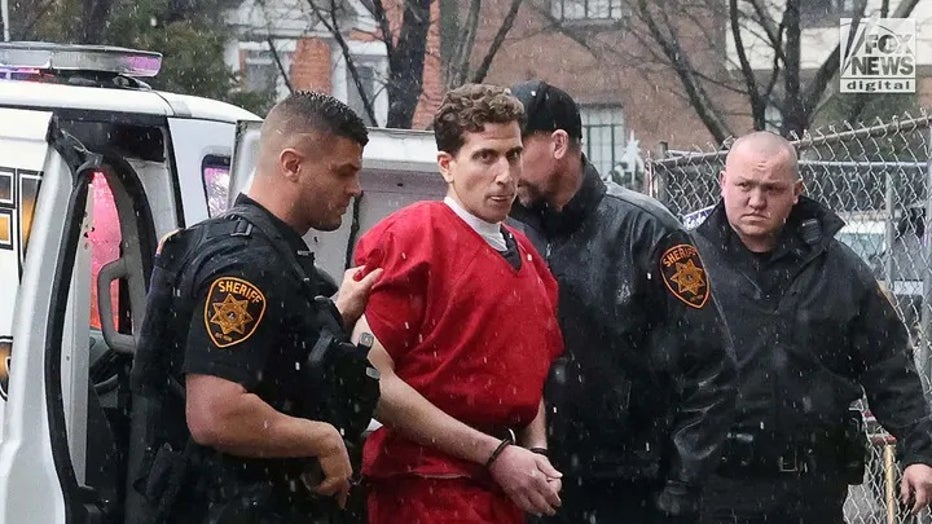 Bryan Christopher Kohberger arrives at the Monroe County Courthouse for an extradition hearing on Jan. 3. (The Image Direct for Fox News Digital)
"The male walked past DM as she stood in a 'frozen shock phase,'" he continued. "The male walked towards the back sliding glass door."
RELATED: Idaho murder victim's father wants Bryan Kohberger to know he won't 'be on the planet that long'
Police said they believe the suspect left at that time.
The footprint, according to the affidavit, was "consistent with DM's statement regarding the suspect's path of travel."
These details can help investigators determine the order in which the victims were attacked.
RELATED: Bryan Kohberger case: Why didn't Idaho roommate call 911 after encountering masked madman?
Kohberger faces four counts of first-degree murder and a felony burglary charge for allegedly entering the house with the intent to kill.