Body cam footage of Tyre Nichols' beating prompts demonstrations in Memphis, New York, DC
Following the release of body cam video showing Memphis police officers brutally beating Tyre Nichols, demonstrators in Tennessee, New York and Washington descended upon major thoroughfares to express their outrage.
In Memphis, Tennessee, protesters could be seen blocking a heavily traveled bridge on Interstate 55, which is one of two main spans connecting Arkansas and Tennessee over the Mississippi River. 
Traffic came to a standstill Friday evening. 
Protesters could be heard chanting, "Say his name! Tyre Nichols!"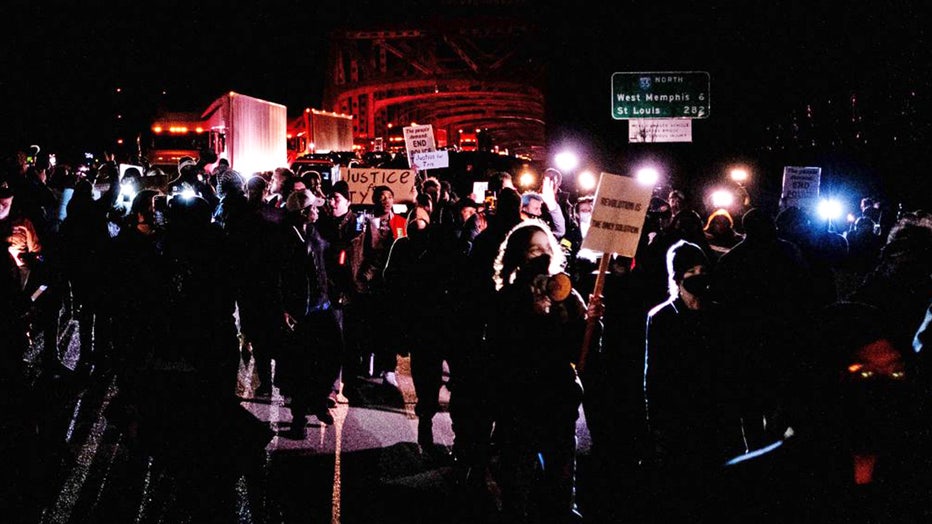 Protesters block traffic as they rally against the fatal police assault of Tyre Nichols, in Memphis, Tennessee, Jan. 27, 2023.  (SETH HERALD/AFP via Getty Images)
And in Manhattan, New York, crowds of demonstrators could be seen gathering in and around Times Square. 
In Washington, D.C., protests broke out in front of the White House as one demonstrator speaking through a megaphone said: "The only way we will get justice for Tyre Nichols … to overturn this capitalist system is if we understand our power," video captured by Fox News shows.
The protests were largely peaceful, with demonstrators blocking traffic while chanting and marching through the streets of New York, Los Angeles and Portland, Oregon. A few arrests were made in New York after protesters vandalized a police car and clashed with police in Times Square.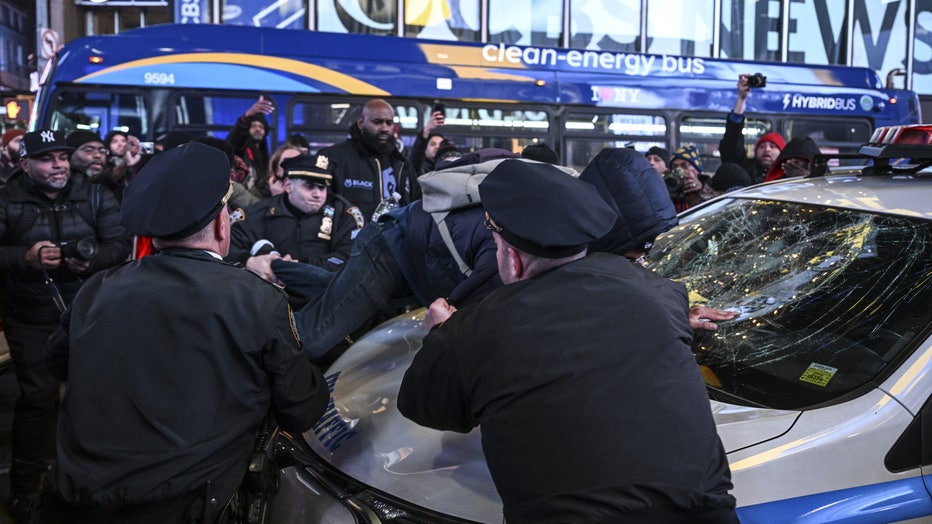 Police officers take a demonstrator, who smashed the window of a police car, into custody during the protest against the police assault of Tyre Nichols at Times Square in New York, United States on January 27, 2023. (Photo by Fatih Aktas/Anadolu Agen
READ MORE: Atlanta holds peaceful protest after body cam footage of Tyre Nichols' beating released
Christopher Taylor was one of the protesters at the Interstate 55 bridge in Memphis on Friday. He said he watched the video. The Memphis native said it was horrible that the officers appeared to be laughing as they stood around after the beating.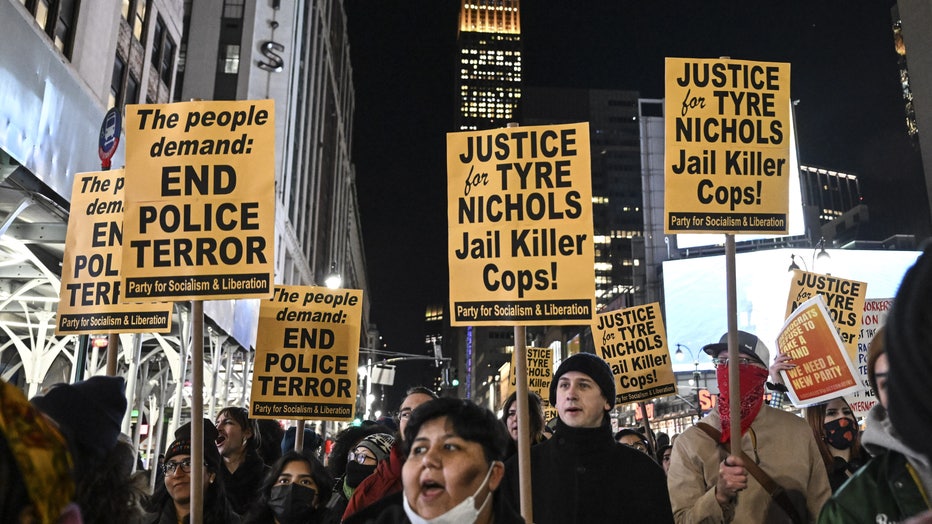 People gather to protest against the police assault of Tyre Nichols at Times Square in New York, United States on January 27, 2023. (Photo by Fatih Aktas/Anadolu Agency via Getty Images)
"I cried," he said. "And that right there, as not only a father myself but I am also a son, my mother is still living, that could have been me."
RELATED: Tyre Nichols video: DC police warn residents not to react violently after body cam footage release 
The growing demonstrations come after footage released by Memphis authorities on Friday showed officers repeatedly striking Nichols with their fists, boots and batons as the young father screamed for his mother. 
The video is filled with violent moments showing the officers, who are also Black, chasing and pummeling Nichols and leaving him on the pavement propped against a squad car as they fist-bumped and celebrated their actions. 
Memphis Police Director Cerelyn Davis described the officers' actions as "heinous, reckless and inhumane," and said that her department has been unable to substantiate the reckless driving allegation that prompted the stop and subsequent beating.
She told The Associated Press in an interview that there is no video of the traffic stop that shows Nichols recklessly driving.
During the initial stop, the video shows the officers were "already ramped up, at about a 10," she said. The officers were "aggressive, loud, using profane language and probably scared Mr. Nichols from the very beginning."
Nichols' mother, RowVaughn Wells, warned supporters of the "horrific" nature of the video but pleaded for peace.
RELATED: Tyre Nichols: What we know about his death and the Memphis officers charged with murder
"I don't want us burning up our city, tearing up the streets, because that's not what my son stood for," she said Thursday. "If you guys are here for me and Tyre, then you will protest peacefully."
Speaking at the White House, President Joe Biden said Friday that he was "very concerned" about the prospect of violence and called for protests to remain peaceful.
Biden said he spoke with Nichols' mother earlier in the day and told her that he was going to be "making a case" to Congress to pass the George Floyd Act "to get this under control." The legislation, which has been stalled, is meant to tackle police misconduct and excessive force and boost federal and state accountability efforts.
The Associated Press and FOX News contributed to this report. This story was reported from Los Angeles.