Bindi Irwin reveals she underwent surgery for endometriosis, suffered 'insurmountable' pain for 10 years
Bindi Irwin has revealed she's struggled with endometriosis for ten years and recently underwent surgery to treat the condition.
"Dear Friends, I battled for a long time wondering if I should share this journey with you in such a public space. It came down to the responsibility I feel to share my story for other women who need help," her post began, accompanying a photo of Irwin in a hospital bed.
She continued, "For 10 yrs I've struggled with insurmountable fatigue, pain & nausea. Trying to remain a positive person & hide the pain has been a very long road. These last 10yrs have included many tests, doctors visits, scans, etc."
"A doctor told me it was simply something you deal with as a woman & I gave up entirely, trying to function through the pain."
A friend convinced Irwin to keep searching for answers and treatment, and she eventually opted for surgery to treat the condition. 
"Going in for surgery was scary but I knew I couldn't live like I was. Every part of my life was getting torn apart because of the pain," the "Dancing with the Stars" champion wrote.
She revealed that doctors found, "37 lesions, some very deep & difficult to remove, & a chocolate cyst," and added that the first words from her doctor during recovery were, "'How did you live with this much pain?'"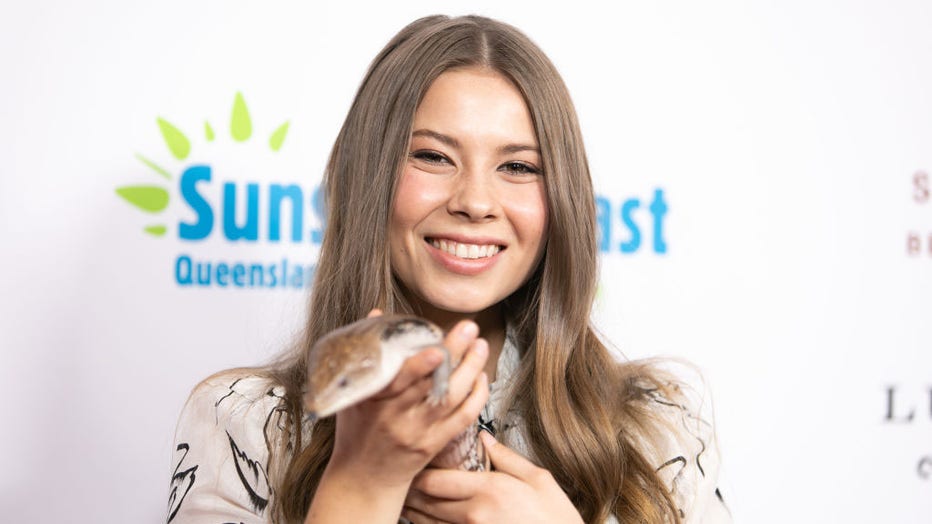 Bindi Irwin attends Steve Irwin Gala Dinner at SLS Hotel on May 04, 2019 in Beverly Hills, California. (Photo by John Wolfsohn/Getty Images)
Endometriosis, according to the Mayo Clinic, is a condition "in which cells similar to the lining of the uterus, or endometrium, grow outside the uterus. Endometriosis often involves the pelvic tissue and can envelop the ovaries and fallopian tubes." The condition can be severely painful for those suffering from it, and it can impact fertility and menstruation.
Chocolate cysts, technically known as endometriomas are cystic lesions found in the ovaries, filled with dark brown endometrial fluid, according to the National Institutes of Health. The organization notes, "The presence of endometriomas indicates a more severe stage of endometriosis."
The daughter of the late Steve Irwin shared the relief she felt in finding answers to her pain.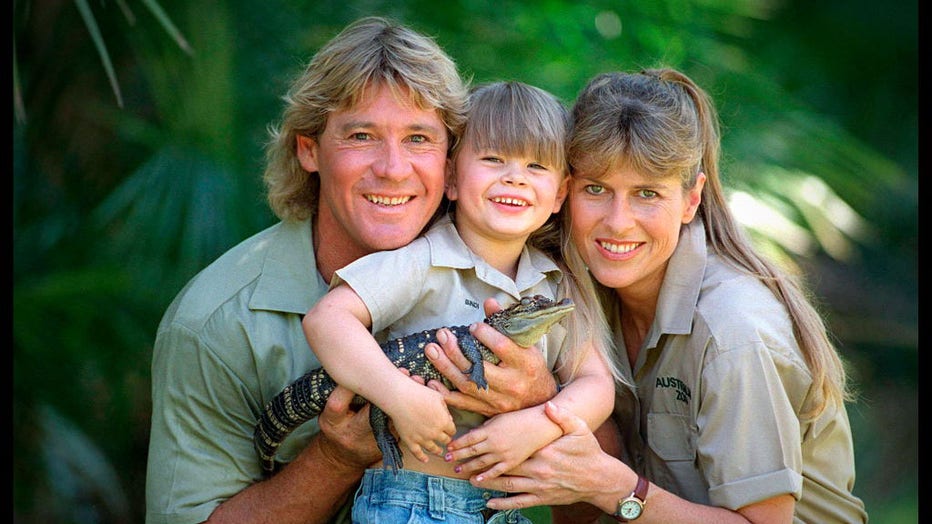 'Crocodile Hunter' Steve Irwin with his wife Terri Irwin, and daughter Bindi Irwin, and a baby crocodile at Australia Zoo in Queensland. (Photo by Newspix/Getty Images)
SI SWIMSUIT MODEL GIGI ROBINSON RECALLS PAINFUL STRUGGLES WITH ENDOMETRIOSIS: 'NOBODY BELIEVED ME'
"Validation for years of pain is indescribable," she said. "My family & friends who have been on this journey with me for 10+ yrs - THANK YOU, for encouraging me to find answers when I thought I'd never climb out. Thank you to the doctors & nurses who believed my pain. I'm on the road to recovery & the gratitude I feel is overwhelming. To those questioning the cancelled plans, unanswered messages & absence - I had been pouring every ounce of the energy I had left into our daughter & family."
The "Crikey! It's the Irwins" star hoped her news could help remind others to be thoughtful in asking about women's health and family plans.
"Things may look fine on the outside looking in through the window of someone's life, however, that is not always the case. Please be gentle & pause before asking me (or any woman) when we'll be having more children. After all that my body has gone through, I feel tremendously grateful that we have our gorgeous daughter. She feels like our family's miracle," she wrote.
Irwin welcomed a daughter, Grace Warrior, on March 25, 2021, which was the one-year anniversary of her wedding to husband, Chandler Powell.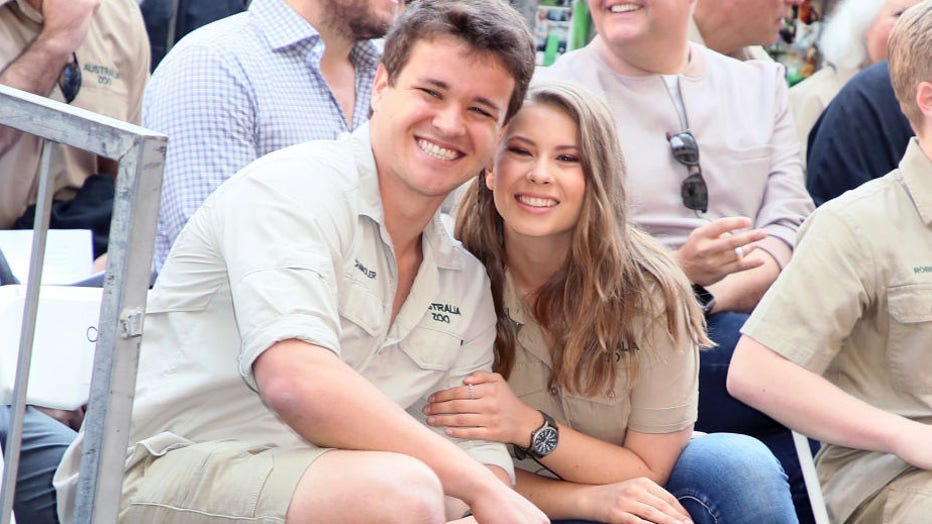 Wakeboarder Chandler Powell (L) and conservationist/TV personality Bindi Irwin attend Steve Irwin being honored posthumously with a Star on the Hollywood Walk of Fame on April 26, 2018 in Hollywood, California. (Photo by David Livingston/Getty Images
She concluded her post, saying, "I'm aware of millions of women struggling with a similar story. There's stigma around this awful disease. I'm sharing my story for anyone who reads this & is quietly dealing with pain & no answers. Let this be your validation that your pain is real & you deserve help. Keep searching for answers."
Several famous friends left their love and support in the comments on the post.
Her "Dancing with the Stars" partner Derek Hough wrote, "Love you Bindles ! You are truly a warrior in every sense of the word" with a heart emoji.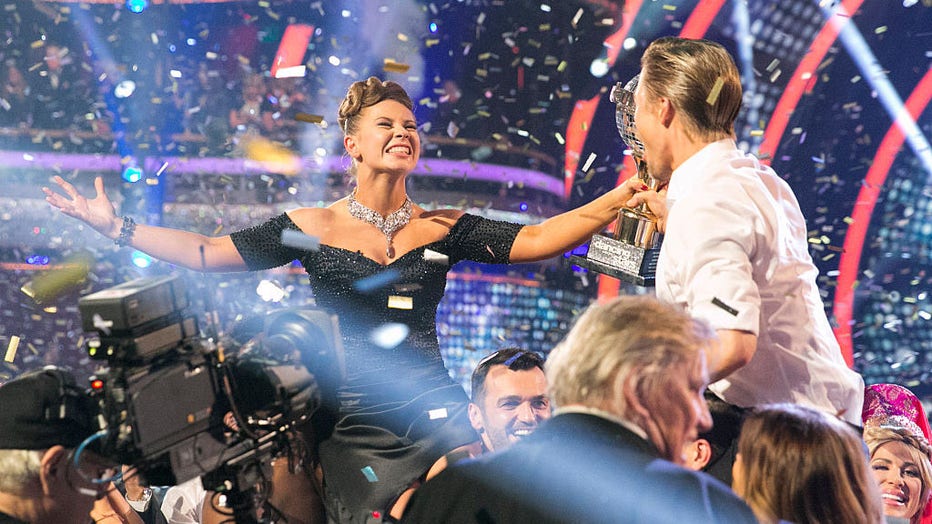 "Episode 2111A" - Bindi Irwin and Derek Hough were crowned Season 21 champions during the two-hour season finale of "Dancing with the Stars." (Photo by Adam Taylor/Disney General Entertainment Content via Getty Images)
Amy Schumer, who has shared her own struggles with endometriosis in the past, wrote, "Thank you for sharing!"
Padma Lakshmi, another fellow endometriosis sufferer wrote, "So glad you finally received the treatment you need and deserve. I know how hard it is. All the best in your recovery."
Irwin's brother, Robert, "You are amazing. Not only for your strength battling through this physical and mental turmoil, but also for having the bravery to share your journey with the world to help other women who are suffering. You're me hero, Bindi!"