Biden to put issue of lowering drug costs at center of political agenda
LAS VEGAS - President Joe Biden will highlight the stark differences in how Democrats are tackling skyrocketing drug prices compared to their Republican counterparts as he gears up for an expected reelection announcement.
In a speech on Wednesday in Las Vegas that could serve as a preview of the campaign ahead, Biden planned to put the issue of lowering drug costs at the center of his policy and political agenda.
The White House thinks it has a winning message in showcasing legislation passed last year that is expected to save taxpayers billions of dollars and lower the cost of drugs for the roughly 84 million Americans who rely on Medicare.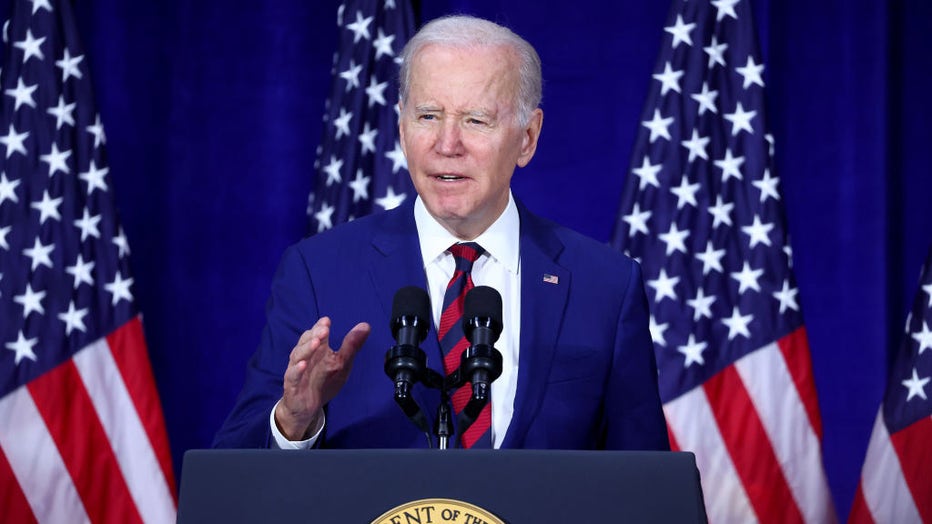 FILE - President Joe Biden delivers remarks on reducing gun violence at the Boys and Girls Club of West San Gabriel Valley on March 14, 2023, in Monterey Park, California. (Photo by Mario Tama/Getty Images)
"These kind of savings will give people a little bit more breathing room, more comfort as they decide to go to the grocery store to buy their food, more ability to pay their rent, or maybe it's just to do something decent for their families," Health and Human Services Secretary Xavier Becerra told reporters on Tuesday as he previewed the Democratic president's remarks.
Biden plans to talk up how his administration is rolling out several parts of that law, passed in a Democratic-controlled Congress last year, that cap the price of insulin, make most vaccines free and allow the federal government to negotiate deals on a handful of pharmaceutical drugs for Medicare enrollees.
The federal government expects to see significant savings from those negotiations and to make money from a rule that requires drugmakers to send Medicare a check when they raise drug prices higher than inflation.
That'll help shore up the social safety net for older Americans, Biden told Democratic donors on Monday in Rancho Santa Fe, California.
"Not only is it the right thing to do for people, it cuts the deficit by $160 billion," he said.
Already, the legislation caps the price of insulin at $35 for disabled and older Americans who rely on Medicare.
Biden has proposed extending that cap to all Americans, but that plan faces an uphill battle. Efforts to pass laws capping the price of insulin for uninsured Americans or those with private insurance failed in the Democratic-controlled Congress last year.
Biden, however, has still championed last year's bill as a success for the millions of Americans who aren't on Medicare. Drug companies, facing public pressure after tripling their prices for the life-saving drug over the last two decades, have started to voluntarily lower the cost of insulin. Drugmaker Novo Nordisk announced Tuesday it was cutting the cost of insulin to about $72 a vial, on the heels of an announcement from rival Eli Lilly that it would start selling its generic for $25.
"This builds on the important progress we made last year when I signed a law to cap insulin at $35 for seniors," Biden said in a statement on Tuesday on Novo Nordisk's announcement. "I urge all other manufacturers to follow suit and Republicans in Congress to join us and cap insulin at $35 for all Americans."
Another part of the law that the administration hopes will have ripple effects for Americans: the requirement that pharmaceutical companies pay a rebate to Medicare when they raise the cost of drugs faster than inflation.
The Centers for Medicare and Medicaid Services won't send a bill to drug companies until 2025, but the federal agency has already started tracking drug prices. On Wednesday, CMS will identify 27 drugs whose prices were increased too fast, a move that will limit the price that Medicare enrollees have to pay for those drugs and that the administration hopes will motivate drugmakers to lower their cost.
Biden has sought in recent weeks to draw a stark contrast between how his party and Republicans handle health care affordability, repeatedly raising concerns that the GOP will seek to undo the Medicare cost-savings provisions or try to make cuts to the program.
Last week, Biden promised to fend off financial challenges facing Medicare by instead raising the Medicare tax rate from 3.8% to 5% on those with annual incomes of $400,000 or more.
Republicans leaders — who have publicly disavowed accusations that they'll the cut the program — have yet to coalesce around a plan to address Medicare's impending shortfalls. Last year, the House Republican Study Committee proposed raising the eligibility age for Medicare from 65 to 67.
Senate Minority Leader Mitch McConnell, R-Ky., told reporters last week that Biden's plan to raise taxes for Medicare "will not see the light of day."
___
Seitz reported from Washington. Associated Press writer Chris Megerian in Washington contributed to this report.