Abortion pill challenge goes before judge in Texas
AMARILLO, Texas - The nation's eyes are on a federal court in Amarillo, Texas where a federal judge heard arguments Wednesday in a high-stakes court case that could threaten access to a widely-used abortion pill.
Trump-appointed Judge Matthew Kacsmaryk is weighing a lawsuit from Christian conservatives aimed at overturning the Food and Drug Administration's more than 2-decade-old approval of the abortion pill mifepristone. The drug, when used with a second pill, has become the most common method of abortion in the U.S.
Anti-abortion advocates claim the FDA approved what they call an unsafe medication back in 2000.
PREVIOUS COVERAGE: Abortion pill could be pulled off market by Texas lawsuit
Abortion providers strongly refute that claim.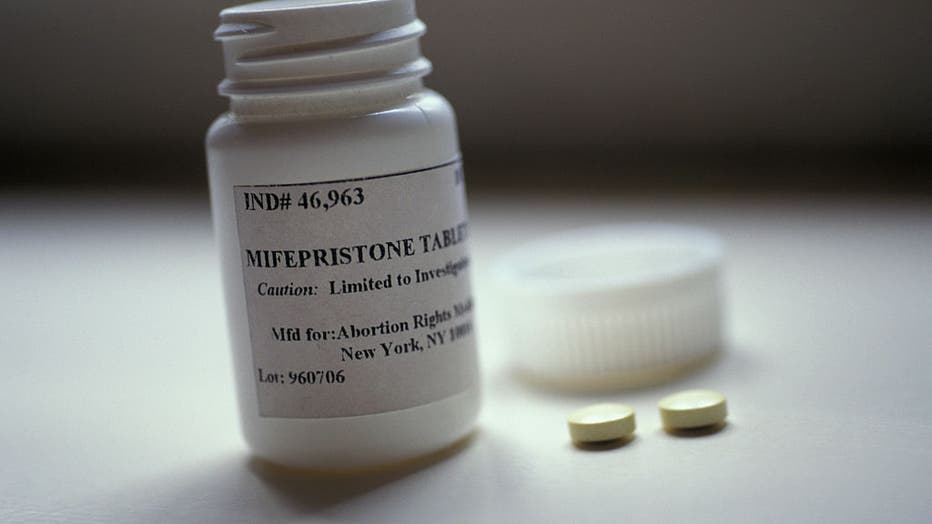 Mifepristone, the abortion pill known as RU 486. (Photo by James Leynse/Corbis via Getty Images)
"The evidence is abundantly clear, mifepristone a medication now used in over half of the reported abortions in this country and by 5 million people and counting since its FDA approval over 20 years ago is extremely safe and effective," said Dr. Bhavik Kumar, the Medical Director for Primary and Trans Care for Planned Parenthood Gulf Coast.
A small group of abortion-rights advocates stood outside the courthouse holding signs. 
If the federal judge grants this injunction its impact would affect more than just Texas.
"This case alone could have very substantial impact. If the judge adopts all of the plaintiff's position. He would basically end the use of one of the two medicines that's commonly combined to perform a medical abortion," said David Coale, a Dallas attorney with no association to the case.
Following the hearing, Erik Baptist, a lawyer for the anti-abortion group that brought the lawsuit, Alliance Defending Freedom, said in a statement:
"Today, we asked the court to put the health and wellbeing of women and girls first by undoing the harms that FDA has caused by illegally approving dangerous chemical abortion drugs and removing necessary protections."
In a virtual press conference Planned Parenthood rebutted those claims by saying there have been hundreds of medical reviews and studies involving mifepristone.
"As we've seen what starts in Texas, does not stay in Texas. It often has grave, national implications," said former Texas state Senator Wendy Davis, who now works for Planned Parenthood.
There is essentially no precedent for a lone judge overruling the scientific decisions of the FDA. And legal experts have warned of far-reaching consequences if judges begin second-guessing FDA decisions on drug safety and effectiveness.
In a key moment in the hearing, the federal judge asked lawyers for the plaintiffs if there are any prior examples of a court removing an FDA-approved drug after being on the market for years. The response was no.
"The FDA, who is defending the case, has said we can't work this way, we have a process for approving drugs. We have a process for approving drugs and when judges just drop in and tell us to do or not do something that upends all of our procedures, and particularly if were going to be subjected to a 50 state injunction, we can't do our job," said Coale.  
The judge told both sides he will try to make a decision as soon as possible.
If Kacsmaryk rules against the FDA, federal attorneys are expected to swiftly appeal the decision and seek an emergency stay to stop it from taking effect while the case proceeds.
Typically, the FDA's authority to regulate prescription drugs has gone unchallenged. But more than a dozen states now have laws restricting abortion broadly — and the pills specifically — following last year's Supreme Court decision overturning Roe v. Wade.
Lawsuits challenging state restrictions, including those in North Carolina and West Virginia, are progressing separately and are expected to continue for years.
The Associated Press contributed to this report.