2 well-known products recalled for electrical hazards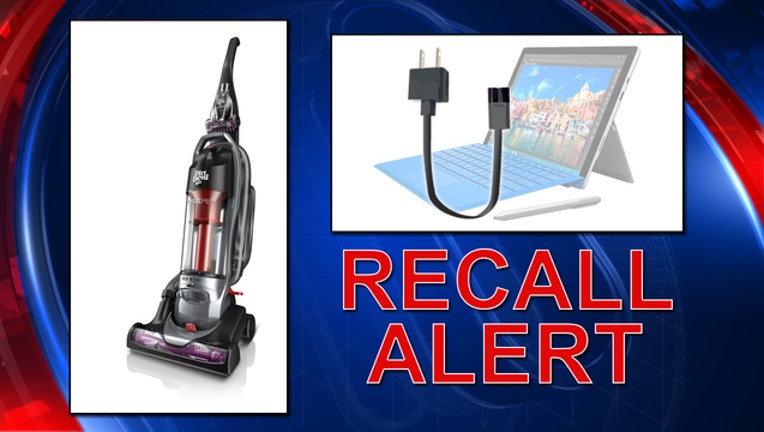 article
(FOX 13) - Two popular consumer products have been recalled due to shock, fire and electrical hazards. 
Dirt Devil® Total Pet Cyclonic Upright Vacuum
First, the Dirt Devil® Total Pet Cyclonic Upright Vacuum. The Consumer Product Safety Commission (CPSC) said the vacuum's electric cord plug prong can detach and remain in the electrical outlet when the vacuum is unplugged. If this happens, the detached prong could pose an electrical shock hazard.
Anyone who owns this product should stop using it and contact Dirt Devil for instructions on getting a free replacement vacuum.
The CPSC said Dirt Devil has received 14 reports of a detached prong that remained in an electrical outlet, but no injuries. Around 149,000 of the vacuum were sold in the United States at stores including ABC Warehouse, Boardman Furniture, Fred's and Walmart.
Consumer ContactInformation: Dirt Devil at 800-373-6290 from 8 a.m. to 6 p.m. ET, Monday through Friday or online at www.dirtdevil.com and click on the "Support" tab at the top of the page for more information. 
For more information on this recall, visit: http://www.cpsc.gov/en/Recalls/2016/Royal-Appliance-Recalls-Dirt-Devil-Pet-Vacuums
Microsoft Surface Pro Computer AC Power Cord
Second, the CPSC said the AC power cord for Microsoft's Surface Pro, Surface Pro 2 and 3 computers pose a risk for fire or shock.
The risk comes from the cord's tendency to overheat. Anyone who owns this product should unplug and stop using it, then contact Microsoft for a free replacement AC power cord.
The CPSC said Microsoft has received 56 reports of AC cords overheating and emitting flames - and five reports of electrical shock to consumers. Around 2.25 million of the product have been sold at stores including Microsoft stores, Best Buy and Costco.
Consumer Contact Information: Microsoft toll-free at 855-327-7780 from 8 a.m. to 5 p.m. PT Monday through Friday or online at www.microsoft.com and click on Support, then Surface Support, then All Surface Support, then see Power Cords for more information.
For more information on this recall, visit: http://www.cpsc.gov/en/Recalls/2016/Microsoft-Recalls-AC-Power-Cords-for-Surface-Pro-Devices