2 charged in deadly shooting at Hmong Freedom Festival in St. Paul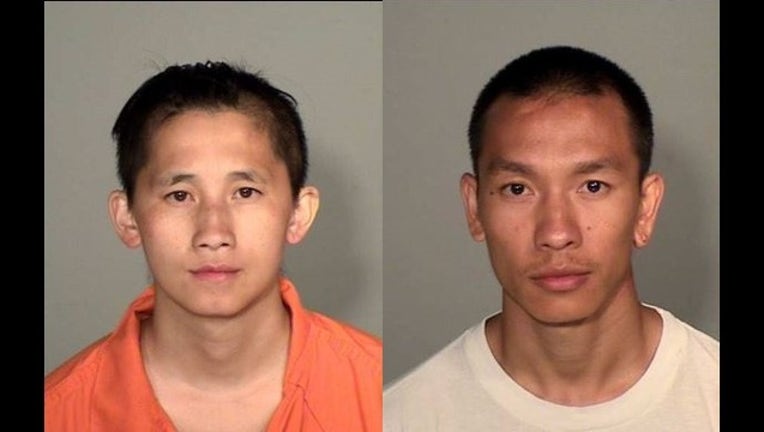 article
ST. PAUL, Minn. (KMSP) - Two men were charged Tuesday in the fatal shooting of a 19-year-old man at the Hmong Freedom Festival in Como Regional Park Sunday afternoon. 
Nougai Xiong, 27, of St. Paul is charged with two counts of second-degree murder and Yang Houa Xiong, 28, of La Crosse, Wisconsin is charged with aiding and abetting. Both men were located a short time after the shooting near the scene of the crime. 
The shooting occurred around 4:42 p.m. According to the charges, two gangs were reportedly fighting one another with umbrellas at the festival when shots were fired. 
Officers who were at the festival converged on the area when they heard gunfire. The officers located the victim, identified as Jacky Vue of St. Paul, with at least one gunshot wound. He was taken to Regions Hospital, where he was pronounced dead a short time later. 
Witnesses identified Nougai and Yang as the two suspects. One witness, an admitted gang member who was involved in the fight, said the fight occurred because the suspects were in one gang and he and his group were in another. 
After their arrest, Nougai and Yang, who are cousins, told police they were walking around together at the festival when a group of men approached them and asked what gang they were in. Yang told them they were not in a gang, although he told police Nougai was in fact in a gang, but the men began hitting them with umbrellas and threatened to kill them. 
Yang told police Nougai then took out his gun and shot one of the men a couple of times. The two then took off running. 
In his interview with police, Nougai denied being a gang member or having a gun and said he did not know who was shooting.