16 zebra mussels found in Christmas Lake despite treatment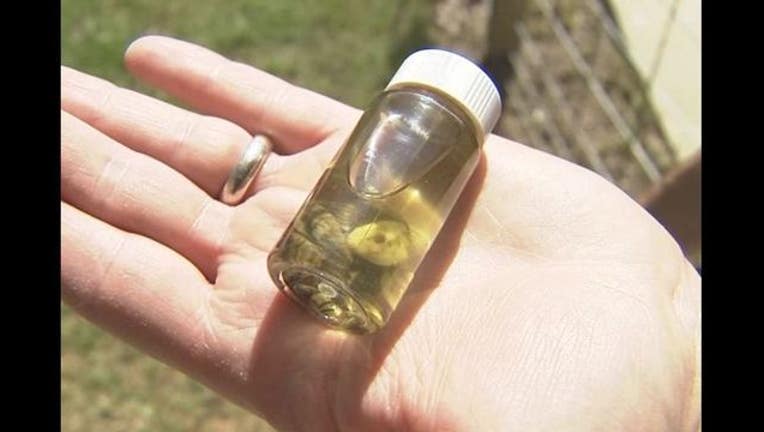 article
SHOREWOOD, Minn. (KMSP) - Despite treatment, a small suburban lake west of Minneapolis still turned up 16 zebra mussels, Minnesota Department of Natural Resources officials confirmed.
Christmas Lake, a 265-acre body of water in a tight-knit residential community that includes Shorewood and Chanhassen, underwent an "aggressive" 3-step treatment that launched last September.
3-step treatment

Step 1: Zequanox (a natural substance highly selective to zebra mussels) was added to Christmas Lake in September.

Step 2: A copper treatment of EarthTec QZ was added in October and November.

Step 3: 1,000 pounds of potash was dumped under the ice near the boat launch in December. Potash is a potassium compound used in agriculture. This was only the third time potash was used for zebra mussel control in the United State

'Further treatment would not be effective'
The DNR said the spatial distribution and age of the 16 mussels they found "indicate that a reproducing population is established and further treatment would not be effective."
Divers found 10 zebra mussels in May, but removed them and continued treatment. No zebra mussels were found dive searches as recently as September, but a dock removal service reported a mussel earlier this week. Divers with the DNR and the Minnehaha Creek Watershed District found the invasive species on docks and boat lifts in an inspection that followed the initial report.
"These findings demonstrate the challenges of monitoring and treating zebra mussels," said Keegan Lund, DNR invasive species specialist.

"None of these newly discovered zebra mussels were found in the area of Christmas Lake that was treated earlier this year," Lund noted, "but most of those we found were juveniles. That tells us reproduction has occurred and this population is established. Because zebra mussels are scattered across the lake and reproducing, current management options are not feasible."
Lund said officials are working with the Christmas Lake Homeowner's Association, the Minnehaha Creek Watershed District, and the Minnesota Aquatic Invasive Species Research Center to continue assessing the findings.
"What we learn will inform future rapid response treatments and pilot projects. The DNR appreciates the valuable contributions all partners have made to this project," he said.
For more information on aquatic invasive species prevention and how to report a suspected infestation, visit www.dnr.state.mn.us/invasives/aquatic.