15 indicted in eagle trafficking case; more charges expected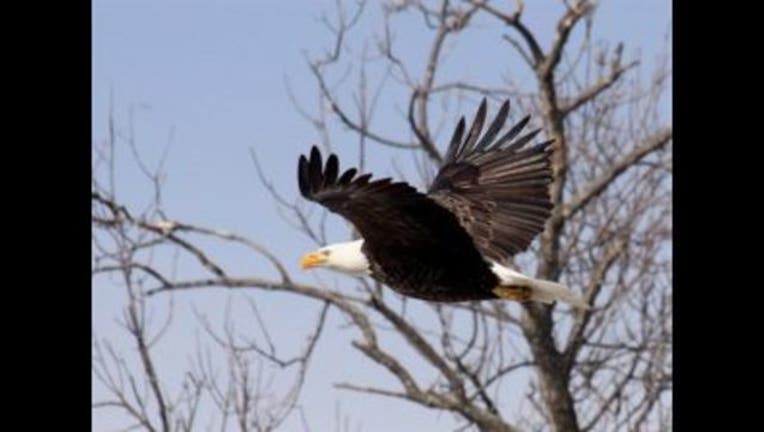 article
RAPID CITY, S.D. (AP) - Federal officials in South Dakota said Monday that 15 people have been indicted for illegally trafficking eagles and other migratory birds after a two-year undercover operation potentially involving hundreds of birds.
U.S. Attorney Randy Seiler said that officials expect "significant" additional federal charges in the case, which focused on trafficking of eagles and eagle parts and feathers for profit. Authorities said the case involves more than 100 eagles, a number that could climb as high as 250.
Seiler described one operation as basically a "chop-shop for eagles" in which eagle feathers were stuffed into garbage bags. He said it was clear that it was a moneymaking operation and that the feathers and eagle parts such as talons and beaks were treated as merchandise.
"There was no cultural sensitivity. There was no spirituality," Seiler said. "There was no tradition in the manner in which these defendants handled these birds."
He said the investigation involved confidential informants, a multi-state area and the purchase of regalia items such as ceremonial fans. A spokeswoman for the U.S. attorney's office said in an email that there are a variety of reasons why people buy eagle parts, and a collectors market plays a role.
Dan Rolince, U.S. Fish and Wildlife Service assistant special agent in charge of law enforcement for the region, said that some of those accused used code words to avoid detection by describing the eagle and other bird parts for sale using the names of animals or even car parts. He said the eagles were primarily shot.
"At the end of this process, I have full confidence that it will be one of the largest cases of this nature we've ever worked," he said.
Three Rapid City men charged in the case are involved with Buffalo Dreamers, which performs Native American dance programs. Owner Troy Fairbanks has been charged with conspiracy to commit wildlife trafficking and violations of the Bald and Golden Eagle Protection Act, Migratory Bird Treaty Act and Lacey Act.
Fairbanks, 54, allegedly sold or traded eagle parts to an informant including a golden eagle head for $250, a trade involving about $5,400 of legal merchandise for eagle parts and selling two sets of eagle wings for $900. Rolince said that a whole eagle carcass would generally sell for between $1,000 and $1,200.
The indictment says Fairbanks in 2015 claimed he could acquire between 30 and 40 eagles by February 2016. Fairbanks also said in 2015 that he had 19 people in the Los Angeles area who wanted to buy "eagle feathers/parts" from him, according to the document.
It wasn't immediately clear if Fairbanks has an attorney, and he didn't immediately return an email from The Associated Press. A telephone number for Buffalo Dreamers went directly to voicemail.
According to another indictment, Juan Mesteth sold fans and eagle feathers to an informant. The document says Mesteth in 2015 discussed having connections in Wyoming who could get whole carcass eagles and would take the informant hunting for eagles. It wasn't immediately clear if the 39-year-old Mesteth, of Pine Ridge, had an attorney who could speak on his behalf.
Those accused in the case include people from Iowa, Nebraska, South Dakota and Wyoming. Authorities didn't immediately disclose how much the defendants are thought to have profited in the case, and Seiler said some of the 15 defendants are unconnected to each other.