13 is too young to join social media, US surgeon general says
WASHINGTON - U.S. Surgeon General Vivek Murthy says he believes 13 years of age is "too early" to be on social media platforms, pointing to a "disservice" to children.
In a CNN interview Sunday, Murthy said that kids are still "developing their identity" at this age. 
"I, personally, based on the data I've seen, believe that 13 is too early, and I think that it's a time in early adolescence when kids are still developing their identity, their sense of self," Murthy told CNN.
Many social media giants including Meta and Twitter currently allow 13-year-olds to join their platforms. Users found to be under the age of 13 would be in violation of the rules.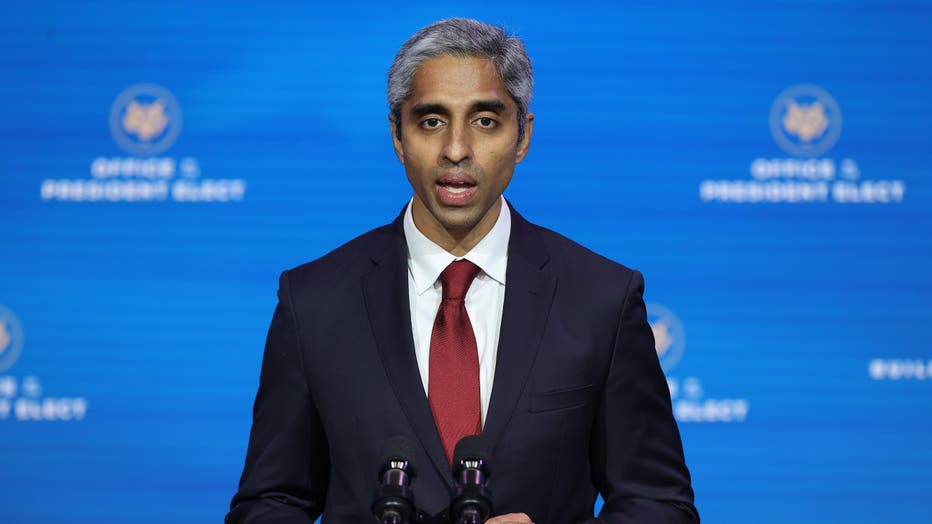 Dr. Vivek Murthy, President-elect Joe Biden's pick to be U.S. surgeon general, speaks during a news conference at the Queen Theater December 08, 2020 in Wilmington, Delaware. (Photo by Chip Somodevilla/Getty Images)
"It's a time where it's really important for us to be thoughtful about what's going into how they think about their own self-worth and their relationships and the skewed and often distorted environment of social media often does a disservice to many of those children," Murthy continued.
Brain changes from social media
The number of teenagers on social media has sparked concern among medical professionals, with many agreeing that frequent social media use in children may lead to big changes in their brains. 
"They don't have a fully developed frontal lobe, and as a result, they're really thinking with the emotion centers of their brain," an expert told Good Day DC Monday, adding, "They may not be able to parse through what is real and what is accurate in order to figure out when there might be something dangerous or inappropriate that they shouldn't be looking at, and that's quite problematic, because they're drawn into the emotion of the moment without necessarily being able to think through the cost and benefits."
A study, published in the Journal of the American Medical Association, used brain imaging (fMRI) to track 169 sixth- and seventh-grade students from public middle schools in North Carolina. Researchers wanted to know if habitual checking of three social media sites — Facebook, Instagram and Snapchat — changed the way children's brains developed.
After studying the students for three years, the results suggest that frequently checking social media in early adolescence "may tune the brain's sensitivity to potential social rewards and punishments ... which could have implications for psychological adjustment."
"Motivated by the anticipation of this social feedback, adolescents' constant, habitual checking of social media may alter neurodevelopment, significantly changing the ways in which the adolescent brain responds to its environment," researchers said.
The surgeon general also noted that age restrictions on social media are currently "inconsistently implemented" — another concern of his. 
RELATED: What parents need to know about teens and social media
"We need transparency from social media companies to the impact their platforms are having on kids, and which kids are being adversely affected," he added.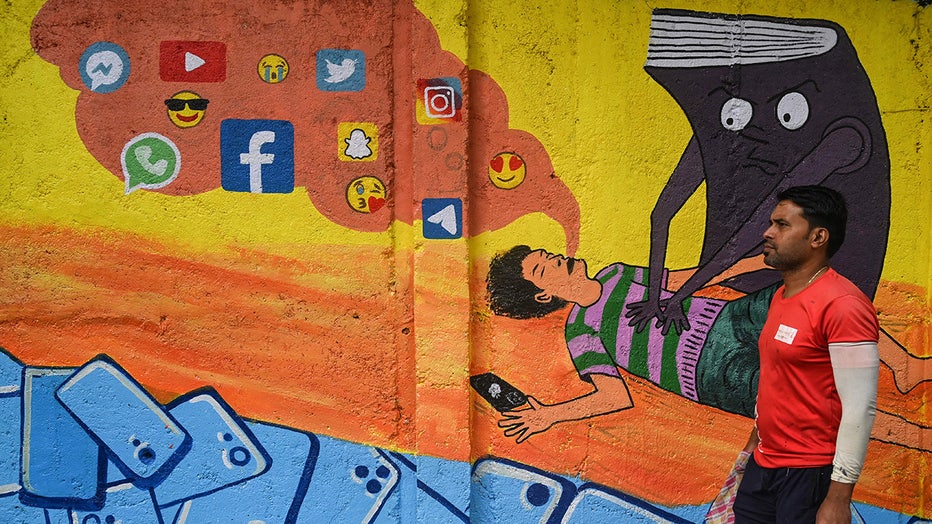 A man walks past a satirical wall mural portraying a teenager affected by social media addiction, in Mumbai on November 25, 2022. (Photo by INDRANIL MUKHERJEE/AFP via Getty Images)
Lawmakers step in
Last year, two U.S. lawmakers introduced bipartisan legislation that would aim to address the negative impacts of social media.
The goal of the Social Media NUDGE Act, introduced by Senators Amy Klobuchar (D-MN) and Cynthia Lummis (R-WY), was to identify ways of intervening with someone's social media habits, particularly when they are harmful or addictive. NUDGE is short for Nudging Users to Drive Good Experiences on Social Media. 
RELATED: Senators introduce bill to address social media harm, addiction
The legislation followed testimony from Meta's former employee Frances Haugen before congress in 2021 that the social media giant's platforms harm children. 
"I believe Facebook's products harm children, stoke division, and weaken our democracy," Haugen, a former Facebook data scientist, testified to Senate Commerce subcommittee on consumer protection. "The company's leadership knows how to make Facebook and Instagram safer but won't make the necessary changes because they have put their astronomical profits before people."