11-year-old twins take over wheel after mom has seizure while driving
Twin boys from Ohio were honored by police Monday for actions they took to save their mother who was having a seizure while driving.
On Feb. 25, Crystal Thompson, a resident in Massillon, was taking her sons, Jordan and Jermel, to visit their grandmother, when Crystal suddenly suffered an epileptic seizure as the family's SUV was traveling on State Route 21. 
"I was like, 'Jermel, I think she's about to have a seizure.' And all I knew is her neck, like, turned back and fell against the window," Jordan told local news outlet FOX 8.
As the SUV headed for a concrete wall on the side of the highway, Jermel grabbed the steering wheel from his mom.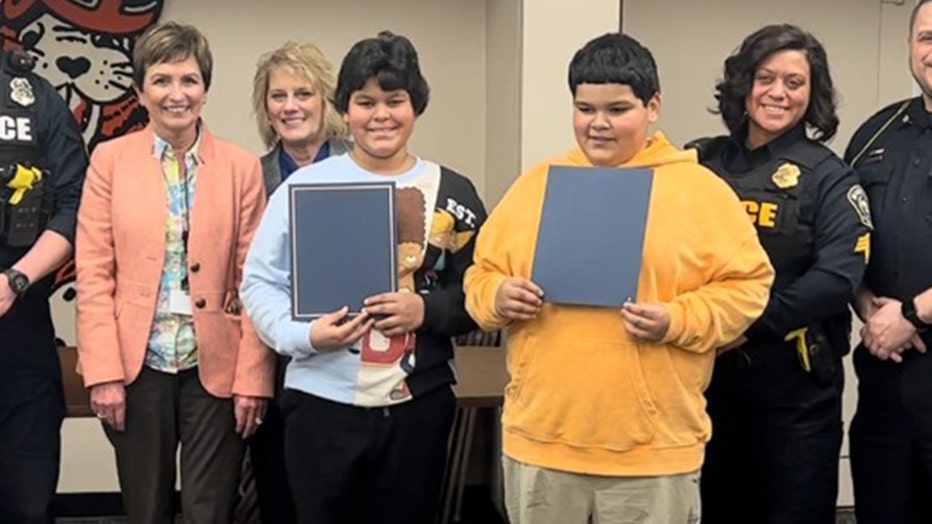 Twins Jermel and Jordan Taylor, 11, were honored for their quick-thinking by city officials.
"While she was having the seizure, I thought to myself, 'Let's not injure all the people on the road, in the cars, and let's try to keep everybody safe.' So, I decided to grab the wheel and turn into a safer place," Jermel shared.
Once Jermel steered the SUV into the grass and helped bring the vehicle to a stop in a ditch, his brother Jordan called 911. 
Crystal told FOX 8 that she did not realize what happened until she woke up in the back of an ambulance. 
"Honestly, I was just so thankful that they knew exactly what to do for me, 'cause they've seen me have seizures before. But, this one really was just out of the blue," Crystal, 33, said.
Police officers who were called to the scene are convinced that the boys not only saved themselves and their mother, but also protected other drivers on the highway that day.
RELATED: 'My son is my hero': California teen saves dad pinned under truck
"Eleven-year-olds don't typically have that quick-witted response like normal adults would," Audrey Aiello, Massillon's police sergeant, said. "I was very impressed. They were very calm. They were obviously very concerned for their mother."
The city of Massillon honored Jermel and Jordan with a special award for their courage and quick thinking.
"Jordan and Jermel's quick thinking in a time of crisis prevented injuries to all parties. Crystal was transported to the hospital and the boys were picked up by family. Join us in commending Jordan and Jermel for their bravery!," the city said in a Facebook post. 
Jermel and Jordan said everything they did that day was born out of love for each other and their mom. 
"I feel like I'm always around my mom and my brother, 24/7," Jordan continued. "Even though me and my brother argue a lot, we're still close because all our family members – we always stick together." 
This story was reported from Los Angeles. Jack Shea, FOX 8 News, contributed.