Egg prices still up 55% over last year despite slight reduction in February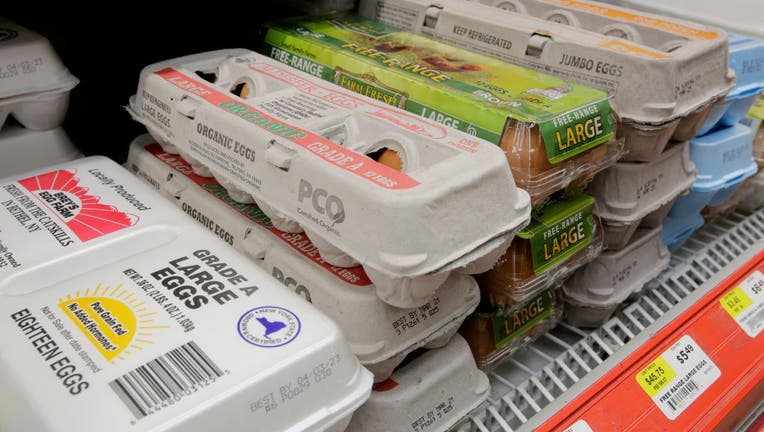 article
While consumer egg prices saw a slight pullback in February, they continue to be significantly up from a year ago, according to the latest consumer price index (CPI) data Tuesday.
In the CPI data, egg prices in February posted a 55% increase in the one-year span from the same month the prior year. That comes even as the cost of eggs had a 6.7% decrease month over month, according to the Labor Department.
AMERICANS TAKING 'EGG-STREAM' MEASURES TO CRACK INFLATION
Some factors attributed to the high egg prices in the past year include an increase in production-related costs and bird flu.
With prices for eggs being high, the market for plant-based alternatives has seen benefits, with Just Egg and Zero Egg saying they've had more activity around their products, FOX Business reported in mid-February.
'SKY-HIGH' EGG PRICES: HISTORICAL LOOK AT EGG COSTS SINCE 1980
The cost of food – including at home and away from home – in February saw a 0.4% increase from the prior month. From the same time in 2022, it has seen a 9.5% spike, according to the CPI data.
Consumer inflation, the Labor Department said Tuesday, grew 0.4% month over month and 6% year over year. Both of those rates marked smaller increases than the ones reported in January.
WHOLESALE INFLATION UNEXPECTEDLY FALLS 0.1% IN FEBRUARY
Meanwhile, the Labor Department reported Wednesday that chicken egg prices on the wholesale level saw a plunge of 36.1% last month as the agency released its latest producer price index (PPI) data. The PPI overall showed a drop of 0.1% from January and a rise of 4.6% from February 2022.
Read more of this story from FOX Business.