Wednesday storm system has history of stirring up trouble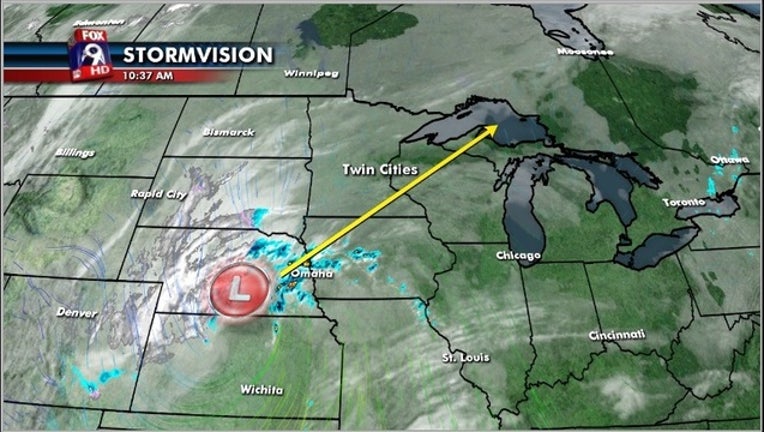 article
MINNEAPOLIS (KMSP) - As Minnesotans brace themselves for rain, wind and a drop in temperature, the storm system responsible has already been a headache for lots of people across the country.  The track of this large, and tightly wound, area of low pressure takes it over Minnesota and Wisconsin Wednesday into Thursday. Heavy rains and strong winds are our primary concerns. Gusts over 40 mph can be expected. Wind advisories and warnings are already in place for Southwestern parts of the state.
SEVERE WEATHER THREAT FARTHER SOUTH
The rain and wind will be tame in comparison to the possible severe weather over areas to our South. Isolated tornadoes are a possibility down toward Missouri. Check out Wednesday's severe weather threat from the Storm Prediction Center.
WINTER WEATHER
Yes, you heard me right, this storm is dropping snow our across the Rockies and Great Plains. The snow is not so much out of the ordinary in the Rockies but the strong winds with this system have resulted in a blizzard warning for parts of the Great Plains. The brown colors on the graphic are all those wind watches, warnings and advisories.
WHAT CAN WE EXPECT?
As this storm moves over us, we will generally be concerned with strong winds which will wrap in as the storm moves over us. The backside will be quite blustery, but the rain will be gone before the air gets cold enough for any significant snow for our area. Rain, and some of that heavy, maybe 1-2" will favor areas to the southeast of the metro.
This storm is just passing by and we will see nicer weather just around the corner. Once its gone, the weather will a lot calmer.