Storm brings 6-10 inches of snow to SW MN, 2-4 inches in metro
(FOX 9) - The system that brought snow to parts of the FOX 9 viewing area today has pushed south this evening.
As skies clear, we are left with 2"-4" of snow of across the Twin Cities with areas west/southwest of the Metro in the 6-10 inches range extending all the way west into South Dakota.
Areas north and east of the Metro were mostly snow free, but the entire Upper Midwest will drop into the freezer overnight with low temperatures near zero and wind chills near -15. Grab a puffy coat or two Saturday as daytime highs only reach the mid-teens.  
Snow emergencies declared
Here are the cities that have declared snow emergencies Friday:
Snowfall totals as of 9 p.m. Friday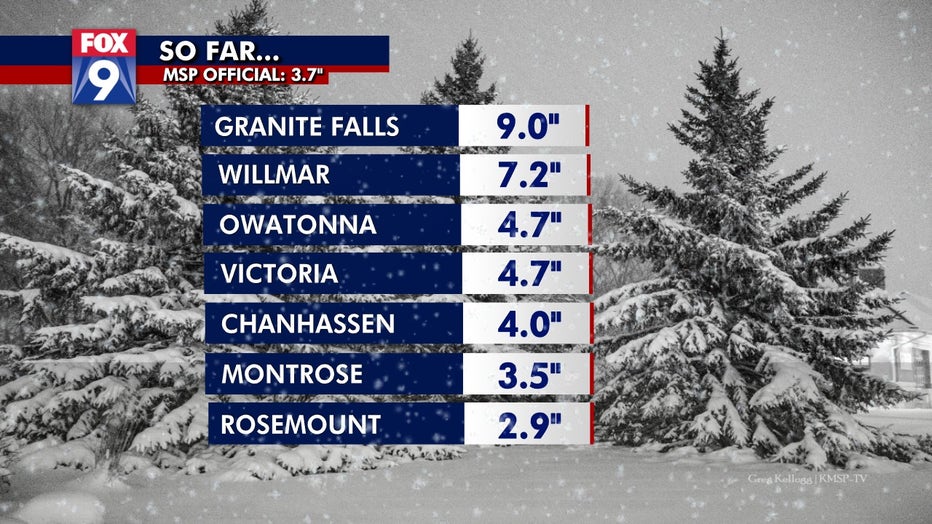 Granite Falls: 9"
Willmar: 7.2"
Owatonna 4.7"
Victoria: 4.7"
Chanhassen: 4.0"
Montrose: 3.5"
Rosemount: 2.9"
Friday's crash totals
The Minnesota State Patrol says it has responded to a total of 377 crashes statewide as of 5 p.m. Friday.
From 5 a.m. to 11:30 a.m. Friday, the Minnesota State Patrol responded to 159 crashes and 66 vehicles that ran off-road. Twenty-two of the crashes involved injuries, but none were fatal or life-threatening.
From 11:30 a.m. to 5 p.m. Friday, State Patrol troopers responded to 218 crashes, 148 vehicles that ran off-road, and four jackknifed semi trucks. Eleven of the crashes involved injuries. 
How Minnesotans feel about the fresh coat of snow
FOX 9's Leah Beno checked in with folks in the Twin Cities metro area during Friday's snow fall.
No complaints about the snowflakes from organizers of the Art Shanty Projects, ready to bring the event back this weekend for the first time since early 2020.
Snow and wind wiping across Lake Harriett in Minneapolis, and whiteout conditions make pops of color stand out all the more.
"It's gorgeous.. we are going to get a fresh blanket of snow tomorrow for opening," Erin Valvelle said.
A few feet away, the man building, and frequently rebuilding, this annual snow fort for local kids says he was crossing his fingers the metro would get a lot more than what's predicted.
"If the ice conditions are right, I'd like as much as possible. Give me that 19 record," Jon Drew said. "Let's go."
As the snow continues to fall through Friday, lighter traffic is no doubt helping road crews keep up during this daytime continued clearing. In Belle Paine, plows of every shape and size are getting put to good use.
These landlords are clearing 3-4 inches of snow by mid-afternoon. They're thankful because light snow feels like a mixture of work and play.
"Kinda both.. it's nice to get out in the winter elements in the cold, and yet, it's nice to be in a warm house," Belle Blaine resident Tammy Schmidt said.
For some brothers and sisters enjoying a snow day from school, it's all play. Only minor complaint? Fluffy flakes are easy to move, but not ideal for forming anything.
Can you build a snowman with it? "No, it's not sticky," the kids said.
Snow forecast, Winter Storm Warning
After a few mild afternoons with plenty of melting, we're back into the snow zone across the area Friday. 
An Alberta Clipper is zipping through the Dakotas and western Minnesota on its way into Iowa. Folks closer to that Clipper's path in southwestern Minnesota have the best shot at seeing snowfall totals in the range of 6-10 or more inches by the time everything wraps up Friday evening.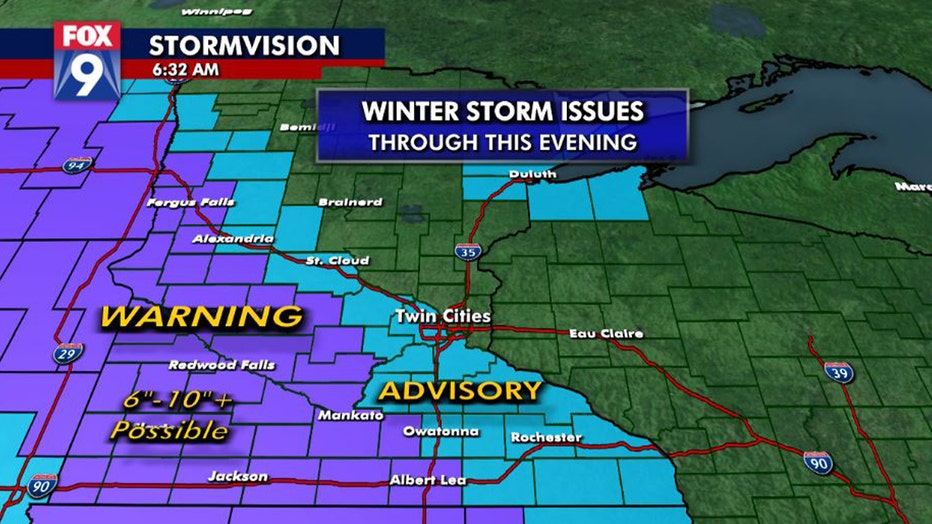 A Winter Storm Warning has been issued for western and southwestern Minnesota through Friday evening for general totals in the 4-6 inches range, but those higher pockets of 6-10 inches or more will be primarily localized south of the Minnesota River Valley and near the Buffalo Ridge. 
Totals will sharply decrease toward the Twin Cities, as 2-3 inches of slushy snow seems reasonable for the metro by Friday evening, with a general 2-4 expected for most of the Advisory zone.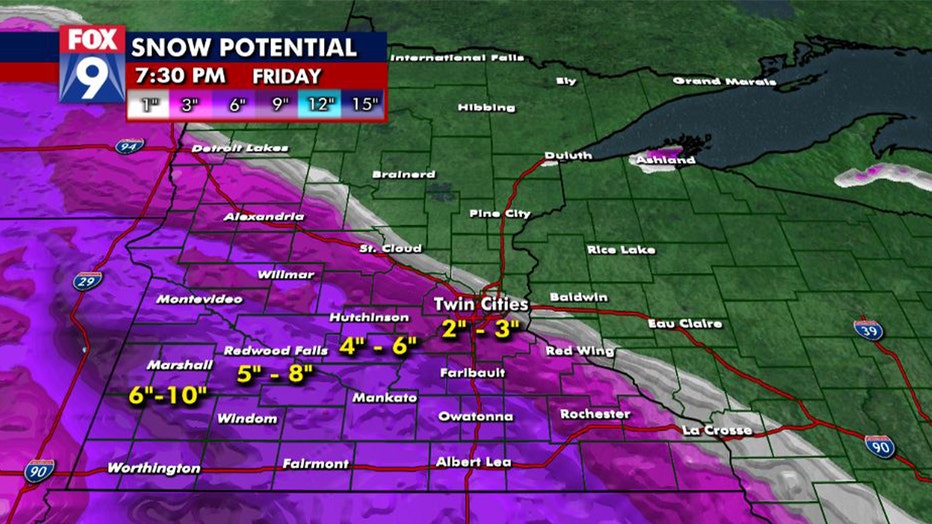 Northeastern Minnesota and northwestern Wisconsin will miss out on this round of snow. 
Chilly sunshine with highs in the teens pops in for a visit on Saturday as we shovel our driveways clean. Above average temperatures in the upper 20s with flurries return for Sunday.
Download the FOX 9 Weather App to stay up to date on the winter weather with the latest temperatures, snow totals, forecasts and school closings 24/7 customized for your current location and favorite locations: fox9.com/apps.