Minnesota weather: Warming trend continues; snow possible Tuesday
MINNEAPOLIS (FOX 9) - We're flirting with a thaw in Minnesota on Monday as the warming trend continues this week. 
Temperatures will top out around 31 to 32 degrees on Monday, and temperatures will stay above average for much of this week. This warming trend comes around what is typically the coldest time of the year in Minnesota.
Overnight Monday, it won't be as chilly, with a low of 22 degrees and lingering clouds. 
Snow is possible on Tuesday 
The next chance for snow is on Tuesday night, which could impact the Wednesday morning commute with some scattered slippery spots. 
This round of wintry weather is forecast to be a dusting or coating of snow, if that, for the Twin Cities. But the system could bring a couple of inches of snow to northern Minnesota. 
The high on Tuesday will be around 30 degrees in the Twin Cities.
Looking ahead: The seven-day forecast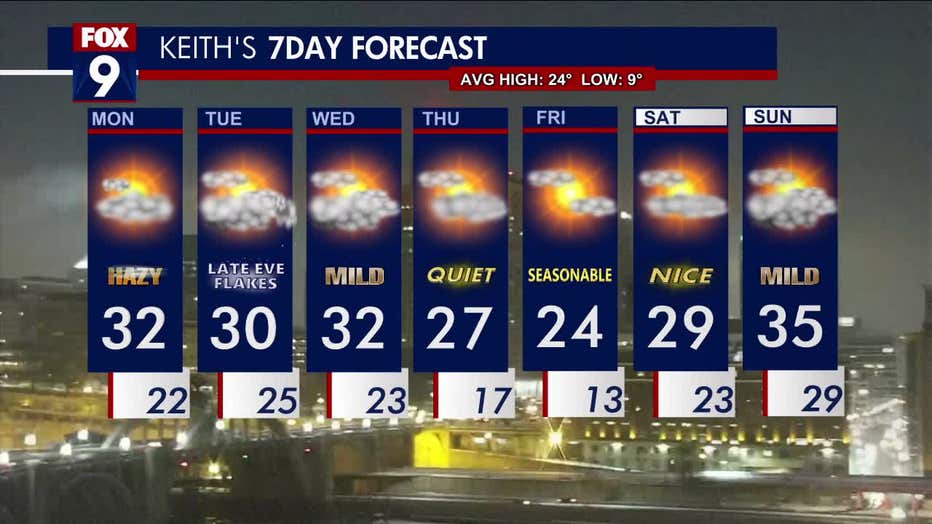 The seven-day forecast, as of Monday morning. (FOX 9 Staff)
Wednesday will be mild, with a high of around 32 degrees for the metro area. Thursday will be quiet, with a high of around 27 degrees. 
Friday is expected to be seasonable, with a high of 24 degrees. And this weekend, it warms up again with a high of 29 degrees in the forecast for Saturday and 35 degrees for Sunday. 
The average high for this time of year is 24 degrees for the Twin Cities metro, while the average low is 9 degrees.