Minnesota weather: Toasty with an air quality alert
MINNEAPOLIS (FOX 9) - It'll be toasty on Tuesday, with some air quality issues in central and southern Minnesota. 
Tuesday will feature plenty of hazy sunshine and be a bit hot but with low humidity. Temperatures will climb into the middle and upper 80s on Tuesday. 
Air quality alert for areas of Minnesota
An air quality alert is in place from noon to 8 p.m. for central and southern Minnesota due to a warm and stagnant air mass. 
"Ground-level ozone is expected to be high during the afternoon hours on Tuesday, and air quality is expected to reach the orange (unhealthy for sensitive groups) AQI category across southern Minnesota," the Minnesota Pollution Control Agency says. "Southerly winds are transporting pollutants into the state. Sunny skies, warm temperatures, and low humidity will allow these pollutants to react in the air to produce ground-level ozone. Ozone will be highest during the afternoon and early evening hours when sunshine is most abundant, and temperatures are highest. Air quality is expected to reach the Orange AQI category. This is considered unhealthy for sensitive groups."
The affected area includes the Twin Cities metropolitan area, St. Cloud, Rochester, Mankato, Marshall, and the tribal nations of Mille Lacs, Upper Sioux, and Prairie Island.  
Cooler, more seasonable highs mid-week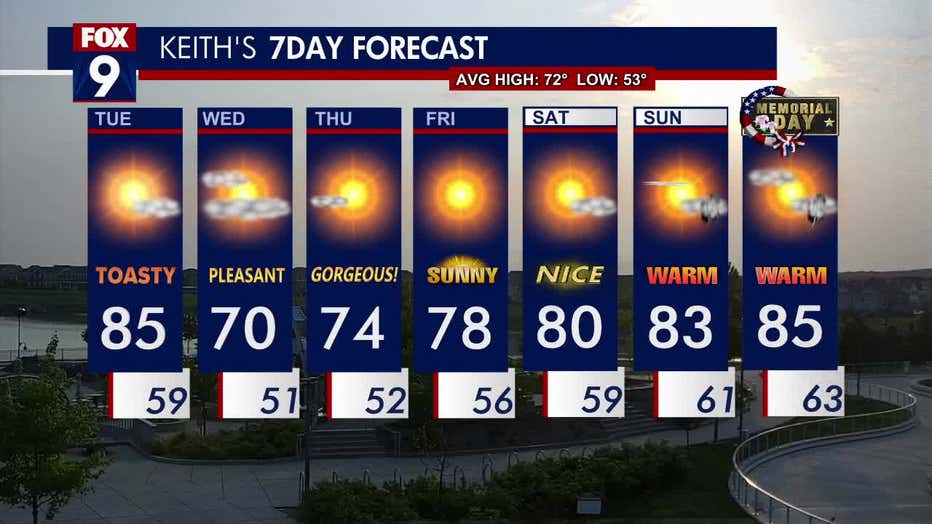 After two days in the 80s, it'll drop to about 70 degrees on Wednesday with plenty of sunshine, making for a pleasant day.
Thursday will be sunny and gorgeous, with a high of around 74 degrees. Friday will be sunny, with a high of around 78 degrees. 
Memorial Day weekend forecast is looking gorgeous
The weather forecast for Memorial Day weekend in Minnesota is looking quite perfect. 
Saturday will be nice and sunny with a high of around 80 degrees. Sunday will be warm, with a high of around 83 degrees. 
Monday, which is Memorial Day, will be warm with a high of around 85 degrees. 
The average high this time of year is about 72 degrees.