Minnesota weather: Snow possible this week; colder this weekend
MINNEAPOLIS (FOX 9) - It'll be fairly mild for much of this week, with some snow possible before it turns much colder by the weekend.
Monday will be warmer and a bit brighter, with a high of around 32 degrees for the Twin Cities. Low-level clouds that have hung around for the past several days will be replaced with upper-level clouds, increasing visibility, but there won't be much sun. Some stray snowflakes are possible in the afternoon. 
A few more snowflakes are possible Tuesday when the high will be around 30 degrees. There's a better opportunity for snow on Wednesday, with scattered flakes possible as the high tops out around 29 degrees for the Twin Cities. The best chance for some light accumulation is Thursday night into Friday morning. 
The high on Thursday will be around 23 degrees for the Twin Cities, while Friday will see a high of around 30 degrees. 
The Twin Cities still hasn't officially dropped below zero this month, with the coldest temperature hitting zero a couple of times. If the Twin Cities stays above zero through the whole month, it'll be just the fourth time since 1872 where that's happened. 
However, minus signs likely return this weekend. The high on Saturday in the Twin Cities will be 11 degrees with a low of around 4 below. Sunday will be cold, with a high forecast at 6 degrees and a low of 8 below zero.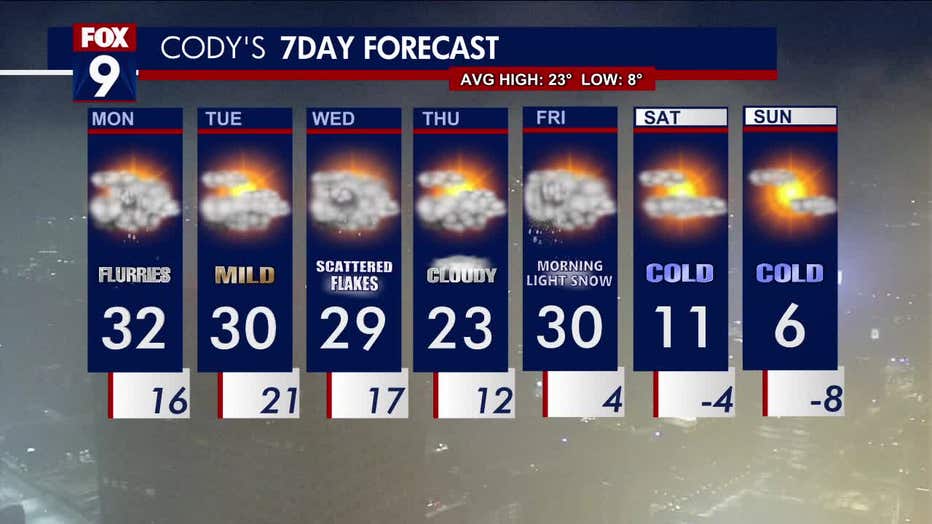 The Twin Cities seven-day forecast, as of Monday morning. (FOX 9)