CROWDED SKIES: 3 celestial events Friday night will be a sky watcher's delight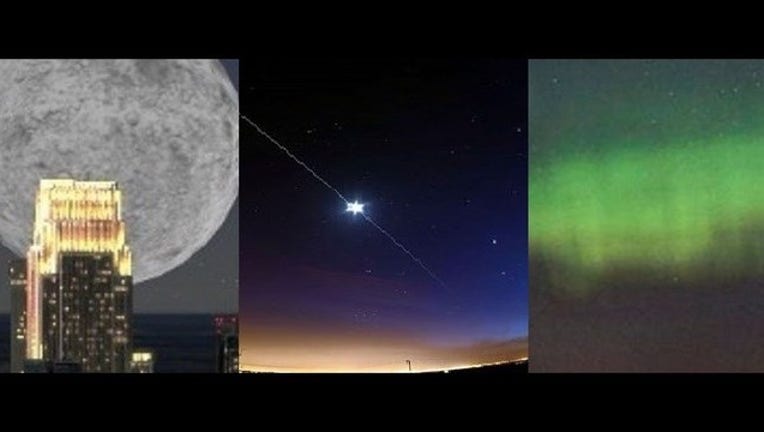 article
Once in a Blue Moon the heavens will be on celestial overload, and this Friday night will be one of those nights. The heavens have opened up for us before with meteor showers and lunar eclipses. However, getting the celestial Gods to cooperate with Mother Nature has been a bit tricky, until tonight. The beautiful late summer weather will continue into the overnight Friday night into Saturday. The combination of clear skies and mild conditions combined with better timing, no middle of the night celestial stakeouts, will only add to the enjoyment. The big 3 events that will end July with a bang this Friday night are listed below.
THE BLUE MOON
The last night of July 2015 will also be the last night of the official "Blue Moon". However, with that said, there will still be lots of moon left before it completely wans away on August 14. Click on this link below to see my blog with lots of great info on the Blue Moon.
http://www.myfoxtwincities.com/story/29671342/once-in-a-blue-moon-event-friday-night
THE INTERNATIONAL SPACE STATION
The ISS flyover is not uncommon but to see it for 6 whole minutes on a weekend evening at time that you don't have to set an alarm clock is. Here is a great website from NASA that allows you to pinpoint the exact time and location for your neck of the woods. To make it a bit easier I have the time below for Friday night July 31. However, go to the website and especially load the "Spot the Station" mobile app. This will signal your mobile device /phone when a flyover is coming. LOVE IT!
http://spotthestation.nasa.gov/sightings/view.cfm?country=United_States®ion=Minnesota&city=Minneapolis#.VbvVG_lVhBc
ISS FLYOVER FRI JULY 31
10:00 PM  to 10:06 PM
PATH: SW to ENE
THE NORTHERN LIGHTS
A big Coronal mass ejection, solar flare, has heightened the probability of a solar storm, which could lead to the Northern Lights making their way south. The website below if full of information on where to look for the lead to rare sighting.
http://www.gi.alaska.edu/AuroraForecast/NorthAmerica/20150731
In a way, the Aurora Borealis, aka Northern Lights, are like the weather, hard to predict, but the chances are there.  
We would love to see your weather photos of the celestial events that unfold on any Minnesota evening. Please email them to photos@fox9.com.