Vikings WR Justin Jefferson wants new contract ahead of Sunday's opener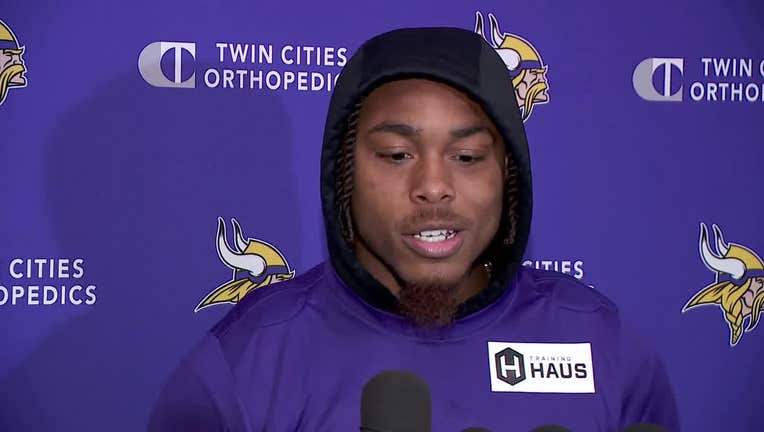 article
MINNEAPOLIS (FOX 9) - The Minnesota Vikings open the 2023 season against the Tampa Bay Buccaneers on Sunday at U.S. Bank Stadium, and there remains a chance Justin Jefferson will do so without a new contract.
The clock is ticking if the Vikings want to get a long-term deal done with their star receiver before the start of the regular season. Jefferson was asked Thursday at TCO Performance Center if a new deal is close, and his answer was, "not really too sure 100 percent on that."
His focus is on the Buccaneers.
"I'm just here to play football like always, and leave all of that other stuff up to them. Of course I would want a contract to be done, but at the end of the day it's all up to them and what the ownership wants to do with that," Jefferson said. "My focus is on playing football and doing something I'm good at. I'm good at being on that field and catching the football, and that's what I continue to do."
Jefferson was asked if it's tough to block out the noise that potentially comes with a new contract that is likely coming to the best receiver in the NFL. He said he thinks about it, but it comes down to all sides doing their job.
"Of course I love the game and I want to be a part of the team and here with my teammates, that's the main focus that I have. Let everybody else handle their job. My goal is to win this season and to be the best receiver," Jefferson said.
Kwesi Adofo-Mensah said at the NFL Combine one of his highest priorities is keeping Jefferson in Minnesota. Ownership has said the same. Jefferson still has two years left on his current deal, but it would be best for everyone involved to pay him, and soon.
Wednesday, Nick Bosa and the San Francisco 49ers agreed to a five-year, $170 million deal that includes $122.5 million guaranteed. It makes him the highest paid non-quarterback in the NFL. Jefferson was asked if he talks to other NFL players for advice about his situation. His answer was interesting and telling.
"I'm in a different situation, I've done something that no one has ever done in the history of the game. My situation is a little bit different than everyone else's," Jefferson said. "There's so many different parts that are going towards it, that's why I kind of leave it up to my agent and keep my mindset on the field. That's what I continue to do, start of this week good with Tampa."
He's not wrong. Jefferson led the NFL last year with 128 catches for 1,809 yards, flirting with Calvin Johnson's single-season record of 1,964. He's made the Pro Bowl in each of his first three seasons, was a First-Team All-Pro pick last year and won NFL Offensive Player of the Year. His 324 catches and 4,825 yards in his first three seasons are NFL records. He also has 25 career touchdowns.
Jefferson didn't participate in the Vikings' voluntary offseason workout program, but was at the two-day mandatory mini camp. He also didn't miss a single training camp practice.
Jefferson wants to be the highest-paid receiver in the NFL, which means more than $30 million a year. The clocking is ticking before it starts to become a distraction.
"It's not my job to really control how that goes. My job is to do what I can control, which is on the field and I'm just ready for this Sunday to play the football game and get back to football. That's my main focus," Jefferson said.
He also said he wants Kirk Cousins to be his quarterback, another situation that's uncertain after this season. If the Vikings and Cousins can't reach a new deal, he could enter free agency.
Jefferson and Cousins have formed a bond over his first three seasons.
"It's a part of the business. Of course I would love for Kirk to continue to be my quarterback, but I don't control that. That's up to the team and up to Kirk, but of course I would love to have Kirk and to continue my journey with Kirk," Jefferson said.