Vikings kicker Dan Bailey named NFC Special Teams Player of the Week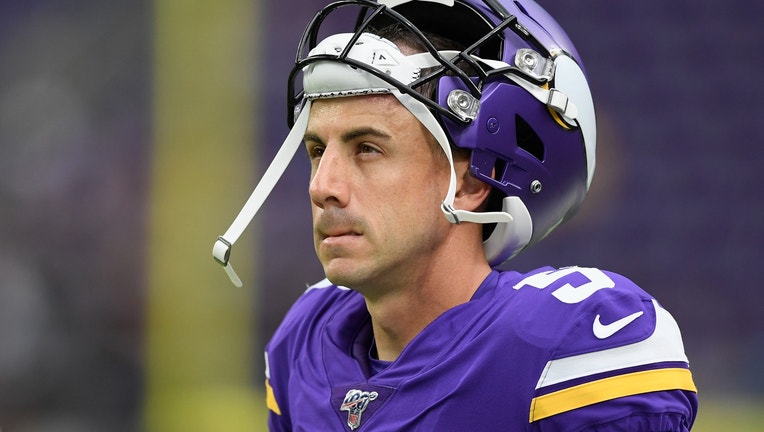 MINNEAPOLIS (FOX 9) - Dan Bailey was named the NFC Special Teams Player of the Week on Wednesday after making four field goals in the Minnesota Vikings' 28-10 win over the New York Giants on Sunday.
You read that correctly: A Vikings' kicker earned a weekly NFL award. In addition to converting field goals from 31, 48, 32 and 45 yards on Sunday, Bailey made both of his extra point attempts at Met Life Stadium, an outdoor facility. His 14 points Sunday are the highest in his 19 games with the Vikings.
Bailey said Wednesday he considers the weekly honor a group award, shared with rookie long snapper Austin Cutting and veteran punter Britton Colquitt, who holds for Bailey on extra points and field goals. The Vikings had experimented with several players at holder, Chad Beebe and Adam Thielen to name a few, during Training Camp before signing Colquitt a week before hosting the Atlanta Falcons in Week 1.
"I think we've really synced up well and they've just given me personally a level of comfortability that you want. You can go out there with confidence knowing that they're going to get a smooth operation going, so it makes my job pretty easy for the most part," Bailey said.
How the Vikings got to the combination of Bailey, Cutting and Colquitt is a long and winding road. The Vikings signed Bailey after cutting rookie Daniel Carlson just two games into last season. Carlson missed three field goals, two in overtime, in a 29-29 tie at Green Bay that ultimately cost the Vikings a playoff spot.
Then during Training Camp, the Vikings signed specialist Kaare Vedvik to do a little of everything. He punted, held kick attempts and kicked. He was released when the Vikings had to cut to 53 players before their Week 1 game against Atlanta.
Zimmer's patience with kickers is short, and deservedly so. This year, Bailey is 7-of-8 on field goals, and his only miss on an extra point game at Green Bay after Stefon Diggs was flagged for an unsportsmanlike conduct penalty. It made a 33-yard point after attempt 48 yards.
"He's doing well, he's doing well. Every week is the same," Zimmer said.
That continuity is something Vikings' specialists haven't had in a long time. Now Bailey knows what's coming every time he steps on the field for an extra point or field goal: Cutting will be snapping, Colquitt will be holding and it's his job to put the football between the uprights.
"It's a huge difference. Early in my career I was fortunate enough to be with the same guys for six or seven years. It's just like a well-oiled machine," Bailey said.
Last year, Bailey went 21-of-28 on field goals with the Vikings and 30-of-31 on extra points.
Bailey has been the one thing that hasn't changed when it comes to the Vikings and their special teams. Cutting replaced veteran Kevin McDermott at long snapper, and Colquitt was brought into hold and punt after Matt Wile's release. The Vikings even brought in Marcus Sherels to return punts after Beebe injured his ankle.
Bailey never lost his focus on the field amidst plenty of changes in personnel on special teams. As long as he did his job, he didn't have to worry about much else. He never thought about looking in the rear-view mirror, even when Vedvik arrived.
"Did it motivate me? Sure, yeah, I mean, definitely. Competition I think motivates all of us at any position. At the end of the day, you have to control what you can and do that," Bailey said. "I think who we've got here with us three is really good. I'm just happy to have those guys in front of me, helping me out."
The only area Bailey, currently in his ninth NFL season, hasn't been tested yet with the Vikings is kicking with the game on the line. He enters Sunday's game against the Philadelphia Eagles having made 12 straight kicks.
It's not a surprise that the kicking game has improved since it got continuity between Bailey, Colquitt and Cutting.
"Having somebody like Austin, who's got a great work ethic and eager to do well and has got the talent, and then Britton with the experience he has, I think it's a good combo for all of us," Bailey said.