Twins' CF Byron Buxton named AL Player of the Month for April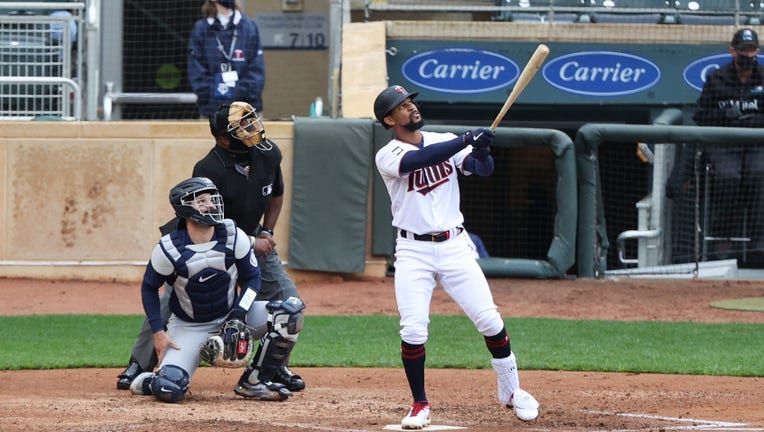 MINNEAPOLIS - Minnesota Twins center fielder Byron Buxton has been among the best players in Major League Baseball to start the season, and he was honored for it Monday.
Buxton was named the American League Player of the Month for April before the Twins start a four-game series against the Texas Rangers at Target Field. Buxton hit .426 (29for-68) with eight doubles, eight home runs, 14 RBI, 15 runs scored and a .897 slugging percentage. He also had a .466 on-base percentage.
"It's pretty exciting. Obviously still a lot of season left to go, so just got to keep doing what I'm doing. For the time being, it's pretty cool to be able to get on the list with such a group of guys," Buxton said Monday.
His .426 average leads the American League, as does the slugging percentage. His 1.363 on base plus slugging percentage leads the AL, and he's tied for second in home runs and tied for second with 16 extra base hits. His 61 total bases ranks third in the AL.
Buxton hit safely in 16 of the Twins' 18 games in April. He started the season with a 10-game hitting streak, and had extra base hits in each of his first six games. He had multi-hit games seven times, including four three-hit games. Buxton capped the month going 5-for-5, including a home run, at Cleveland on April 28.
"We've been watching this every day and it's been spectacular. Buck puts a lot into everything he does, not just the work that he puts in, but the passion that he puts into the game and into his career. To see a guy get rewarded for that, it's very rewarding for all of us too. I don't know how anyone could play this good for this amount of time, it's been awesome," Twins manager Rocco Baldelli said.
Buxton is the first Twins' player to win the award since Delmon Young in July of 2010. He's also the third Twins player to win it in April, joining Kirby Puckett in 1986 and Torii Hunter in 2002.
For the first time in several seasons with the Twins, Buxton is healthy and feeling fully confident in himself. It's showing at the plate, and in his approach in chasing down fly balls in the outfield.
"It's just telling myself to go out there and not worry about getting hurt. Obviously that's been the bug the past few years but once the game starts, it's kind of just go out there and be yourself. It's all the little things that's allowing me to stay on the field right now and be successful," Buxton said.
The Twins are 10-16 after taking two out of three against the Kansas City Royals at Target Field over the weekend.