Tough early schedule has Gophers ready for Big 10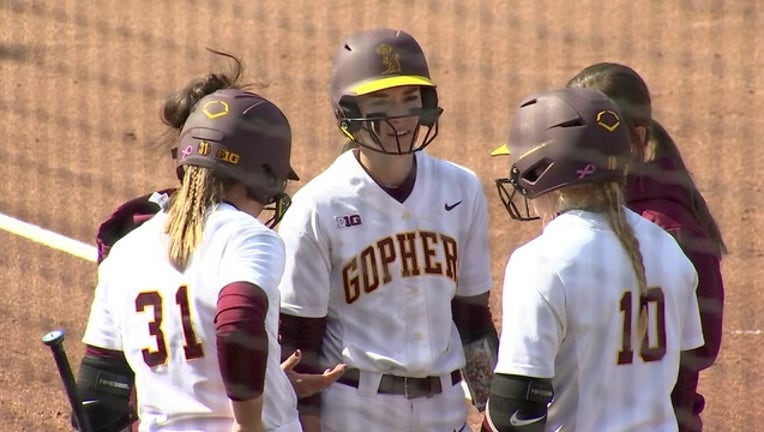 MINNEAPOLIS (FOX 9) - The University of Minnesota softball team knows it will be playing with a target on its back for most of the 2019 season.
That's what happens when you win three straight Big Ten Tournament titles and make six straight NCAA Tournament appearances. The Gophers were on the verge of history last year, needing to beat No. 5-ranked Washington in the Seattle Regional to advance in the NCAA Tournament. The season ended in a 5-2 loss.
The Gophers won 41 games last season and finished second in the Big Ten regular season at 17-4. It appears they've picked up right where they left off, starting the season 25-9 and 6-0 in conference play. As is the norm with spring sports in Minnesota, the Gophers had their first 31 games on the road.
The non-conference slate included stops in Florida, Alabama, Arizona, Texas, back to Florida and opening the Big Ten season at Maryland. Minnesota finally returned home last weekend, and promptly swept Purdue in a three-game series by a combined score of 18-4.
"We knew it was going to be a tough schedule and I thought we handled it really well. Our expectations every time we step on the field are that we compete, but that we have the confidence and the belief that we can win against anybody we play," Gophers coach Jamie Trachsel said.
The non-conference schedule Trachsel spoke of was the toughest slate in the country, giving the Gophers one of the top RPI rankings in the nation. It included games against Ole Miss (No. 18), Tennessee (No. 5), Florida State (No. 3), California, Alabama (No. 4), Arizona (No. 9), Texas (No. 11) and Florida (No. 8).
That's a non-conference schedule that includes five of the top-10 teams in the country and seven in the top 25. But don't forget about the Gophers, who are ranked No. 19.
"I think we took advantage of playing against some of the best competition in the nation. It felt like every game or every other game some weekends. Just competed with them, there weren't games where I ever thought we were out of it. We really can compete with anyone," senior outfielder Maddie Houlihan said.
The Gophers lost one of their key pieces from last season when catcher Kendyl Lindaman transferred to Florida. Minnesota had some holes to fill coming into the season, but had a solid duo on the pitching mound in Amber Fiser and Sydney Smith, who transferred back to Minnesota from LSU two years ago.
Fiser returns as the Gophers ace after going 27-10 with a 1.69 earned run average and 237 strikeouts in 244 innings pitched last season. In 21 starts so far this season, she's 15-6 with a 1.50 ERA with 159 strikeouts in 130 1/3 innings.
As one piece of the No. 2 pitching spot last season, Smith went 7-5 in 23 games. So far this season, Smith is 7-3 with a 2.26 ERA and 66 strikeouts in 62 innings.
The Gophers have also been, for the most part, clean in the field through 34 games. In 665 total chances, they've committed just 20 errors for a 96.9 fielding percentage.
"We have Amber Fiser and Syd Smith and that duo is just incredible. If you just watch our defense, there's nothing like it. They make all the plays they need to make and then some. It's just cool to watch," freshman infielder Natalie DenHartog said.
The Gophers also have balance and power in the lineup, with at least three of their top hitters back from last season. Makenna Partain is leading Minnesota, hitting .368 in 34 games with nine doubles, two homers and 18 RBI. DenHartog leads the Gophers with 11 homers and 39 RBI, and Hope Brandner has eight doubles, nine homers and 36 RBI in 34 games.
Up and down the lineup, the Gophers like to swing the bat.
"I think it's awesome that a team like this, it kind of takes the pressure off you wherever you are in the lineup. If you're not getting the job done, there's eight or nine that can step up and get the job done too," said Houlihan, who has seven doubles, 16 RBI and is slugging .430 on the season.
The Gophers travel to Illinois for three games this weekend and find themselves in a three-way tie for the Big Ten lead with Northwestern and Michigan, last year's Big Ten regular season champion. They enter the series on a six-game win streak and have won 12 of their last 14.
Minnesota then has four straight at home, starting Sunday against South Dakota State.