Karl-Anthony Towns returns with clutch free throws in 125-124 win over Hawks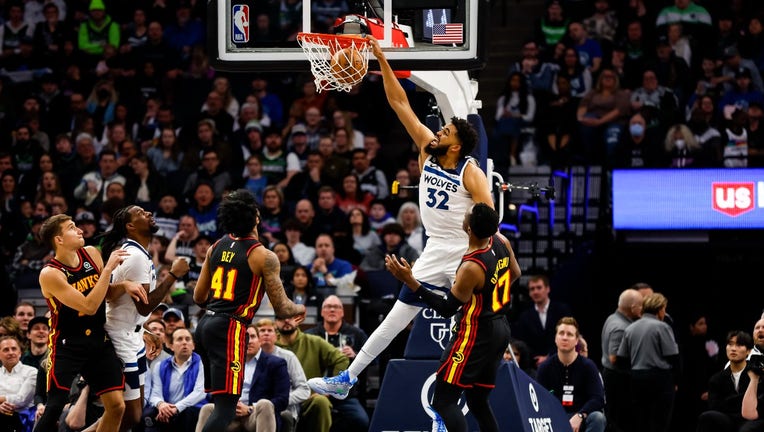 article
MINNEAPOLIS (FOX 9) - For the first time in 113 days and 52 games., Karl-Anthony Towns was on the basketball court with the Minnesota Timberwolves Wednesday night.
You couldn't write a better script for their 125-124 win over the Atlanta Hawks at Target Center. Towns got the ball with seven seconds to play and the Timberwolves down one. He drove the lane and was fouled, earning two free throws with 3.6 seconds to play. He hit them both, the Timberwolves got a defensive stop and sealed a win they had to have, with eight regular season games to play and fighting for a spot in the Western Conference Playoffs.
"I went home and read my script for the NBA. This is what movies are made of. You come back, missing 51 games, sellout crowd at Target Center and you get the ball with seven seconds left, no timeouts and you gotta make it. It doesn't get better than that," Towns said after the win. "To be able to come up big for my teammates was all I ever wanted to do. I'm glad I was able to do that tonight. I'm just very happy that I was able to go out there and contribute in a big way."
In a timeout before the sequence, Chris Finch drew up a final play for Towns to get the ball and go win the game.
"Obviously one of the beauties of KAT. You give him the ball in a lot different places on the floor in high-leverage situations and he's going to get a clean look or put a lot of pressure to get the foul," Finch said. 
The Hawks challenged the call, but it was unsuccessful.
"I knew when we went back to the bench and they were reviewing it, our bench said we were going to get the two free throws. As soon as they told me that, me and Ant looked each other and said 'game's over.' Two free throws for me? That's game, set, match. I didn't have one doubt in my mind," Towns said.
Towns finished with 22 points and four rebounds in 26 minutes. He scored 12 of his 22 in the first half, along with all four rebounds, two assists and two steals. Naz Reid led the Timberwolves with 26 points on 11-of-15 shooting, and added eight rebounds off the bench. With Anthony Edwards out, Jaden McDaniels scored 25 points and added six rebounds and four assists.
The day started with the Timberwolves not having shoot around. Towns had not practiced in full with a team that's played much differently the last four months with him out. He came to the arena, did a workout to test his healed calf about an hour before tip, laced up the sneakers was ready to play. He was last of the starters introduced, and got the loudest ovation from the fans. He then asked them to get on their feet just before opening tip in what felt like a playoff atmosphere.
Towns scored eight points and had three rebounds in his first four minutes on the floor. His first two baskets were each 3-pointers.
"I've come into this game with no practices with anyone, no shootaround, just walking into the game, tying my shoes and saying let's go. Today was one of those days where the whole day I was just feeling so blessed to be able to know that I was going to put this jersey on and contribute to my team," Towns said. "Beautiful moment, I'm glad my movie had a good ending. It's a blessing to be back."
It was an electric atmosphere at Target Center with more than 17,000 fans, and the Timberwolves needed a late push from them in the fourth quarter. Down by as many as 11 with eight minutes to play, the Timberwolves went on a 16-2 run to take the lead before both teams went back and forth down the stretch.
Towns was out nearly four months with a calf strain, but hit the two biggest shots of the night with the game on the line. Minnesota is back to .500 at 37-37 and back in the No. 7 spot in the Western Conference. They're one game out of the No. 6 spot, and just a game clear of the No. 11 spot and being out of the playoffs.
The Timberwolves now head West for a three-game road trip, starting at Golden State Sunday night. When the lights were brightest Wednesday, Towns clutch after 113 days of watching his teammates.
"I'm just so happy that I'm in this spot where I'm able to contribute. Today was one of those days where I felt the whole day, I didn't really feel nervous. I just felt like I belonged in this jersey. I've earned the right and the moment to be in this jersey. It just felt like a game day before I got hurt," Towns said.