Timberwolves, Anthony Edwards agree to 5-year deal worth up to $260 million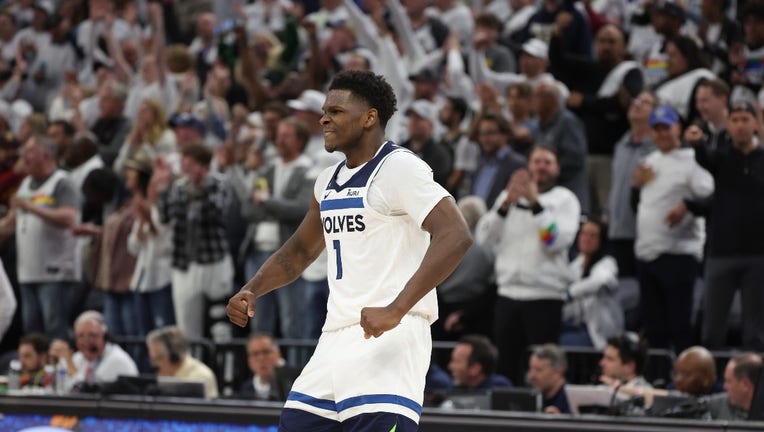 article
MINNEAPOLIS (FOX 9) - Anthony Edwards is a budding star with the Minnesota Timberwolves, and he's not going anywhere.
According to multiple reports, Edwards and the Timberwolves have agreed to a five-year designated rookie maximum deal that's worth up to $260 million. The move makes Edwards, Karl-Anthony Towns and Rudy Gobert the three superstars the Timberwolves are building around for the future.
The Timberwolves drafted Edwards out of Georgia with the No. 1 overall pick in 2020, and he's more than lived up to it. He started 79 games last season and led the Timberwolves with 24.6 points per game. He also averaged 5.8 rebounds, 4.4 assists and shot nearly 37 percent from the perimeter.
The contract extension includes incentives for making an All-NBA team, winning Defensive Player of the Year as well as league MVP.
In 223 career games with the Timberwolves, Edwards is averaging 21.8 points, 5.1 rebounds and 3.7 assists per game. On top of getting the contract extension, Edwards also recently purchased a new home on Lake Minnetonka.
With the new deal, the Timberwolves now have $155 million in contracts to Edwards, Towns, Gobert and Naz Reid for next season. Towns starts a 4-year, $224 million supermax contract in 2024, and the Timberwolves last offseason traded four future first round picks and several players to bring Gobert to Minnesota. The Timberwolves last week signed Reid to a three-year, $42 million deal as he was set to enter free agency. Another priority for Minnesota is signing Jaden McDaniels.
Edwards is the superstar and the future face of the Timberwolves, and he's now getting his well-deserved pay day just ahead of his 22nd birthday.