Super Bowl LVII: Pat Tillman Foundation scholars to serve as honorary captains
GLENDALE, Ariz. - Four Pat Tillman Foundation scholars will serve as honorary captains for Super Bowl LVII in Glendale.
The honorary captains – Fabersha Flynt, military spouse and Ed.D. candidate, Robert Ham, a U.S. Army veteran and filmmaker, Dr. Hyejung Park, a U.S. Army reservist and developmental psychologist and Dave Praksh, a U.S. Air Force veteran and physician technologist – will participate in the on-field coin toss ceremony.
The scholars are meant to "represent the enduring legacy of service" that Tillman left behind," according to a news release.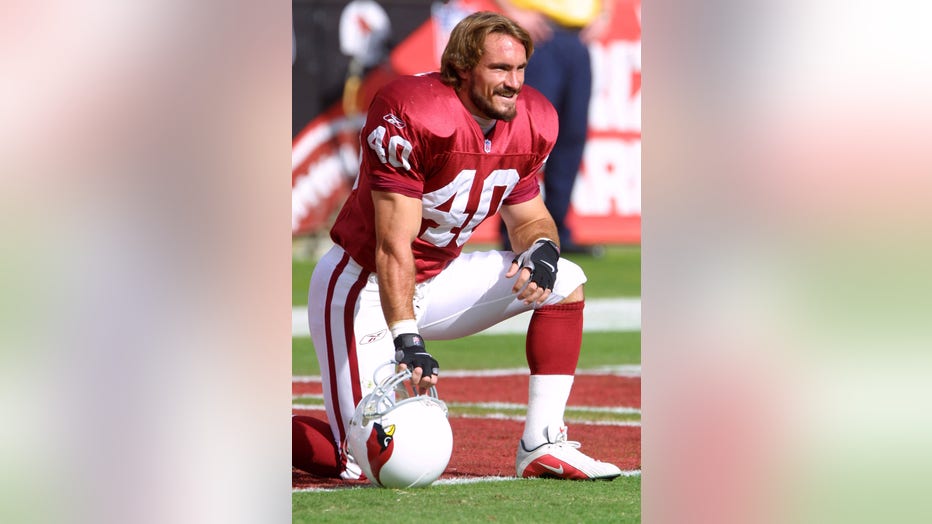 Arizona Cardinals defensive back Pat Tillman smiles during the pregame. (Photo by Gene Lower/Getty Images)
The four Tillman scholars were told of their selection as honorary captains during a conference call by former Cardinal J.J. Watt.
"I have very long been an admirer of Pat, and his foundation, everything that he did," Watt said. "So first I want to say thank you guys for providing inspiration for helping to carry on his legacy for all the great things you do in the name of Pat Tillman." 
Tillman, a former player for the Arizona State Sun Devils and Arizona Cardinals, joined the U.S. Army after the Sept. 11 terrorist attacks. He was killed in friendly fire while serving in Afghanistan in 2004.
"Pat Tillman made the ultimate sacrifice for our country and we are committed to ensuring that his life and legacy are forever honored and celebrated across the entire NFL family," NFL Commissioner Roger Goodell said in a statement.
Fox News contributed to this report
More Super Bowl headlines
Tune in to FOX 10 Phoenix for the latest news: