Spurgeon scores twice, Stalock records shutout as Wild get 3-0 Game 1 win over Canucks in Edmonton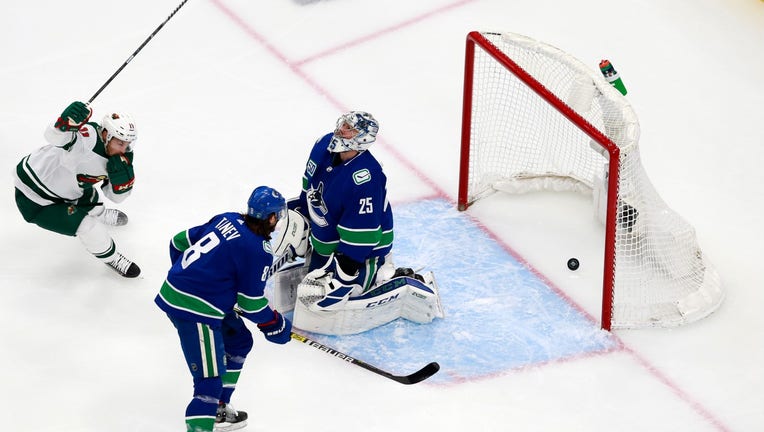 article
MINNEAPOLIS - It's been nearly five months since the Minnesota Wild played a game against an opponent that meant something, and they showed little rust Sunday night.
The Wild got power-play goals in each of the first two periods, got an empty-net goal late and a 28-save shutout from Alex Stalock in a 3-0 win over the Canucks in Game 1 of a best-of-five qualifier series in the Edmonton bubble.
"It's all four lines, all six D and a goaltender that's going to make us get through this. Tonight is a good start. Today was a big step, to get that first win of the series was huge," said defenseman Jared Spurgeon, who scored two of the Wild's three goals.
Dean Evason got his first win as the full-time Wild head coach, and his toughest decision of Summer Camp was going to be who would be in net for Game 1 Sunday night. The battle was between veteran Devan Dubnyk, and Alex Stalock, who stepped up earlier this season when Dubnyk couldn't play to tend medical issues with his wife.
When the starters hit the ice to face the Canucks, it was Stalock in net.
"Excited obviously to get a chance to start in the playoffs. Any time you can play in an important game, the most important game of the season so far, we came out and played exactly how we wanted to play intensity-wise and stuck to the game plan," Stalock said.
He made big saves in every period when he had to and kept the puck out of his own net.
"His compete is as high as anybody's. That's all we've seen from this whole tournament so far, to have a guy in there that's going to battle like he does, we felt very comfortable and we really liked his game," Evason said.
Marcus Foligno set the tone early, less than 90 seconds into the game standing next to Micheal Ferland before a faceoff. The two exchanged words, then dropped the gloves. After a short fight, both went to the penalty box for five minutes.
The message was sent: The Wild would play physical and won't back down, but wouldn't tolerate anything dirty.
"It definitely wasn't pre-meditated or anything like that. Ferland is a tough kid, just exchanged some words and said 'Let's go' so it's just the heat of the battle and that's what comes with playoff hockey," Foligno said.
About 90 seconds later, Kevin Fiala scored a power-play goal after Eric Staal won a faceoff and Spurgeon fed him for a one-timer. Fiala scored the Wild's last goal, 147 days ago, before the NHL suspended its season due to the Covid-19 pandemic.
"Just happy to be back, great to be back and knowing that the team, unbelievable job today. We won as a team," Fiala said.
A very happy and excited Evason at the time hit the glass behind him on the bench with his elbow in celebration.
"You score a goal, you should be excited. We all try as coaches to stay as calm as we possibly can, but it was an exciting moment," Evason said.
Spurgeon scored his first goal of the night at the 10:24 mark of the second period on the power play on a feed from Staal. Spurgeon becomes the first Wild defenseman in team history to record two power play points in a single playoff game, and three points.
Spurgeon added an empty-net goal with 46.6 seconds left in regulation to seal the victory. After being out-shot 24-20 through two periods, the Wild out-shot the Canucks 11-4 over the final 20 minutes to have the final edge in shots, 31-28. They also largely stayed out of the penalty box, with just two other penalties aside from Foligno's for fighting.
The Wild lead best-of-five series 1-0, and the two teams go back at it late Tuesday night in Edmonton.