Motzko, Gophers prep for series with rival Badgers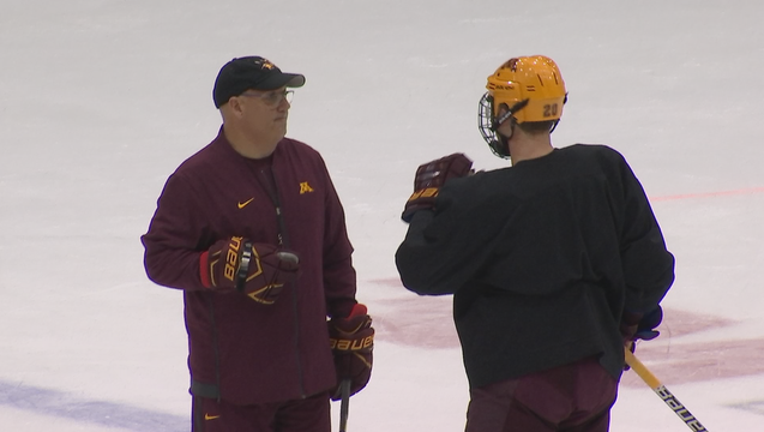 MINNEAPOLIS (FOX 9) - "Pretty much crunch it up and throw it in the trash."
That's how University of Minnesota senior Jack Ramsey described the Gophers'  two losses at Michigan State last weekend. The Gophers allowed 10 goals over two games and returned to Minneapolis without any points after getting swept by the Spartans.
That comes a week after going to Notre Dame and sweeping the Fighting Irish with 5-1 and 2-1 victories. Gophers coach Bob Motzko thought his team might have turned a corner after that weekend, then Michigan State happened.
"We lost two hockey games, no one feels worse or is taking it harder than over there (the locker room), but it's over. We've got to bury it and move on," Motzko said.
For Motzko and the Gophers (9-10-4, 6-5-3 Big Ten), what's in the past is just that as they get ready to host Wisconsin this weekend. When the two teams met back in November in the opening Big Ten series, the Gophers won Friday night 3-2 before Wisconsin managed a split with a 3-1 Saturday victory.
Since that opening series, the Gophers are 5-4-3 in Big Ten play and sit in second behind Ohio State. They're two losses behind the Buckeyes with a bunched group between the No. 2 and No. 6 spots in the league.
"It was a good weekend of hockey and we left there feeling pretty good about ourselves," Motzko said of the split at Wisconsin. "From that point until now, I've had two bad tastes in my mouth about what we've done. The Ferris (State) game (3-2 loss) and then this last weekend. But I've had a lot of good feelings about this team and all we can do is concentrate on that."
What they are mainly concentrating on is a rival coming into 3M at Mariucci Arena. Wisconsin is coming off a loss and tie last weekend at Notre Dame and sits at the bottom of the Big Ten standings at 4-4-4. The Badgers haven't won since beating Michigan State 3-0 on Dec. 8, nearly seven weeks ago.
The Gophers lead the Badgers in the all-time series 169-95-23. They're also 98-31-8 on home ice against Wisconsin, though the two teams have split the last three series at Mariucci Arena. It's a good bet that Mat Robson will be the starting goalie this weekend. He's 3-0-0 against the Badgers and has made 17 starts in net this season. He's 7-5-4 on the year with a .929 save percentage and a 2.49 goals against average.
As much as this weekend is about beating a rival, it's also about getting back to playing at the level they expect on a nightly basis. Senior forward Jack Ramsey can't really explain it, but said the Gophers lacked energy at Michigan State.
"We looked a little bit sleepy and things just weren't there. I don't think things were clicking either," Ramsey said.
Energy shouldn't be an issue with the Badgers in town. That, and the Gophers are hosting a reunion night Saturday for the 1978-79 national championship team. They're celebrating the 40th anniversary of the national title, their third at the time and third in a six-year span.
The team was coached by Herb Brooks and won 10 of its last 11 games to finish 32-11-1. The Gophers beat North Dakota 4-3 to win the national championship. Nine players from that team played for Brooks the following year on the 1980 "Miracle on Ice" team that went onto win Olympic gold.
One of the players on both the national title team the Olympic team was Jack Ramsey's father, Mike Ramsey.
"I know some of his buddies from that team, from the '80 team. Great group of guys, so it's going to pretty cool seeing them come back this week," Jack said.
Motzko's primary focus is on beating Wisconsin Friday night, then focusing on Saturday. But he knows how special it will be to have players from that team in the building Saturday night.
"It's going to be awesome. We've been talking about the history of this program all year with our guys. I think it's going to be exciting for our fans. I think that's a very special team in the history of the University of Minnesota," Motzko said. "The legacy of that group is probably as deep into the hockey fiber of our culture and our state. Pretty special group, it's going to mean a lot to the hockey community to have them back in the building."
The Gophers are led by three upperclassmen in scoring. Junior Rem Pitlick leads Minnesota with 11 goals and 23 total points. Senior Tyler Sheehy has 13 assists among his 19 points and senior Brent Gates Jr. has nine goals and eight assists for 17 points through 23 games.
But it's a line of freshman that are also standing out for Minnesota. Nathan Burke, Blake McLaughlin and Sammy Walker have recorded points in 14 straight games since they were paired together Nov. 23. They've combined for 26 assists and 19 goals.
"Sammy Walker and Blake McLaughlin have never had a bad day. It's incredible their energy level and how they play," Motzko said. "They play so darn hard, and I think it's been very positive inside that room to how those guys play."
Motzko summed up this weekend nicely, between a rival coming to Mariucci and paying tribute to a national champion.
"It's going to be fun this weekend. You're going to see a good Gopher hockey team again," he said.