Minnesota Wild signs forward Marcus Foligno to 3-year extension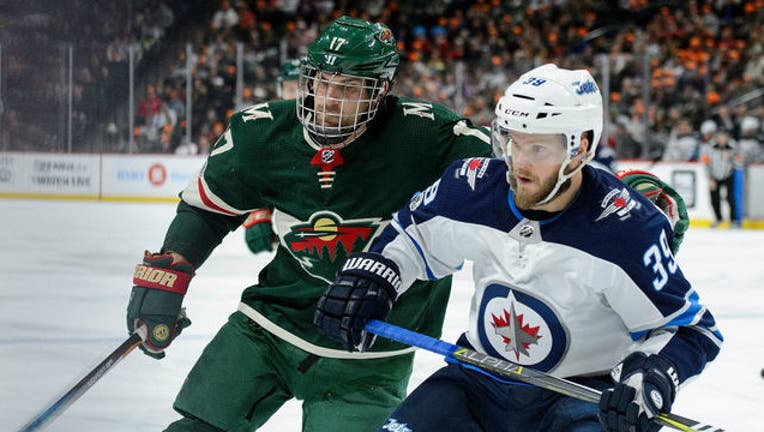 article
MINNEAPOLIS - The Minnesota Wild announced on Tuesday it has signed forward Marcus Foligno to a three-year contract extension.
The deal is worth $9.3 million, and puts Foligno under contract with the Wild through the 2023-24 season. Foligno, 29, recorded 25 points, including 11 goals, a plus-8 rating and 184 hits in 59 games with the Wild this past season.
He's now got contract stability, but he made his goals clear when speaking with reporters on Tuesday after the news became official: He wants to win.
"I believe we are headed in that direction where we're going to be a contending team. A lot of great, great guys in that room. It's a good atmosphere in there and we have a lot of fun," Foligno said. "That's the biggest thing is I want to win, I don't just want to be comfortable and sit back and play out my career. I want to win a Stanley Cup, it's exciting knowing that we're headed in that direction of being a Stanley Cup contending team. It feels like it's pretty close."
Foligno set career-highs with 25 points and his plus/minus rating. He led the Wild in hits, and was tied for 18th in the NHL. He also had multi-point games for the first time in his career last January, and had a season-high seven hits in five games.
In 565 career NHL games, Foligno has 183 career points, which includes 75 goals, and 1,598 hits. He's ninth in the NHL with 1,446 hits since the start of the 2013-14 season. He has two points in nine career playoff games with the Wild.
He's considered one of the top defensive forwards in the NHL.
"You don't have to wear a letter to be a leader. Outside of his play, his physical nature, he had his best year last year statistically, analytically, any way you want to look at it, it was his best year," Wild GM Bill Guerin told reporters on Tuesday. "He is a leader, he's a big personality. He's one of the guys that keeps our room loose, but I think he's also got the ability to hold guys' hands to the fire. That's a big reason we value him, and we're going to rely on him."
Foligno is entering his fourth season with the Wild, and 10th in the NHL. He was drafted by the Buffalo Sabres in 2009, and the Wild traded for him in 2018 in a deal that sent Jason Pominville and Marco Scandella to the Sabres.
Foligno lives in Edina with his wife and two young kids. He said his daughter, Olivia, surprised him Tuesday sporting his Wild jersey after getting up from an afternoon nap.