Minnesota Wild signs 2019 first round pick Matt Boldy to 3-year deal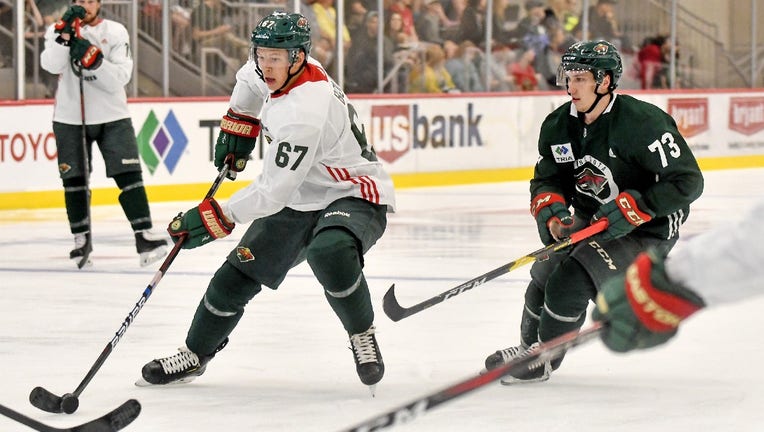 MINNEAPOLIS - The Minnesota Wild announced on Tuesday they've signed forward Matt Boldy to a three-year, entry-level contract.
Wild General Manager Bill Guerin said Boldy, the former Boston College star, will start his National Hockey League Career with the Iowa Wild in the American Hockey League. Boldy is 19 years old and recorded 31 points, 11 goals and 20 assists, 22 games for the Eagles this season.
The Wild selected Boldy No. 12 overall in the 2019 NHL Entry Draft. His NHL dream is now a reality after putting pen to paper Wednesday afternoon.
"It was super exciting, it was a dream come true. A lot of support from all my teammates and coaches here, which is awesome to see and it made it a lot easier," Boldy said after signing his first contract.
Guerin said Boldy will travel to the Twin Cities, quarantine and go through COVID-19 testing before driving to Iowa, which is currently on the road. So how long before Wild fans see him at Xcel Energy Center?
"That'll be up to Matt. Listen, this is the best league in the world. He's going into a different world now, this is going to be much different than being at Boston College and playing college hockey. This is a big step and as soon as Matt is ready and proves himself in Iowa, then we'll take it to the next step," Guerin said.
Boldy isn't really setting goals or expectations for himsef early on.
"Just kind of excited to get there and prove myself. Hopefully get the call and just kind of work towards that goal. Right now it's getting to Iowa and getting situated there and getting started," Boldy said.
A sophomore this year, Boldy led Boston College in scoring, goals, assists, power-play goals, power-play assists and shots on goal. He tied for the NCAA lead in short-handed goals, and tied for 11th in scoring and assists.
Boldy was named a top 10 finalist for the Hobey Baker Award on March 17. His collegiate career came to an end after Boston College lost to St. Cloud State last weekend with a trip to the NCAA Frozen Four on the line. He recorded nine points, three goals and six assists, in his last four college games and had a career-high five points against UMass Lowell on Feb. 12.
Boldy also had seven points in seven games, including five goals, as part of helping lead Team USA to a gold medal at the most recent World Junior Championships. He tied for first on the team in goals, was second in time on ice per game, tied for fourth in scoring and led all scorers in the tournament with three power-play goals.
In two seasons at Boston College, Boldy had 56 career points, including 19 goals. Now he's a professional athlete, and Guerin is excited to see what his future holds.
"The pro game, it's just very different and it's your job now. You're not just playing hockey, it's your job and it's your job to show up and perform every single night. That just makes it more difficult and more important," Guerin said. "I'm very anxious to see how he does. We can't wait to get him going."