Kirk Cousins, Vikings offense dominates in 30-17 win over Seahawks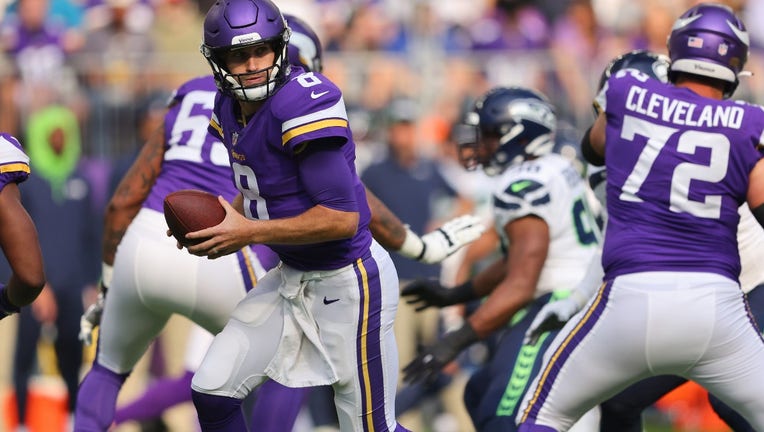 article
MINNEAPOLIS - For at least one week, all is good again with the Minnesota Vikings.
In front of a sellout crowd of more than 66,000 fans at U.S. Bank Stadium on Sunday for the first time in nearly two years, the Vikings got what coach Mike Zimmer called the team's best offensive performance in his eight years as a head coach. The defense pitched a shutout in the second half after Russell Wilson and company put up 308 yards and 17 points in the first half. The Vikings beat the Seattle Seahawks 30-17 for their first win of the season.
Zimmer got his first win against Pete Carroll, Wilson and the Seahawks. He had previously gone 0-7 against Seattle. After an 0-2 start with losses at Cincinnati and Arizona by a combined four points, Sunday was just what the Vikings needed.
"We work so hard, we prepare so hard. We deserve to win, and these guys are working their rear ends off every single day. They're studying really hard, they come out to practice and they go hard. It's just good that it pays off so they can see there's some success at the end of the tunnel," Zimmer said.
The 66,000-plus that filled U.S. Bank Stadium Sunday, spending most of the afternoon screaming at the top of their lungs, absolutely made a difference for the Vikings. With decibel levels reaching over 113 at times, the Seahawks didn't score in the second half and managed just 81 total yards.
Seattle's last score came with 11:12 to play in the first half, on Chris Carson's 30-yard run. Thanks to the Vikings controlling the ball out of halftime, the Seahawks had just five offensive plays in the third quarter.
"I missed the crowd so much, I missed our fans a lot. They brought the energy today. I knew driving up to the stadium, I saw everybody out and being rowdy. Everybody was excited for the game, and it showed today," linebacker Eric Kendricks said.
"They were lit. It was great, obviously. They're so important to our success, that's why we couldn't wait to get home. Couldn't wait to get in this building, it was awesome," wide receiver Adam Thielen said.
Kirk Cousins had one of his best games with the Vikings, throwing for 323 yards and three touchdowns to Tyler Conklin, Thielen and Justin Jefferson. Cousins hit five different receivers on the day, and was particularly effective in the screen game with Alexander Mattison with six catches for 59 yards.
Starting for the injured Dalvin Cook, Mattison had 26 carries for 112 yards. He finished with 171 total yards.
"It means a lot. We go out there and we prepare every day to be the best offense that we can be. For us to go out there and prove it today, that was a huge win for us," Mattison said.
The Vikings came into their home opener still fully believing they were a good football team, capable of coming back from an 0-2 start after an overtime loss at Cincinnati and losing at Arizona on a missed Greg Joseph field goal.
The Seahawks got out to a 17-7 lead, then the Vikings took control. Cousins was sacked on a third down play, but the Seahawks were flagged for defensive holding. Cousins would take advantage of the new life, hitting Thielen on 3rd-and-13 for a 15-yard touchdown to get the Vikings within 17-14.
Seattle got in field goal range on its next drive, only to have Jason Myers miss wide left from 44 yards out. That's right, a kicker against the Vikings missed.
Cousins and the Vikings took advantage, going into the two-minute drill for a go-ahead score before the end of the first half. Cousins hit Jefferson for a 3-yard touchdown, and the Vikings led 21-17.
Minnesota came out of the break with a 16-play drive that chewed up 8:26 of game clock and ended with Joseph converting from 43 yards out. The Vikings scored 10 straight points with Wilson and the Seahawks' offense standing and watching, and grabbed a 24-17 lead.
"Finishing the first half with a drive and a score was a big part of the make-up of the game. We always talk when we score coming into the half knowing we get the ball coming out, the importance of double dipping and scoring again," Cousins said. "To get 10 points in those two possessions is a big deal by the time Seattle gets the ball."
The defense settled in, with Everson Griffen and Kendricks getting sacks on Wilson as the Seahawks went 3-of-8 on third downs in the U.S. Bank Stadium noise. Joseph converted from 34 yards out early in the fourth quarter to give the Vikings a 27-17 lead. About nine minutes later, Joseph hit again from 20 yards out for a 30-17 lead after Zimmer opted not to go for it on 4th-and-goal from the 2-yard line.
After a walk-off miss last Sunday, Joseph was a perfect 6-for-6 on kicks Sunday.
Through three games, Cousins has eight touchdowns and no interceptions.
"I think he's playing outstanding. He's playing with a lot of confidence," Zimmer said.
After an 0-2 start, the Vikings weren't going to panic. Sunday, the Vikings piled up 453 total yards, 28 first downs, averaged 6.2 yards per play and were 9-of-13 on third down conversions. Conklin had seven catches for 70 yards and a score. Thielen and Jefferson, one of the top receiving duos in the NFL, had a combined 15 catches for 168 yards and two touchdowns.
Next up is former offensive coordinator Kevin Stefanski and the Cleveland Browns coming to Minneapolis.
"This is a momentum league, we knew we just had to get a win. It's been frustrating, obviously, after the first two weeks, but we knew that we were just going to focus on this week and now after we enjoy this, tomorrow we're going to move on. It's hard to win in this league," Thielen said.