Minnesota Twins: Is Joe Mauer a Hall of Fame player?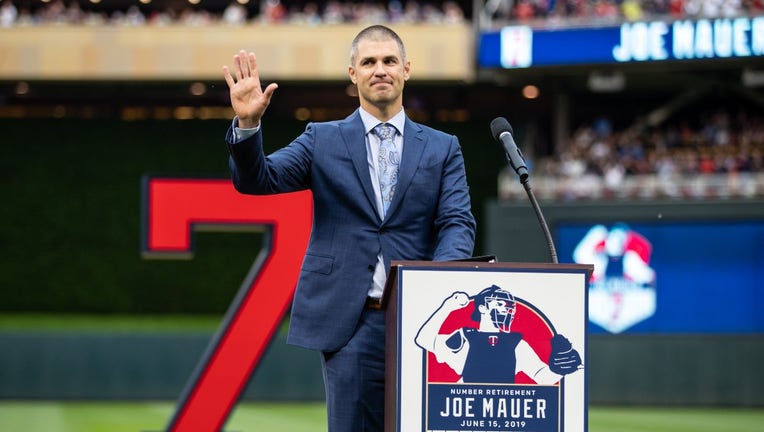 article
MINNEAPOLIS (FOX 9) - If you are a Minnesota Twins fan or have ever followed the team in any capacity, you know the name Joe Mauer.
He grew up in St. Paul as a high school football, basketball and baseball star at Cretin-Derham Hall. He verbally committed to play college football at Florida State, but it was widely known he would be the No. 1 overall choice in the 2001 Major League Baseball draft. That pick happened to belong to the Twins.
A poll put out on Tuesday has shown some fascinating results. Every Twins' fan knows Mauer's prowess and career highlights, but should he be in the National Baseball Hall of Fame? MLB Now asked that question, along with Chase Utley, on social media.
With more than 6,500 people issuing votes, 39 percent say Mauer is a Hall of Famer. Just 8.1 percent say Utley should be there. About 31 percent say both should be in, and 21.1 percent believe neither should be in.
Mauer spent 15 seasons with the Twins, making his MLB debut in 2004. 
In eight years as a catcher, he won three battling titles and was the MLB MVP in 2009. He won three Gold Glove awards and was a six-time All-Star. He had a lifetime batting average of .306, and hit over .300 in six of his eight seasons behind the plate.
Mauer played 923 games at catcher before having to move to first base after concussion issues. He played more than 1,500 games between catching and first base. He finished his career with 428 doubles, 143 home runs, 1,018 runs scored and 923 RBI. He retired from baseball after the 2018 season, and in his last game, bid farewell to fans by putting on the catcher's gear for one pitch in the ninth inning, before being replaced and heading back to the dugout.
The Twins retired Mauer's No. 7 jersey in July of 2019.
But should he go to the Hall of Fame in Cooperstown? There are 24 catchers in the Baseball Hall of Fame. Some of the names include Johnny Bench, Yogi Berra, Gary Carter, Mike Piazza and Ivan Rodriguez.
Mauer didn't win a World Series. In fact, his teams never won a playoff series. He won one playoff game in his career, in his rookie year of 2004.