Matthew Hurt chosen for McDonald's All-American Game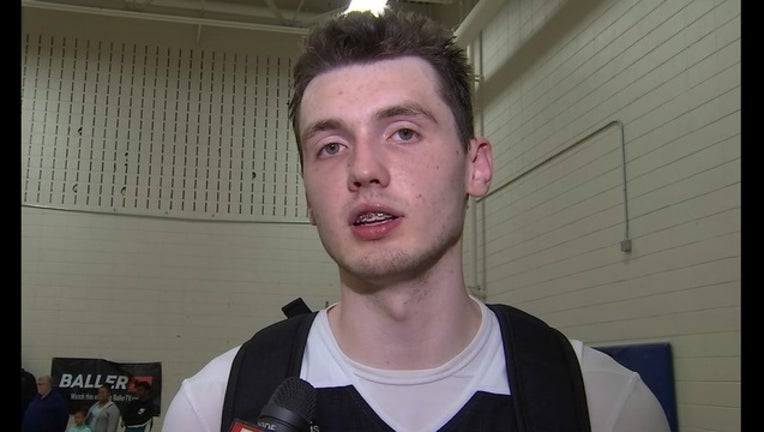 MINNEAPOLIS (FOX 9) - For the second straight year and third time in five years, Minnesota will be represented at the McDonald's All-American Game.
Matthew Hurt of Rochester John Marshall was selected Thursday to play in the game, which showcases the top boys high school basketball players in the country. Hurt has been a star for the Rockets since playing varsity in eighth-grade and is a consensus top-10 recruit nationally.
He's listed at No. 10 in the ESPN 100 for the class of 2019, and No. 7 in the 247Sports rankings. The senior hasn't made his college choice yet, though Minnesota fans are hoping he stays home to play with the Gophers and his older brother, Michael Hurt.
Matthew Hurt has scholarship offers from all across the country, but has narrowed his list to Kansas, Kentucky, Memphis, Duke, North Carolina, Minnesota, Indiana and Villanova. He's taken official campus visits to Kentucky, Duke and North Carolina. He's also set to take an official visit to Kansas and is allowed five visits by the NCAA.
Hurt leads the Rockets in every major statistical category. He's averaging 36.1 points, 11.5 rebounds, 4.4 assists, 2.6 steals and two blocks per game. He's one of the best players in Minnesota history to have yet to play in the state tournament. Rochester John Marshall has been to the Section 1AAA title game five straight years and lost all of them to Lakeville North.
Last year, Tre Jones of Apple Valley was named to the McDonald's All-American Game after leading the Eagles to the state championship game. Two years ago, Gary Trent Jr. of Apple Valley was selected. He played three years for the Eagles before transferring to a prep school and playing one season at Duke.
In 2014, the trio of Tyus Jones (Apple Valley), Reid Travis (DeLaSalle) and Rashad Vaughn (Cooper) were all selected to the game. Tyus Jones and Vaughn are both in the NBA, and Travis is a fifth-year senior at Kentucky.
Kansas has been considered the favorite to land Hurt for a long time, with Minnesota not far behind.
The McDonald's All-American Game is set for March 27 in Atlanta.