Kirk Cousins suffers Achilles injury in Vikings' 24-10 win over Packers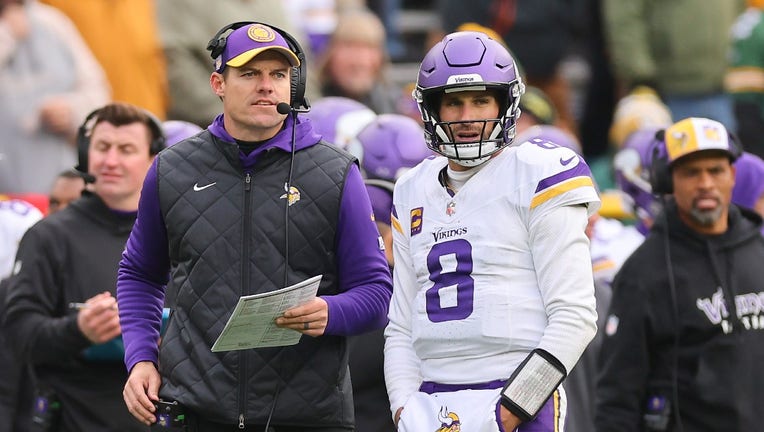 article
MINNEAPOLIS (FOX 9) - The Minnesota Vikings beat the Green Bay Packers 24-10 on Sunday at Lambeau Field, but it appears to have come at a major price.
Quarterback Kirk Cousins left the game with about 10 minutes left in regulation after suffering a non-contact injury to his right Achilles before being sacked. He left the field unable to put any weight on his right leg after trying to scramble on a 3rd-and-19 play. After a stop in the injury tent, Cousins was carted off the field and ruled out for the game with an ankle injury. Video of the play shows an injury to his right Achilles. The drive ended with Greg Joseph having a field goal blocked.
Vikings coach Kevin O'Connell confirmed after the game Cousins is being evaluated for an Achilles injury, and the fear is that it's torn.
"Thinking about our quarterback. Went out today as he has for most of the 2023 season, played the quarterback position as well as anybody in our league. We are fearing an Achilles injury, he's being evaluated right now. The severity of that I do not know at this point. But I know that's what our fear is in the moment," O'Connell said. "I'm thinking of Kirk, every single player in our locker room, thinking about our leader, our guy right now. Proud of the way he's played all season long. If we don't have him for one snap or for the duration of our season, that will not change the fact of what I believe Kirk Cousins, the level he played to this year and ultimately what he's meant to me and our organization. Thinking about him right now."
It's the same injury that knocked out Aaron Rodgers before he even completed a pass with the New York Jets. 
If that's the case, Cousins' season is likely over, and it might be the last time he wears a Minnesota jersey. He's eligible to become an unrestricted free agent in March. Cousins threw for 274 yards and two touchdowns Sunday, to Jordan Addison and T.J. Hockenson, before leaving the game. He entered the day second in the NFL with 2,057 passing yards, and leading the league with 16 touchdowns.
It's the first major injury of Cousins' 12-year NFL career. In five-plus seasons with Minnesota, he's never missed a game due to injury. It's the first major injury to a Vikings' quarterback since Teddy Bridgewater's knee injury in practice just before the 2016 season. That led to the Vikings making a trade for Sam Bradford.
Vikings players reacted to the Cousins' news in the locker room after the win. The mood was not as celebratory as it would normally be after a division win on the road.
"I've literally got no words for it. Breaks your heart. The guy is the leader of the team, he's the heart and soul of the team, had such a great season to this point and it's been an honor and so fun to watch. Pray for the best and hope everything is OK," rookie quarterback Jaren Hall said.
"There's nothing really I can say about it. I just love Kirk to death. I love his family. I love him. I love everything about him. To see a guy like that go down is always tough," Hockenson said. "Obviously, Kirk is a huge part of our team, huge part of our offense. Just praying for him, we don't know what's going to happen."
"Kirk is the best quarterback I've played with. Leadership, all that stuff. Praying for him and his family. Next guy has to step up, that's the mentality," defensive back Byron Murphy Jr. said.
Cam Akers gave the Vikings a 7-0 lead with the team's first rushing touchdown of the season, from six yards out in the first quarter.
The Vikings led 10-3 at half, and scored on their first possession of the third quarter to take a two-touchdown lead. Cousins hit Hockenson from two yards out to give Minnesota a 17-3 lead.
Josh Metellus followed with an interception, ripping the ball away from Jayden Reed and returning it to the Packers' 20-yard line. On the next play, Cousins hit Addison from 20 yards out to give the Vikings a 24-3 lead. Addison now has seven touchdowns on the season, and a score in four straight games. He's the first player in Vikings' history to have seven touchdowns in his first eight games.
K.J. Osborn led the Vikings with eight catches for 99 yards, and Hockenson added six for 88. Addison finished with 82 yards.
With the win, the Vikings back to .500 for the first time this season at 4-4. They've won four of their last five since an 0-3 start, and are 2-0 in the NFC North Division.
But the attention shifts to Cousins and the extent of his injury. If it is serious enough to end his season, the Vikings don't have much time to adjust. The NFL's trade deadline is on Tuesday, and Nick Mullens is on injured reserve. Hall is the starting quarterback, for now.
O'Connell addressed the team post game about Cousins' injury, and players were devastated.
"It's going to take our entire football team to rally around Kirk, just like we rally around Justin (Jefferson) and Marcus (Davenport). That's exactly what we'll do, we do not know any other way," O'Connell said. "You guys know what my fear of is right now of the injury. When we confirm that, we'll try to move forward in the short term. You guys can feel it throughout our whole locker room, they know. Our guys know, and I didn't want it to be something where guys don't talk about it. The last game ball was for Kirk, and rightly so."