Gophers seek first Big Ten Win with senior Dupree McBrayer ailing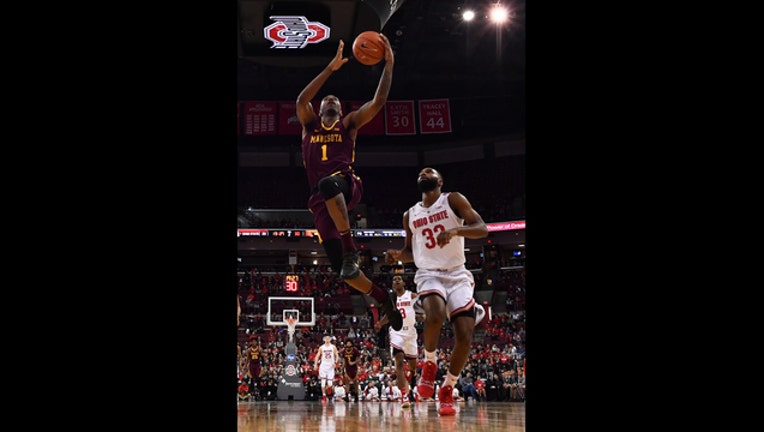 MINNEAPOLIS (KMSP) - It will be an emotional night for the Gophers basketball team as they host Nebraska Wednesday, seeking their first Big Ten win with a teammate ailing.
Senior guard Dupree McBrayer lost his mother after a battle with cancer. Gophers coach Richard Pitino held McBrayer out of practice Monday to give him time to grieve and heal, but said he expects him to play Wednesday night.
His teammates are giving him space, but say they will be there if he needs them.
"I didn't get a chance to talk to Dupree, he's going through a rough time right now," sophomore guard Isaiah Washington said. "We're still one big family, so we'll do our best to make sure he's comfortable in his situation. The most we can do right now is give him his space and just be there whenever it's needed. When I first met her, she treated me like family."
There's no doubt that the situation with McBrayer's mother weighed on him mentally. On the court, McBrayer has had an up-and-down season with his shooting. He was 5-of-9 from the field in a loss at Ohio State, but 0-of-3 from three-point range. He played well against Oklahoma State with 10 points, but shot 0-of-8 from the perimeter in the ACC/Big Ten Challenge loss at Boston College.
He's hurting, but his basketball family is there for him. 
"It's kind of been going on for a couple weeks and he's been amazingly strong and resilient through that," Pitino said. "I can only imagine going through that at a young age, and it's just sad. She's a great, great lady. She was so supportive and just retired so she was going to come up here a bunch to watch him play. Our thoughts and prayers are with him."
On the basketball front, the Gophers are looking to bounce back from a frustrating loss Sunday night at Ohio State to open Big Ten play. The Buckeyes played faster, were more physical and executed better on both ends of the floor.
The Gophers looked like a team that had played less than 48 hours earlier, after beating Oklahoma State late Friday night at U.S. Bank Stadium in a test run for the Final Four next spring.
The Buckeyes used a 17-4 run early in the first half to pull away, and the Gophers never recovered.
"I think versus Ohio State we kind of took a punch and never really threw a punch back, that was the biggest problem that we had," senior forward Jordan Murphy said. "It's about bouncing back, staying positive and just knowing what we gotta do. No more slow starts."
Minnesota had trouble getting a good shot all night against the Buckeyes, shooting 39 percent from the field and 0-for-13 from three-point range. The Gophers also committed 12 turnovers.
"I thought Ohio State imposed their will on us," Pitino said.
Nebraska comes into Wednesday night's game having won three straight since a loss to Texas Tech. The Cornhuskers beat Clemson 68-66 in the ACC/Big Ten Challenge, and opened Big Ten play with a 75-60 win over Illinois in a game they controlled early.
Nebraska swept the Gophers last year, and return all five starters from last year's squad that finished fourth in the Big Ten.
"I think they're really talented. Obviously they're really physical, a typical Big Ten team. But they're really talented, they have a really talented starting five and some bench players that are pretty good. They do a little bit of everything," Murphy said.