Gophers' Bob Motzko prepares for reunion with St. Cloud State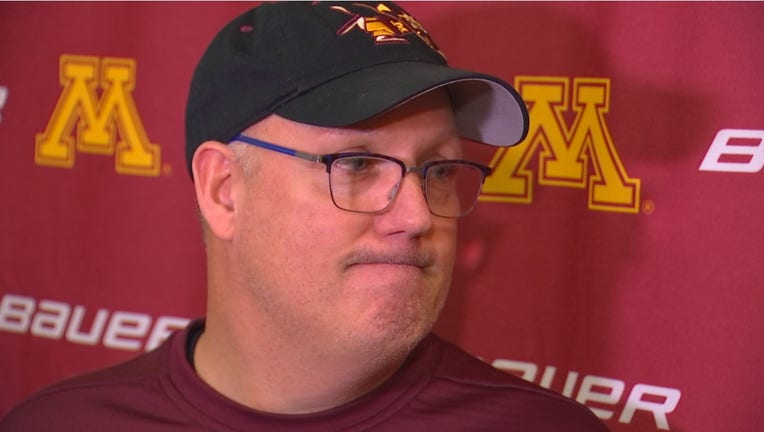 article
MINNEAPOLIS - Bob Motzko will do everything he can to keep this weekend about hockey, but it's hard to ignore the storylines as the University of Minnesota faces St. Cloud State in a home-and-home series.
It's also an early match-up of top-five teams. The No. 4-ranked Gophers host No. 2-ranked St. Cloud State Friday night, then the series shifts to the Herb Brooks National Hockey Center on Saturday. It'll be Motzko's first trip to St. Cloud since taking over as Gophers' coach.
"I know the way there. I won't get lost, I can tell you that," Motzko joked on Tuesday.
Motzko spent 13 seasons as head coach of the Huskies, leading the program to eight NCAA Tournaments and a run to the 2013 Frozen Four. Brett Larson is in his third year with St. Cloud State, and entered the 2021-22 season with a 43-21-9 mark. He led the Huskies to a 30-6-3 mark in his first season, and last year, to the national title game.
"I was there 13 years, that's a long time. Honestly with what Lartz is doing, they're happy I'm gone. I loved every minute of my job there, I loved raising our family there," Motzko said. "It was perfect, but it was time for a change and it came. I'll always have sentimental value to the people and the people that I worked with. Sentimental, yeah, it'll be a little weird at times."
It'll be weird for Motzko to be on the visiting bench at St. Cloud, and it should be emotional. The Huskies dedicated a seat at the Herb Brooks National Hockey Center that won't be used to Mack Motzko, Bob's 20-year-old son, who was killed in a late July car crash near Orono. It's the seat Mack always watched Bob from when he coached the Huskies.
On the ice, it's a big weekend for both teams. The Gophers swept Mercyhurst 7-4 and 5-3 after having their opening series canceled. The Huskies are coming off a weekend split at Minnesota State-Mankato, with a 1-0 loss last Friday and 3-1 win Saturday.
It's one of two series against in-state rivals, and it's a big early test for the Gophers that could loom large down the road for NCAA Tournament seeding. Early-season polls are mostly meaningless, but it will impact the PairWise Rankings, which ultimately decide who's playing for a national championship.
"Non-conference is as important as your conference. The computer dictates who's in the tournament, it doesn't know the difference between conference and non-conference. It's important from that standpoint," Motzko said.