Gophers AD Mark Coyle 'absolutely convinced' P.J. Fleck is right for Minnesota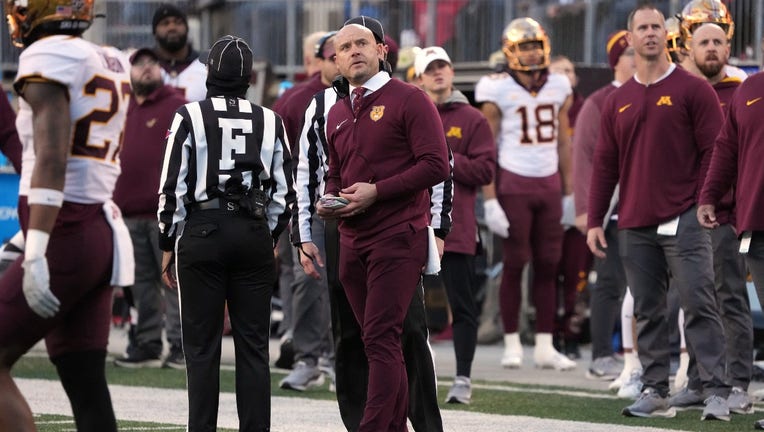 article
MINNEAPOLIS (FOX 9) - Before the University of Minnesota football team lost 37-3 at Ohio State on Saturday to fall 5-6 on the season, P.J. Fleck's boss, Mark Coyle, did his usual pregame interview on KFAN Radio.
Coyle was asked about the state of the program and its leader as the on-field results have not met what the expectations were in what's probably the final year of the Big Ten West. Coyle gave his complete and unequivocal support of Fleck as the Gophers' coach.
"We have everything in place at Minnesota," Coyle said. "I am absolutely convinced P.J. is the right guy. Nobody wants to win more than he does."
It hasn't been the year Fleck or the Gophers had in mind. They opened the season with a 13-10 win over Nebraska, but blew a 21-point fourth quarter lead in an overtime loss at Northwestern, which became bowl eligible on Saturday. They have a rivalry win over Iowa, got dominated against Michigan and ran over Michigan State.
But the Gophers allowed a late touchdown in a 27-26 loss to Illinois, gave up over 600 yards in a loss to Purdue and saw Ohio State score 14 points in 67 seconds to open the third quarter and pull away Saturday. Minnesota is 5-6 overall, and 3-5 in Big Ten play. The Gophers need a win over Wisconsin next week to finish 6-6, earn bowl eligibility and avoid the program's first losing season since 2017, Fleck's first year.
Fleck is currently under contract through the 2029 season, and seems to be the name linked to other openings across college football every offseason. He's 49-33 at Minnesota, and 32-33 in Big Ten play. He led the program to its first 11-win season in more than 100 years in 2019.
But with multiple opportunities to win the Big Ten West in three of the last four seasons, the Gophers haven't been able to get over that hurdle to get to Indianapolis.
One can ask if the Gophers have reached their ceiling under Fleck, and the Big Ten will only get tougher with USC, UCLA, Oregon and Washington coming to the conference in 2024. He's not going anywhere, if Coyle has anything to say about it.