Fleck on Kill comments: 'I'm sorry he feels that way'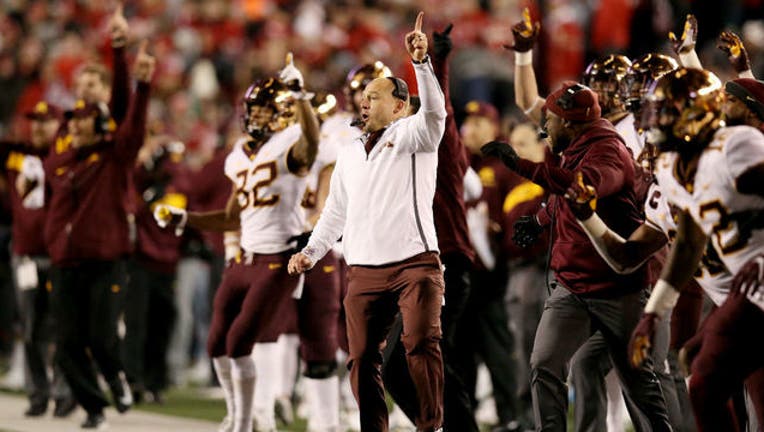 MINNEAPOLIS (FOX 9) - University of Minnesota football coach P.J. Fleck spoke publicly Thursday night for the first time since former Gophers coach Jerry Kill's comments about him earlier this week on a Sirius XM Radio show.
During Kill's interview, he said Fleck is "all about himself, not the players" among several other comments. Kill had to resign as Gopher football coach mid-season in 2015 due to recurring health issues with seizures. Tracy Claeys took over and led the Gophers to a 9-4 season in 2016, capped by beating Washington State in the Holiday Bowl. Claeys was fired after the team temporarily boycotted the bowl game following player suspensions for alleged involvement in a sexual assault.
Fleck spoke Thursday night to KTLK Radio during halftime of the Gopher men's basketball team's 69-60 loss to Michigan at Williams Arena.
"I've got a lot of respect for Jerry Kill, I always will. I've learned so much from him, especially working with him and knowing him a lot of years. I'm really sorry that he feels that way, I'm not sure where that came from. But I do know this, we're focused on our team. I wish him all the best as he gets into the next journey of his life, being athletic director, and I hope he's okay.
"I'm not sure where that came from. That saddens me, it saddens Heather, it saddened our entire family. This isn't a profession about feelings. The one thing that's really, really important to me is our players. Always has been, always will be. My family, our players, our university, the wonderful state of Minnesota, that's been my focus from Day 1 since I've been the head football coach here and always will be. I'm sorry he feels that way, but I wish him all the best in everything he does," Fleck told KTLK Radio.
Several current Gophers players also took to social media after Kill's comments to voice their full public support for Fleck.
The Gophers finished the 2018 season 7-6, getting a signature win at Wisconsin to earn bowl eligibility. They beat Georgia Tech 34-10 in the Quick Lane Bowl. Spring Practice starts in just a few weeks.